BWW Review: HAMARI NEETA KI SHAADI Shows The Big Fat Indian Weddings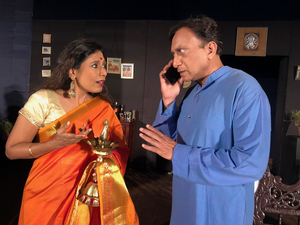 Anybody who has been to India, know how big the weddings in India can be. After all, not only do people plan their lives centered around their kids' wedding celebrations, for many it is also the centre of their social stature.
No wonder, than numerous movies, stories, plays and TV shows have been made along this central theme.
So, when you watch a play titled, Hamari Neeta ki Shaadi, you already know that we may be looking at over obsessive parents getting their daughter married amongst great expectations and grand preparations.
While the initial interest is riveted, what you get on stage is a great combination of humor and real life situations we all may have considered in our lives. On the stage we see the couple Kaveri and Dashrath, who are originally from Uttar Pradesh but are now settled in Mumbai. The upcoming occasion is their daughter Neeta's wedding and Kaveri, the mother is being over-obsessive about planning everything about the wedding to the T. The play is also a great tale of parent child relationship as the couple's plan seems to come at a halt, when their daughter proposes a plan to not have a traditional marriage. The story is also an inter-generational story of conflicts that come between parents and their children.
The play is written and directed by National Award winning film - maker Veena Bakshi. it is a sweet tale about families, relationships and weddings as they are in the subcontinent. Preetha Mathur as Kaveri does justice to her role as a harried mother. And Arunima Joshi as Neeta fits into her role snugly. During the festivities it is the brides melt down moment that forms the core of the story and all the characters holistically add the much needed emotions to climax point.
The play is entertaining with an effective storyline that is relatable.
Do catch it next time, you won't regret it.
i
Related Articles View More India

Stories

Shows