TodayTix Launches Houston's First Mobile Rush With The Alley Theatre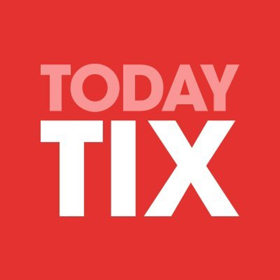 TodayTix, the international ticketing platform on a mission to redefine the way people experience theater, has partnered with The Alley Theatre to offer the first mobile Rush in Houston on the TodayTix app. The mobile Rush will offer exclusive access to $20 tickets, beginning with the theater's production of "The Cake," running June 1 to July 1, 2018, and continuing with "Holmes and Watson," running June 22 to July 22, 2018.
Instead of driving to The Alley Theatre lobby, TodayTix users can access Rush tickets right on their phone - first-come, first-served - beginning at 9am for every performance date. TodayTix's signature programs, including mobile Rush and mobile Lottery, have successfully helped partners build excitement and ticket sales around new shows with the app's ability to uniquely engage new, young audiences.
"TodayTix is dedicated to making theater more accessible, and our mobile Rush program does just that. By teaming up with incredible partners like The Alley Theatre to offer unbeatable prices to their productions, we open the door for more theater fans to enjoy the incredible live art Houston has to offer," Brian Fenty, TodayTix Co-Founder and CEO, said.
"We are thrilled to be partnering with TodayTix on Houston's first mobile Rush program. We believe theatre should be more accessible to the growing and diverse Houston metroplex. And what better show than "The Cake," a comedy-drama about bridging divides and making connections, to kick off this dynamic partnership and encourage more theatre fans to experience the work at the Alley," said Rachel Applegate, Alley's Director of Marketing and Communications.
TodayTix launched in Texas just last month, partnering with more than 30 of the premiere performing arts organizations in Houston and Dallas-Fort Worth, including The Alley Theatre. Other Houston partners include, but are not limited to, the Houston Grand Opera, Theatre Under the Stars, Stages Repertory Theatre, Society for the Performing Arts, Opera in the Heights, Main Street Theater, Catastropic Theatre, Strange Bird Immersive, Bayou Theatre Company, Mildred's Umbrella Theatre Co., Next Iteration Theater, Da Camera of Houston, ROCO and Prohibition Theatre.
Successful TodayTix signature programs in other cities include The Friday Forty with Broadway's "Harry Potter and the Cursed Child;" mobile Rushes for San Francisco's SHN Broadway Series, Dallas Theater Center's "White Rabbit Red Rabbit," and Broadway's "Children of a Lesser God;" mobile Lotteries for Broadway's "Fun Home" and "Cirque du Soleil Paramour," The Public Theater's "Hamilton" and "Kinky Boots" in London; and Free First Previews at the Award-winning Public Theater in New York.
To learn more about the TodayTix, visit www.todaytix.com or download TodayTix for iOS or Android.
TodayTix is an international ticketing platform on a mission to redefine the way people see theater. Through effortless access to the best shows, insightful guidance to the world of theater, and thoughtful service at each moment along the way, TodayTix enables people to discover the best that their city has to offer.
Operating in the world's most iconic theater markets, TodayTix secures the best discounted and premium-priced tickets available for the shows everyone is talking about in New York City, London's West End, Toronto, the San Francisco Bay Area, Los Angeles, Seattle, Philadelphia, Connecticut, Boston, Washington DC, Chicago, Houston and Dallas-Fort Worth.
Since launching TodayTix in New York City in December 2013 by life-long friends and Broadway producers Merritt Baer and Brian Fenty, the company has welcomed nearly 4 million users, sold more than 2.5 million tickets, and assembled one of the largest networks of performing arts organizations in the world, partnering with more than 800 arts institutions globally. These include, but are not limited to: The Public Theater, MSG Entertainment, Roundabout Theatre Company, Cirque du Soleil, Blue Man Group, The Metropolitan Opera, BAM, English National Opera, Delfont Mackintosh Theatres, Really Useful Theatres, The Royal Shakespeare Company, The Young Vic, National Ballet of Canada, Canadian Opera Company, Goodman Theatre, Lyric Opera, The Second City, The John F. Kennedy Center for the Performing Arts, Signature Theatre, Center Theatre Group, LA Opera, the LA Philharmonic, SHN, Curran, American Conservatory Theatre, The 5th Avenue Theatre, Seattle Repertory Theatre, Pacific Northwest Ballet, The Kimmel Center, American Repertory Theater and AT&T Performing Arts Center.
To learn more, visit www.todaytix.com or download TodayTix for iOS or Android.
The Alley Theatre, one of America's leading nonprofit theatres, is a nationally recognized performing arts company led by Interim Artistic Director James Black and Managing Director Dean R. Gladden. The Alley produces up to 16 plays each year in its newly renovated theatre, ranging from the best current work, to re-invigorated classic plays, to new plays by contemporary writers. The Alley is home to a Resident Company of actors. In addition, the Alley engages theatre artists of every discipline - actors, designers, composers, playwrights - who work on individual productions throughout each season as Visiting Artists.
The renovation of the Hubbard Theatre at the Alley was completed in October 2015 - and created a new 774-seat state-of-the-art performance venue. Matched with the newly renovated 296-seat Neuhaus Theatre, the Alley offers nearly 500 performances each season. The Company reaches over 200,000 people each year through its performance and education programs. Its audience enrichment programs include pre-show and post-performance talks, events, and workshops for audience members of all ages.

Related Articles View More Houston

Stories

Shows
More Hot Stories For You