Review Roundup: Critics Ease On Down To THE WIZ At TUTS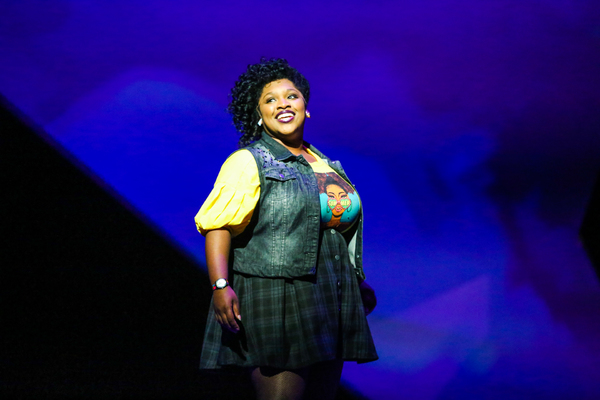 Theatre Under The Stars' production of The Wiz is now open!
Leading off the cast is Salome B. Smith in the role of "Dorothy". Smith is a recent graduate of Alabama State University where she performed in many theatrical productions including The Color Purple, Rent and Carousel. Marva Hicks is playing the role of "The Wiz". Hicks has appeared on Broadway in Motown The Musical, Caroline or Change, and The Lion King. Yvette Clark will play the roles of "Evilene", "Glinda", and "Aunt Em". Clark has appeared in numerous regional productions including Thoroughly Modern Millie, Showboat, Chicago, and Hairspray. Simone Gundy will play the role of "Addaperle". Gundy returns to TUTS after starring in the 2017 production of Memphis. Paris Nix is playing "Tin Man". Nix was last seen on Broadway in Beautiful: The Carole King Musical. Allyson Kaye Daniel is "Lion". Daniel most recently appeared at TUTS as "Miss Jones" in How to Succeed in Business Without Really Trying. Her other credits include Newsies, Ghost, and We Will Rock You. Christopher Campbell, who just appeared in the TUTS production of Oklahoma! as Will Parker, will play the role of Scarecrow
Rounding out the cast in the Ensemble are Dwayne Cook, Jr., Teacake Ferguson, Lauren E.J. Hamilton, Jayson Kolbicz, Trey Morgan Lewis, Mariah Reives, Taylor Mackenzie Smith, Michael Anthony Sylvester, Roenia Thompson, Christopher Tipps, Raven Justine Troup, Mya Tucker, LaBraska Washington, Christopher Henry Young, and Phil Young. The production also features the following students from TUTS Humphreys School of Musical Theatre: Abriel Coleman, Bryce Gilleyen, Sydney Harris, Navaeh Joseph, Hayley Prince, and Courtney Robertson.
As previously announced, The Wiz will be direcred by Robert O'Hara, choreographed by Byron Easley and Darryl Ivey will serve as Music Director. Joining them on the production will be Alex Jainchill as Lighting Designer, Andrew Harper as Sound Designer, Dede Ayite as Costume Designer, Aaron Rhyne as Projection Designer, and Jason Sherwood as Set Designer. Casting for The Wiz was provided by Christine McKenna of Stewart/Whitley.
A hip re-telling of L. Frank Baum's The Wizard of Oz, The Wiz is a jubilant tale of friendship and adventure. With music and lyrics by Charlie Smalls, and book by William F. Brown, the original production won seven Tony Awards® when it opened on Broadway in 1975 including Best Musical. The Wiz resonates with young and old audiences alike, and has had numerous successful revivals and a recent live, television production on NBC.
The Wiz tells the story of Dorothy, who lives with her Aunt Em, Uncle Henry, and her dog, Toto. After a cyclone hits her house, Dorothy is transported to the magical land of Oz where she meets the Scarecrow, the Tin Man, and the Lion who help her on her journey to defeat the wicked Evillene, and find her way home.
Ease on down the road with this fantastical production of The Wiz running October 23 through November 4 at the Hobby Center for the Performing Arts. Tickets are available at online at TUTS.com, or by contacting the TUTS Box Office by phone at (713) 558-8887 or in person by visiting the Box Office located at 800 Bagby Street.
Let's see what the critics have to say!
Wei-Huan Chen, Houston Chronicle: This staging of the musical feels modern and exciting. Nor is there any hint of the heteronormative, white supremacist standards of beauty that weigh down nearly all classic musicals like wet baggage. Instead, here are beautiful dancers and artists of all kinds, presented with the kind of glamour, strength and no-apologies flamboyance that would make Gaga or Ru proud.
Holly Beretto, Houstonia Mag: Jason Sherwood's sets are pretty spare, with the occasional chaise lounge sliding in and out, but the multimedia projections fill in the blanks nicely. The cyclone segment is particularly fun, with everything from dresses to picket fences to the show's Playbill seen flying on screen. The bursts of fire that show up on the projection are kind of campy, but overall, the effect is better than nothing. Dede Ayite's costumes are a wonder, especially for the ensemble. Whether it's pulled-up parachute-looking material on the munchkins or multiple shades of green on taffeta, chiffon, silk, and all manner of Steampunk splendor on the residents of Oz, they are a glorious rainbow of creativity.
Natalie De La Graza, Houston Press: The saturated Technicolor fantasy you'd want from any adaptation of Baum's book is a beautifully realized spectacle under director Robert O'Hara. Jason Sherwood's sharp, jagged set piece that handles all of Aaron Rhyne's clever, whimsical projections and Dede Ayite's costumes, including the Tinman's piecemealed body, the Scarecrow's harlequin-inspired digs, and the pop of yellow under Dorothy's plaid vest, only add further to the world. And remember, this is a world that includes colorful, inflated, Teletubbie-like munchkins played by members of the ensemble.
Bryan-Keyth Wilson, BroadwayWorld: All in all, this is a great production. From the B3 Hammond Organ riffs in "Believe" this production was beautifully black and has a mass appeal that any lover of this story would salivate over. As I say, these are just the two cents, spend them how you see fit! Ease on down the road to the Hobby Center to THE WIZ now until November 4.