Photo Flash: New Production Shots from A.D. Players' ANNE OF AVONLEA
A. D. Players closes its 46th season with Anne of Avonlea by Joseph Robinette, whose heroine, Anne Shirley, is beloved throughout the world. The production is now open, and runs through August 18th at A. D. Players' Grace Theater. BroadwayWorld has new production photos below!
Fans of Anne of Green Gables will love following everyone's favorite red-head, Anne Shirley, as she embarks on a career as a school teacher in her beloved Avonlea. There is never a dull moment for the enthusiastic Anne who creates a village improvement society, contends with cantankerous new neighbor Mr. Harrison, and helps Marilla take care of twins Davy and Dora, while tackling her first teaching position. Full of humor and charm, Anne's continuing adventures will captivate the whole family.
Starring as Anne Shirley is Joy Spence, an A. D. Players' Theater Arts Academy (TAA) alum and current student at HSPVA. Her roles in TAA productions include Cinderella (Cinderella: The World's Favorite Fairy Tale), the Baker's Wife (Into the Woods, Jr.) and Alice (Alice in Wonderland). Other productions include Our News Hour, Blood Wedding, and Radium Girls at HSPVA and A Midsummer Night's Dream at HITS.
Completing the cast of Anne of Avonlea are A. D. Players' resident actors Patty Tuel Bailey as Marilla Cuthbert, Chip Simmons as Mr. Harrison, Keely Surla as Rachel Lynde, Jason Hatcher as Gilbert Blythe,Katharine Hatcher as Emily Harrison, et. al., Braden Hunt as Stephen Irving, et. al., and interns Megan Jackson as Charlotta, et. al. and Jesse Merrill as Fred Wright. Guest artists include Abigail Schwaig as Diana Berry and Stephanie Bradow Hunt as Miss Lavendar, et. al.
Anne of Avonlea also includes two casts of children who will alternate performances. They include Rayne Beckman,
Alaina Brownfield
,
Liam Conner
,
Bryce Cooper
, Austin Czeczinski, Alden Eckman, Eli Go, Everett Go, Kameryn Griesser, Abby Hubbard, Allison Klinge, Dylan Klinge,
Keri Palmer
,
Abigail Rodrigue
,
Rory Seeber
ger, Kori Jane Spaulding, Joshua Swasey,
Olivia Swasey
, Frances Watson, and Anna Yost.
Anne of Avonlea features scenic design by Mark A. Lewis, lighting design by Andrew Vance, properties design by Abigail Kehr, sound design by Eric Domuret, and costume design by Donna Southern Schmidt.
Anne of Avonlea is directed by A. D. Players' company member and resident actor Sarah Cooksey and assisted by Stephen Hurst.
Tickets to Anne of Avonlea may be purchased online at www.adplayers.org, at A. D. Players' Box Office, 2710 W. Alabama, or by calling 713-526-2721. Ticket prices are: Previews: $15; Wednesday - Sunday: $32 - $41. Group, student, and senior discounts are available.
Photo Credit: Bara Photography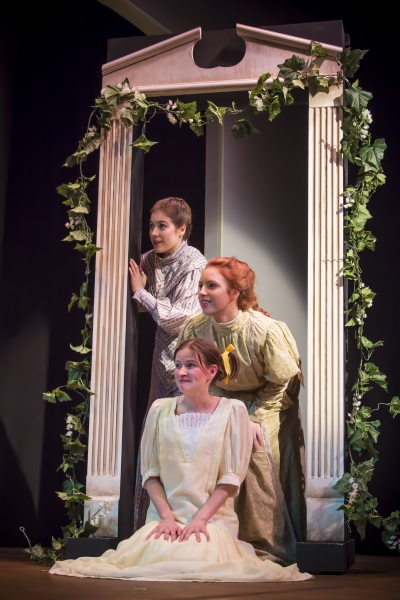 Abigail Schwaig, Joy Spence, Megan Jackson

Eli Go, Frances Watson

Abigail Schwaig, Joy Spence, Braden Hunt

Anne with her students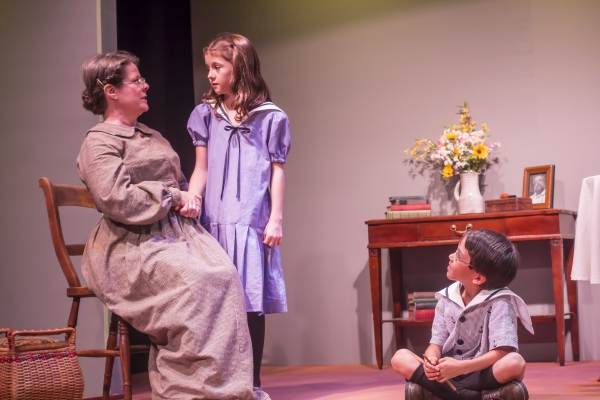 Patty Tuel Bailey, Frances Watson, Eli Go