Photo Flash: Main Street Theater Opens MISS NELSON IS MISSING Today
Miss Nelson Is Missing!, adapted by Jeffrey Hatcher and based on the book by Harry Allard and James Marshall, will be directed by Mark Adams at the Main Street Theater - Chelsea Market ( 4617 Montrose Blvd., Houston, TX), today, March 2 - April 6, 2013. Get a first look at the cast in the photos below!
"The kids in Room 207 were misbehaving again. Spitballs stuck to the ceiling. Paper planes whizzing through the air. They were the worst-behaved class in the whole school." But when Miss Nelson disappears and the mean-looking substitute Miss Viola Swamp takes her place, the children are so desperate they hire a detective to find Miss Nelson in this wacky whodunit hit! Recommended for Kindergarten and up. No children under 3 allowed in the theater (including sleeping babies).
Tickets: $12 - $16 (group rates available). Advance tickets for ALL Main Street
Theater Productions
are on sale at the Main Street Theater Box Office, located at the Main Street Theater - Rice Village, 2540 Times Blvd., Houston, Texas. For more information and to charge by phone, call 713.524.6706. Charge online at
mainstreettheater.com
.
Photo Credit: Kaitlyn Walker


Viola Swamp (Katie Harrison) and her terrified students (Jessica Knapp and Chioke Coreathers)

Viola Swamp (Katie Harrison)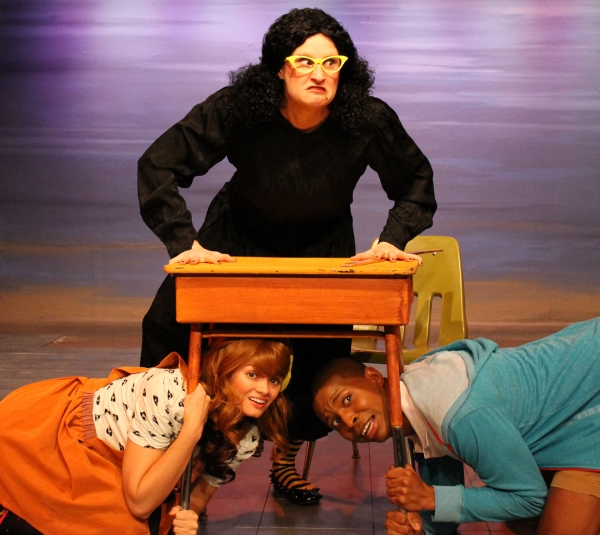 Viola Swamp (Katie Harrison) and her terrified students (Jessica Knapp and Chioke Coreathers)