Photo Flash: ETC Spoofs the 70's in New Musical DISASTER!
Island ETC (East-End Theatre Company) is pleased to announce our 15th season opener, DISASTER! DISASTER! is a new musical by Seth Rudetsky and Jack Plotnick. DISASTER! will open with a fundraising gala on Friday, July 21st and performances will continue through August 19th. Earthquakes, tidal waves, infernos and the unforgettable songs of the 70's take center stage in this homage to classic disaster films.
The year is 1979. All the hottest New York City A-Listers are putting on their platform shoes and polyester disco shirts and heading to the grand opening of Manhattan's first floating casino and discotheque. Little do they know that the pier built to house the huge boat was drilled into the center of a dangerous and unstable fault-line. DISASTER! is a 1970's disaster movie musical and features songs from the '70's: Hot Stuff, I Am Woman, Knock On Wood, Daybreak, Hooked On A Feeling, and many more!
Directed by Kim Mytelka, choreographed by Jennifer Daugherty with musical direction by Eduardo Guzman, the musical features several ETC favorites including Cameron Dunbar (Tony), Katie Harrison (Jackie), Justin Gonzalez (Chad), Sarah Meyers (Marianne), Patty Talley (Sister Mary Downey), Alex Petty (Ted Scheider), Sandi Morgan (Shirley Winters), Paul Hager (Maury Winters), Caitlyn Mytelka (Lisa/Ben), and Kyle Crawford (Scott). Making her ETC debut as Levora Verona is Aggie Balka. Rounding out this fantastic cast is a phenomenal ensemble (each portraying several characters) consisting of Brennan Blankenship, Sophia Carraro, Cody House, Holt Kirkindoll, JuliAna Miller, and Chris Monteith.
All performances will be at ETC, 2317 Mechanic in Galveston. Performances are Thursday, Friday, and Saturday evenings at 8:00pm. There will be two Sunday matinees at 2:30pm on July 30th and August 6th. Performances are July 22nd - August 19th. Tickets to this uproarious musical are $30.00 for adults and $25.00 for students and senior citizens.
Tickets to the opening night 70's themed fundraising fete on Friday, July 21st are $60.00 each. Opening night is sponsored by Joe Tramonte realty and will feature delightful dishes and drinks provided by the Galveston Restaurant Group (featuring food from Saltwater Grill, Sky Bar and Taquilos), Galveston Island Brewing, and Gypsy Joint. Several other surprises await our guests at this totally 'rad' event.
All tickets may be purchased by visiting www.islandetc.org or by calling our box office at 409-762-3556.
Photos courtesy of Island ETC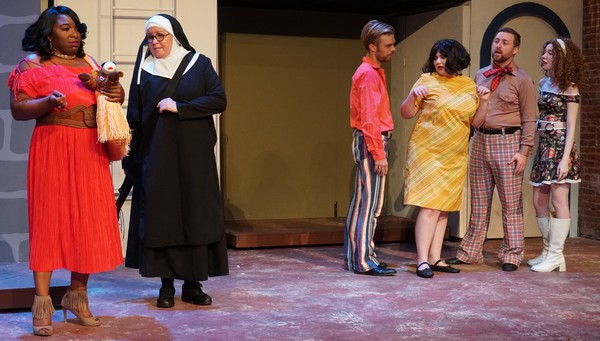 Aggie B. Balka, Patty Talley
Sandi Morgan, Kyle Crawford
Sarah Meyers, Caitlyn Mytelka