HELLO, MRS. PIGGLE-WIGGLE Comes to MST this March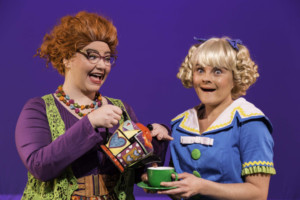 Main Street Theater (MST) presents the wonderfully fun family musical HELLO, MRS. PIGGLE-WIGGLE!
---
Mrs. Piggle-Wiggle-- think Mary Poppins and Nanny McPhee combined-- has been delighting children and their parents for decades in Betty MacDonald's classic Mrs. Piggle-Wiggle book series. Now, she delights in musical form.
Mrs. Piggle-Wiggle understands children in a way no one else does. That's why parents all over town come to her for help teaching their children how to behave. With her imaginative ideas and crazy cures, Mrs. Piggle-Wiggle saves the day.
The production is directed by Robin Robinson who recently directed Click, Clack, Moo: Cows at Type at MST. The musical director is Eduardo Guzman. The cast includes Brennan Ashley, Daniel Edwards, Carian Lynée Parker, Ellen Dyer Smith, Elizabeth Tinder, R. Cantrell Williams, Whitney Zangarine, and Maggie the Dog.
The design team is Glenda Wolfe (costume), Liz Freese (set), David Gipson (lighting), Yezminne Zepeda (sound), and Tina Montgomery (props). Sophia L. Torres is the choreographer. Rachael Fernandez is the production stage manager.
HELLO, MRS. PIGGLE-WIGGLE! is recommended for audiences 1st grade and up. (Children under the age of 3, including sleeping babies, are not allowed in the theater.) Accommodations Performances are available. On March 4, 2018 at 3:30 p.m., there is Sensory-Friendly performance and on March 24, 2018 at 11 a.m. an Audio Description is available. To request a headset, please visit Will Call. Large print playbills are also available at Will Call.
Main Street Theater provides theater experiences for all ages. Founded in 1975, the MainStage produces professional, intimate, literary plays for adults and operates under an Actors' Equity Association union contract. The Theater for Youth produces professional, engaging productions based on children's literature for families and school groups, both in-house and on tour around Texas. MST works out of 2 facilities: its Rice Village home on Times. Blvd., and as part of the MATCH (Midtown Arts & Theater Center Houston) on Main Street.
Performances are at 12:30 p.m. and 3:30 p.m. on Sundays, March 4, 2018 and March 11, 2018; at 11 a.m. and 2 p.m. on Saturdays, March 24, 2018 and March 31, 2018; and at 11 a.m. Friday, March 3, 2018. MST's Midtown location, 3400 Main Street, Matchbox 4. For information, please call 713-524-6706 or visit MainStreetTheater.com. $16 - $22.
More Hot Stories For You