HATTIE'S BIG NIGHT Thrills Audiences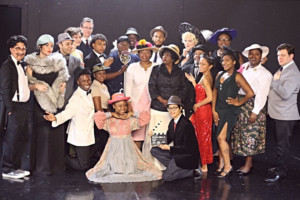 If standing ovations are one of the major parameters of a successful play, Hattie's Big Night would be deemed a crowd pleasing hit. The new show by Houston Playwright Vincent Victoria and produced by his company Vincent Victoria Presents, had its World Premiere on February 1 and has had audiences on their feet during the curtain call for each performance.
The show inspired by the events at the 1940 Academy Award Ceremony in which Hattie MC Daniel became the first African American to win an Oscar for her performance as Mammy in the Classic Movie "Gone With the Wind", has left an indelible impression on the audience members despite some minor technical difficulties.
Says Award Winning Director Harold J. Trotter, who saw the show on opening night: "Got a chance to Hattie's Big Night and it's great! Historically educating, musically infused, and artistically retold. Definitely one for the books".
Noted Producer and playwright Curtis Von stated: "Hattie's Big Night is an amazing production.The writing, acting & flow of this show was outstanding. Most importantly, I learned so much about Hattie McDaniel. Please go support this play!
Veteran Actress and Playwright Jean Donatto opined " The play is a winner !" I'm going to try to see it again before it closes".
The play includes a large cast of talented local actors including singer Terrie Donald as Hattie Mc Daniel. Megan Nix in star turns as Mae West, Bette Davis, and Louella Parsons. Todd Greenfield as Groucho Marx. Tadrian White as Tap Dancer Bill "Bojangles" Robinson" and Jasmine Thomas as actress Louise Beavers.
There is still time to see this timely brand new production during Academy Award Season and Black History Month.
Final performances are Feb. 8 at 8 pm. February 9th at 3 pm and 8 pm and February 10th at 4 pm.
Tickets are $25 at the the door and $20 online at www.banksbrothersproductions.com
Tickets for Seniors over 60 and Students with I.D. are $12.50 at the door. For more info. call 281 832 6380.
Related Articles View More Houston

Stories

Shows
More Hot Stories For You