Cast Announced For Disney's BEAUTY AND THE BEAST At ZACH Theatre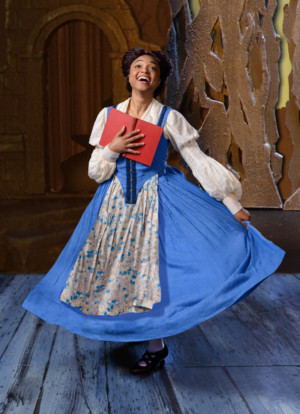 ZACH Theatre is proud to announce the cast for the worldwide smash hit musical, Disney's Beauty and the Beast featuring the animated film's Academy Award-winning score with music by Alan Menken and lyrics by the late Howard Ashman, with additional songs composed by Alan Menken and lyrics by Tim Rice, and book by Linda Woolverton. Disney's Beauty and the Beast plays ZACH's Topfer Stage from July 11-September 2, 2018 under the direction of Associate Artistic Director Abe Reybold with musical direction by Allen Robertson and choreography by Sara Burke.
Be Our Guest! This "tale as old as time" follows Belle, a book-smart and adventurous young woman and the Beast, a formerly dashing young prince cursed by an enchantress. If the Beast cannot learn to love and be loved in return, he and his household including Lumiere, Cogsworth, Mrs. Potts, and Chip will be trapped forever under the spell. The Broadway smash hit showcases a merry, award-winning score with favorites such as "Beauty and the Beast," "Gaston," and "Be Our Guest." This delightful family musical enchants and transforms hearts of all generations.
With this timeless story, Director Abe Reybold expressed his enthusiasm on bringing Disney's Beauty and the Beast to the Topfer Stage this summer, "Sharing this story about the transformational power of love with a multi-generational audience fits beautifully within ZACH's mission to entertain, to inspire and to ignite the imagination. This may be the first stage show that many young people see, and I am creatively charged to make Beauty and the Beast magical, truthful and filled with laughter. The design team has done wonders and I am excited to work with the talented cast on this well-crafted Disney classic with its big melodic heart and so many wonderful lessons within."
The cast includes BRIANA BROOKS as Belle; Alexander Mendoza as Beast; MATTHEW REDDEN as Gaston; MARTIN BURKE as Lumiere; John Christopher as Cogsworth; MEREDITH McCALL as Mrs. Potts; JENNIFER BLAKENEY YOUNG as Babette; JUNE JULIAN as Madame de la Bouche; MICHAEL FERSTENFELD as Maurice; KEVIN PELLICONE as Lefou; WILKES GOODNER as Chip #1; LUCCA OSTROVICH as Chip #2; VICTORIA BROWN as Enchantress/Ensemble; ANTHONY VINCENT TOUDJAROV as Monsieur D'Arque/Ensemble; and SHANNON CONBOY, GRACE MUAWAD, and KHALI SYKES as Silly Girls/Ensemble.
Additional Ensemble includes MEGAN CHIZEK, CHRIS BARFIELD, LESLIE HETHCOX, ETHAN ROGERS and TY SHAMAR with Swings cast OWEN SCALES, CAMRYN LAMONTAGNE, JOHNATHAN MACEDO, and FRANCENE BAYOLA.
Directed and Musically Staged by Abe Reybold, the production team also includes ALLEN ROBERTSON as Musical Director, SARA BURKE as Choreographer, Court Watson as Scenic Designer, Susan Branch TOWNE as Costume Designer, SERRET JENSEN as Hair and Makeup Designer, Michelle Habeck as Lighting Designer with CRAIG BROCK as Sound Designer, SCOTT GROH as Properties Designer, TOBY MINOR as Fight Choreographer, AMANDA COOLEY DAVIS as Dialect Consultant, and CATHERINE ANNE TUCKER as Stage Manager.
Age Recommendation: Six and up
Run time: Two hours and 40 minutes including one intermission
Special Events in celebration of Disney's Beauty and the Beast:
Pride Night - Thursday, July 12, 2018
Wednesday Post-Show Discussion - Wednesday, July 18, 2018
ASL Interpreted, Open Captioned, and Audio Described - Wednesday, July 18, 2018
Champagne Opening - Thursday, July 19, 2018
Tickets start at $25 and are available online at zachtheatre.org, by phone at 512-476-0541, or in person at the ZACH Theatre Box Office, in the Topfer Theatre, 202 South Lamar Boulevard (corner of Riverside Drive and South Lamar) Monday through Saturday, 12-5p.m. ZACH Theatre is wheelchair accessible. Discounts are available for groups of 8 or more. Student Rush Tickets are $20 one hour before show time (with valid ID).
The Moody Foundation and AT&T are Presenting Sponsors of Disney's Beauty and the Beast with Silicon Labs as Leading Sponsor, Maria and Eric Groten and Carl and Claire Stuart as Executive Producer Plus, Anna, Cindy, and John Greenwood, Carla and Jack McDonald, Michelle and Erik Natinsky as Executive Producers, and Norton Rose Fulbright and KMFA as a Supporting Sponsor.
CAST
Briana Brooks - Belle
Alexander Mendoza - Beast
Matthew Redden - Gaston
Martin Burke - Lumiere
John Christopher - Cogsworth
Meredith McCall - Mrs. Potts
Jennifer Blakeney Young - Babette
June Julian - Madame de la Grande Bouche
Michael Ferstenfeld - Maurice
Kevin Pellicone - Lefou
Wilkes Goodner - Chip #1
Lucca Ostrovich - Chip #2
Victoria Brown - Enchantress/Ensemble
Anthony Vincent Toudjarov - Monsieur D'Arque/Ensemble
Shannon Conboy - Silly Girl/Ensemble
Grace Muawad - Silly Girl/Ensemble
Khali Sykes - Silly Girl/Ensemble
Megan Chizek - Ensemble
Chris Barfield - Ensemble
Leslie Hethcox - Ensemble
Ethan Rogers - Ensemble
Ty Shamar - Ensemble
Owen Scales - Onstage Swing
Camryn Lamontagne - Onstage Swing
Johnathan Macedo - Swing
Francene Bayola - Swing/Belle Understudy
PRODUCTION TEAM
Abe Reybold - Director and Musical Staging
Allen Robertson - Music Director
Sara Burke - Choreographer
Court Watson - Scenic Designer
Susan Branch Towne- Costume Designer
Alex Candelas - Costume Design Assistant
Serret Jensen - Hair and Makeup Designer
Michelle Habeck - Lighting Designer
Craig Brock - Sound Designer
Scott Groh - Properties Designer
Toby Minor - Fight Choreographer
Amanda Cooley Davis - Dialect Consultant
Catherine Anne Tucker - Stage Manager
Megan Smith - Assistant Stage Manager
Davvi Solomon - Assistant Stage Manager
Jennifer Blakeney Young - Dance Captain
About ZACH Theatre
A non-profit organization, ZACH creates intimate theatre experiences that ignite the imagination, inspire the spirit, and engage the community. As Austin's leading professional producing theatre, ZACH employs more than 250 actors, musicians, and designers annually to create its own diverse array of nationally recognized plays and musicals under the leadership of Producing Artistic Director Dave Steakley and Managing Director Elisbeth Challener. Each year, ZACH serves nearly 128,000 Central Texans - 55,000 of which are children and youth who participate in our education and outreach programs, as well as inspiring camps and classes. ZACH Theatre is honored to host private and community events across the beautiful rental-ready spaces on our three-stage campus located in the heart of Austin. Founded in 1932 and in its 85th Anniversary season, ZACH is the longest continuously running theatre company in the state of Texas, and one of the ten oldest in the country.
Visit zachtheatre.org for more information.

ZACH Theatre's 2017-18 Season is sponsored in part, by The Moody Foundation, Baylor Scott & White Health, Dell, and Holiday Inn-Lady Bird Lake; and by grants from The Shubert Foundation, Junior League of Austin, The National Endowment for the Arts, Texas Commission on the Arts, and the Cultural Arts Division of The City of Austin Economic Development Department.