BWW Review: WAKEY, WAKEY reveals its soul at Catastrophic Theater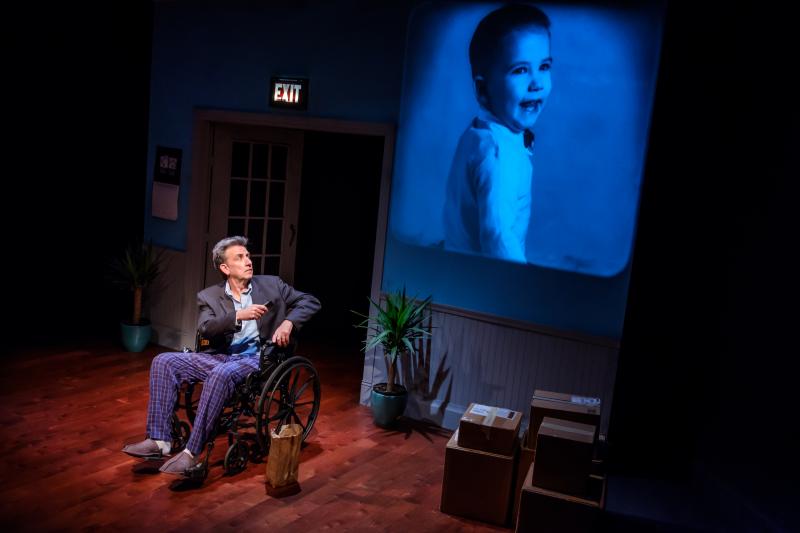 Will Eno is amongst the throng of "New American" contemporary playwrights such as Annie Baker, Branden Jacob Jenkins and Young Jean Lee whose work, such as The Realistic Joneses, has been celebrated for its use of acerbic language in modern contexts. Eno's works often include a singular character exploring the intersection of loneliness and human connection. Eno, who was present at the performance, spoke of the play's conception being a direct response to a personal and professional loss suffered during its development and the birth of his daughter. Out of those vastly different life-changing experiences Eno crafted the play that later became this work. WAKEY, WAKEY continues in that familiar Eno-vian vein by introducing us to Guy, an aging patient in a hospice center nearing the end of his life.
The audience is an active participant within the show, whom Guy speaks to directly about various topics ranging from the mystery of the afterlife to the joy of viral videos. We de-scramble words with Guy, listen to Guy's favorite quotes that are long forgotten but scribbled on note cards, learn of his restrictive dietary needs and his disdain for liquid foods. As the play progresses, we grow more attached to Guy as he grows less and less responsive. His nurse, Lisa, enters with exuberant energy and hibiscus tea as Guy struggles to conjure more memories to entertain us. It is not long before Lisa lends a helping hand to translate Guy's incoherent muttering.
It was a marvel to witness Guy's declining health before our eyes. The entirety of the experience echoed a bittersweet visit to a family friend at a nursing home much more than a traditional theatrical experience. Guy is played by Ken Webster, the acclaimed actor and artistic director of Hyde Park Theatre, with a wealth of charm and restraint. Webster handles Eno's script with sure-footed comedic timing and wry, on the nose delivery. He transitions from the life of the party to immobilized senior with ease. His chemistry with the spritely and spirited Rebecca Robinson as Lisa rings true for a short while before the show's inevitable end.
Robert S. Fisher's sound design proved to be a character in itself (working in tandem with Lowell Bartholomee's video design) to provide the funny or mysterious sounds of bagpipes in Ireland, reflective chimes, and screaming animals. The video at the show's close elicits the diverse, multi-faceted highs and lows of humanity to heartwarming effect. Mark Pickell's scenic design should be celebrated for its mysterious simplicity that suggests a place somewhere between a hospice and purgatory. The glowing "EXIT" sign, one of the few sparse lighting designs in Don Day's minimalist approach, brings to mind Jean Paul Satre's classic No Exit and holds a beautiful duality for both the performers and the audience.
---
Performances continue through February 3 at 7:30 p.m. Thursday, 8 p.m. Fridays and Saturdays and 2:30 p.m. Sundays at the José Quintero Theatre, University of Houston School of Theatre & Dance, 3351 Cullen. For more information, call 713-522-2723 or visit catastrophictheatre.com. Pay what you can; $40 suggested price.