BWW Review: HOLIDAY INN at Diamond Head Theatre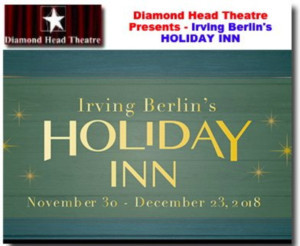 Every season, Diamond Head Theatre (DHT)---known as the "Broadway of the Pacific"---mounts a Christmas-themed production to bring holiday cheer to the patrons of its theatre-going community. Recent years have included the likes of A Charlie Brown Christmas, A Christmas Story, White Christmas, and Little Women; however, this season's particular holiday show, Holiday Inn, based on the 1942 film musical starring Bing Crosby and Fred Astaire, doesn't just revolve around Christmas: it celebrates nearly all holidays in the annual canon. Ranging from Thanksgiving, to Valentine's Day, to Easter, to even the Fourth of July, and, of course, Christmas, Holiday Inn, finds the perfect amount of cheer and nostalgia that caters to almost everyone's favorite---you guessed it---holiday. Supported by a stellar cast, choreography, costuming, and set, Holiday Inn is surely a musical to check in to.
Fresh off his prodigious debut back in March in A Gentleman's Guide to Love and Murder, Zachary Linnert returns to and commands the DHT stage in his sophomore role as Jim Hardy (played by Bing Crosby in the film), a man who once thrived off of performing, who decides to leave the hustle and bustle of show business of New York to buy and tend to a farm in Connecticut, hoping his new fiancee Lila Dixon (Rachele Rees, in her DHT debut, who looks strikingly similar to underrated film actress Nina Arianda), will come along for the ride, where they will pursue their new lives together. The problem is, she has no desire to leave the urban for the rural and instead has the predilection to to remain in the city and perform alongside Jim's best friend and former co-star Ted Hanover (Kaimana Ramos, playing the role originated by Fred Astaire), a man who charms, and, in the words of Jim, "steals away women." While in Connecticut, facing some financial thralls of paying his mortgage, he meets Louise (a scene-stealing Vanessa Manuel-Mazzullo), the farm's loyal attendant, who convinces him and her friend Linda Mason (a striking Erin Wong), a meek school teacher, once an inhabitant of the farm, to mount performances revolving around each holiday and turn it into an inn.
What's most notable about this performance is that every single actor inhabits his or her role, whether lead, supporting, or ensemble. As observed in past productions, while sometimes the "role wears an actor," in this particular show, the "actors wear their roles." Every actor embodies the look, personality, and stamina required of each character, without a single casting mishap, ultimately allowing the show to reach its maximum enjoyability potential. While all leads perform impeccably, Wong is particularly the standout of the show. While she is not necessarily afforded the glitz and glamor of enticing tap routines or comedic lines like some of her co-stars, what she exudes in both her acting and singing, ranging from her hand gestures, facial expressions, and pacing, is what qualifies her as having the best performance in the show. Furthermore, through all the lines and comedic timing of all performers come the ability to memorize and portray the stunning tap choreography of Lisa Kimsey and Caryn Yee. Nearly every ensemble song features tap, and the most astonishing number comes in "Shaking the Blues Away," in which almost the entire cast performs in a number that doesn't just merely involve tap, but also jumping rope. It's THE scene of the show that will have the audience in rapturous applause.
Additionally, the creative team behind the show also deserves praise. From his stalwart direction, John Rampage delivers a show that solidifies his ability to translate a charming story into an enticing spectacle. The musical direction led by DHT staple Emmett Yoshioka is a delight to hear, and the costumes and set are especially attractive. In the Easter ensemble number, both the set and costumes literally took my breath away. And, as mentioned, the choreography thus translated through the cast is a stellar highlight of the show.
If you've either seen or heard of the film, as mentioned, which was released in 1942, do not let that deter you from seeing the show or thinking that it is catered to the elderly. While the show features traditional songs like "White Christmas" and "Cheek to Cheek," the themes of the show can be considered both relatable and contemporary, in addition to the dazzling tap---which instills a contemporary spin---are all features that deem it as a show for all ages. The show opened two weeks ago and runs for two more weekends, so go ahead and check in to Holiday Inn at Diamond Head Theatre! 808-733-0274.