BWW Previews: Prepare for 'Earnest' Laughter at First Presbyterian Theater's THE IMPORTANCE OF BEING EARNEST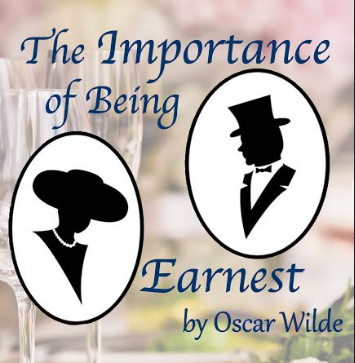 First Presbyterian Theater always provides Fort Wayne with a stellar spread of theatrical offerings- comedies, tragedies, new plays, Shakespeare, you name it. The first show of their 2019-2010 season is THE IMPORTANCE OF BEING EARNEST by Oscar Wilde, which is sure to live up to the high expectations of their audiences. For those unfamiliar with the plot of the show, this "trivial comedy for serious people" is about two wealthy bachelors from London who pretend to be "Earnest" in order to win the love of two separate young ladies, all of whom have to try navigating the rules of society - including the prim and proper older generation. I was lucky to be able to speak with the director, John Tolley, as well as two of the show's actors, Kate Black and Aaron Mann, about what we can look forward to seeing when the show opens on September 5th.
John Tolley, returning to First Presbyterian for this show after having served as the Minister of Drama from 1974 to 1990, describes the play as "the quintessential English comedy of the nineteenth century," but notes that its portrayal of deception and misplaced identity are just as comedic today as they were over a century ago. It's easy to see how the play acts as a witty response to our current cultural and political climate as well. "The sheer joy of the tongue-in-cheek critique of the pretension of the 'elites' of late nineteenth-century English society points fingers right back at the polarized culture wars we are experiencing in twenty-first century America today," said Tolley.
Already having directed the dialogue-driven show once back in 1978, Tolley is no stranger to the wordplay that Oscar Wilde relies on, stating that "the elegant and convoluted language is probably the biggest challenge to producing a fast-paced, spirited interpretation of THE IMPORTANCE OF BEING EARNEST." The language offers a real opportunity to play with the text and try new ways of reading the lines to bring them alive for a modern audience, and after seeing his cast in action for the last few weeks, Tolley is confident that this group of actors will live up to that very challenge.
One of these talented actors is Aaron Mann, who describes his character Algernon as "a carefree, privileged, mischievous trickster." Since Algernon is someone who almost always speaks his mind, Mann tries to reflect this character's strong freedoms in his energy, physicality, and voice. So far, he's found great joy in being able to explore the language itself, especially in conjunction with the other ridiculous characters onstage. "I love hearing the words of this play over and over again and then jumping in the sandbox to see what I can contribute," said Mann.
Algernon isn't the only character in the universe of the show who gets to play around with words. Kate Black, veteran of the Fort Wayne stage, plays the imposing Lady Bracknell in this production, who Black compares to the Dowager Countess from Downton Abbey. So what drew her to this part? "Having the opportunity to play this iconic, comedic, and formidable mother was really one I couldn't ignore. The chance of playing Wilde, in addition to my dear friend and director of many years [John Tolley] was the icing on the veritable tea cake!" said Black.
As audiences will discover, Lady Bracknell acts as a target for Wilde's opinion of the upper class, at which he loves to poke fun. Black describes her character as "a woman of utter confidence, believing she is entirely entitled to any and all attention and obedience that she might feel is due to her... [she is] pompous, unyielding, and utterly self-absorbed." The part of Lady Bracknell offers another peculiar challenge in terms of the language. "She always uses as many words as possible to convey the simplest thought," said Black, "making for some verbal gymnastics that I have found challenging but delightful to exchange with the other wonderful cast members."
Mann agrees that this cast brings a special energy to the show and rehearsal process. "Everyone involved with this show is a pro or seasoned veteran of the stage... Everyone is putting in the work to make this show really wonderful," he said. As good fortune would have it, their director shares these sentiments. "I want to extend my thanks to the amazingly talented cast and technical crew for making my small efforts look so good," said Tolley. "Fort Wayne theater audiences have a treat in store for them." And I, for one, can't wait to enjoy it.
THE IMPORTANCE OF BEING EARNEST runs at First Presbyterian Theater (300 W. Wayne Street) on September 5, 6, 7, 13, 14, 15, 20, and 21. The Sunday matinee on September 15th is at 2 p.m., with all other shows at 7:30 p.m. You can get your tickets online here, by calling the box office at 260-426-7421, ext. 121, or you can also get your ticket at the door. More information can be found on their website or Facebook page.
Related Articles View More Fort Wayne

Stories

Shows