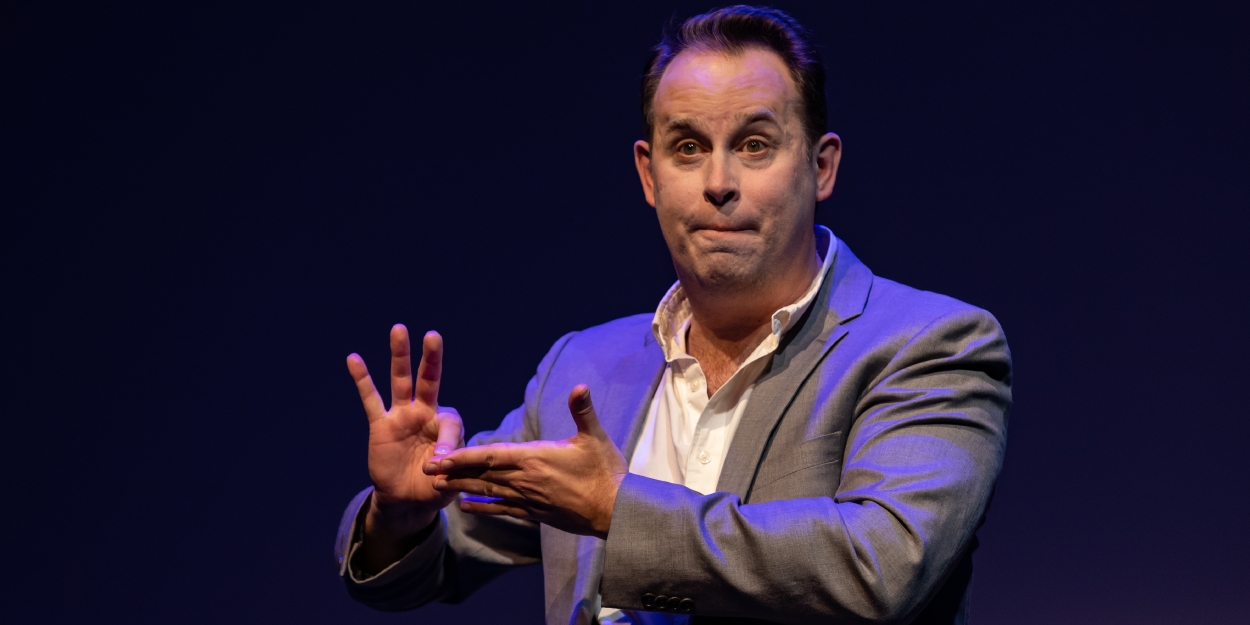 Review: Tragicomedy DEAFY Arrives at Edmonton's Citadel Theatre
Public speaker, Nathan Jesper, is here to shatter some common misconceptions about deaf people. Reading other people's lips is easy, but only when the people in question don't speak at one hundred kilometres per hour. Not tipping buskers stems from Nathan's inability to hear and enjoy music, not his dissatisfaction with the buskers' performances. And, contrary to some people's beliefs, deaf people are perfectly capable of driving when receiving inaudible instructions.
Deafy, a poignant solo show written and performed by Chris Dodd, is a heartbreaking and humorous testament to some of the struggles faced by deaf people in the 21st century. Through a series of anecdotes relayed through English-captioned American Sign Language, Dodd breathes life into the introspective and often self-deprecating Nathan. Throughout the 60-minute production, the audience is fully immersed in Nathan's journey from being a bullied adolescent to the unwanted addition to a circle of deaf friends to a jet-setting public speaker. In one of the show's most memorable highlights, Nathan humorously describes his first driving test, in which a friend of a friend struggles to convey the tester's instructions via sign language from underneath a strategically placed blanket. On the other hand, Nathan's self-described isolation following his only friend's out-of-town move paints a visceral portrait of unexpected loss.
The Citadel's intimate Rice Theatre provides an exceptional setting for this production. Rather than conventional theatre seats, the audience is seated at small, circular tables each lit by a faintly glowing tabletop lamp. The production's evocative lighting bathes the stage and audience in waves of primary colours, occasionally incorporating a disco ball's glittering effect. These effects not only emphasize Nathan's joy, grief, and everything in between but fully immerse the audience in his emotions.
Though not everyone shares Nathan and Dodd's experiences as a member of the deaf community, audiences will relate to Deafy's exploration of universal themes such as hope, loneliness, and social isolation. By sharing his story, Nathan (and Dodd) likewise challenges the hearing community to identify and confront any of their own implicit biases toward deaf people.
Deafy runs at The Citadel's Rice Theatre until February 12.
Photo by Nanc Price for The Citadel Theatre's production of Deafy (2023), featuring Chris Dodd.