BWW Review: ANNIE at Urbandale Community Theatre: This Production Will Leave You 'Fully Dressed' With A Smile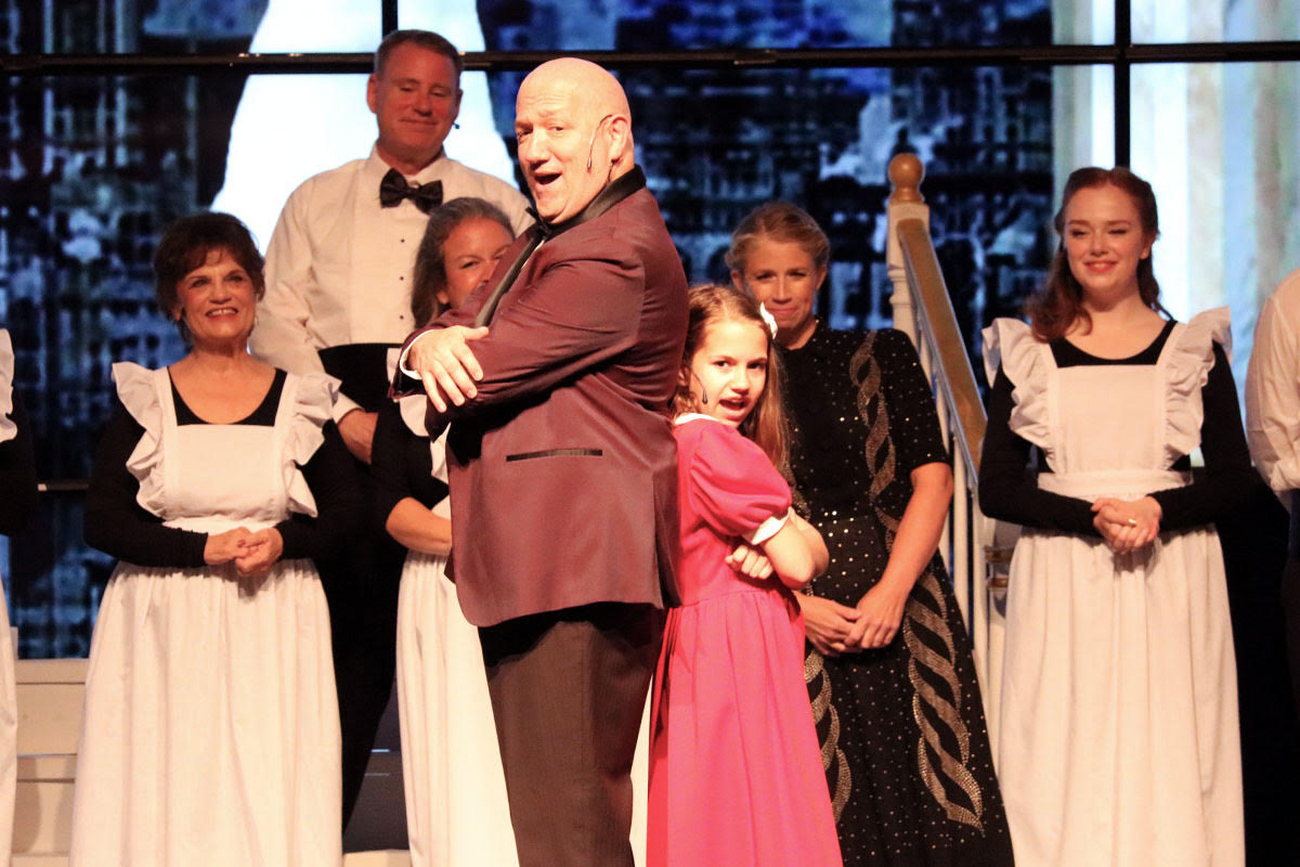 Everyone can remember the first time they saw Annie. Maybe it was on stage, or maybe it is one of 3 film/tv versions that have come out. No matter when you first saw it, the show probably became one of those shows that stays with you for a long time. The show's optimistic message is one that has stood the test of time and remains relevant still to this day. On July 19, Urbandale Community Theatre opened their production of "Annie" and when you come to see the show, as the song says, "I think you're gonna like it here."
If you haven't seen "Annie" before, Annie is an orphan at New York Municipal Orphanage, run by Miss Hannigan. From the top of the show, we see Annie longing to meet her parents who she still believes are alive. When she tries to sneak out she is stopped by Miss Hannigan who makes all the girls in the orphanage get up to clean. In the chaos of new sheets being brought in Annie is then able to successfully sneak out of the orphanage. When she is returned to the orphanage, Grace Farrell, the assistant to Oliver Warbucks, the billionaire, shows up to take an orphan home for the Christmas holiday. As you can guess from the title of the show, she chooses Annie to join Oliver Warbucks for the holiday. While there Annie sees a world opposite of the world at the orphanage. As Warbucks and Annie get to know each other, Oliver Warbucks decides instead of sending Annie back to the orphanage he will adopt her. When he presents a locket to Annie similar to the broken one she wears, she turns it down telling him she wants to find her parents. Will they find her parents, will she stay with Warbucks, or go back to the orphanage? That is something you will have to go to the show to find out.
When a theatre mounts a production of Annie, one of the things they have to think about is how do you tell the story in a way that hasn't been told before. UTC's answer comes in mounting their production in a new location, at Franklin Junior High. By moving to this location, they can use their video wall that fills the stage and two screens on the side to assist in telling the story. They used the screens to their fullest. I enjoyed the silent moviesque preshow announcement at the beginning of the show. By using projections by Rick Frendt Theatrical Projections and Design, they were able to tell the story using minimal set pieces. This allowed for full use of the stage, as well as quick scene changes that kept the production moving along. Carter Bricker-Smith made great choices as to what pieces needed to be added to each scene for the actors to be able to tell the story going on during the show.
One of the difficulties directors face when doing a show like Annie, is that there tends to be a large turnout for auditions, and sometimes that means not everyone gets cast that auditions. If you cast too many people, then the stage is full and doesn't give you a chance to highlight the talents of the cast. The directing team of Kelsey Moran (Director), Tony Tandeski (Assistant Director), Ashley Maiers (Music Director) and Lorainna Nedved (Choreographer) did a great job of assembling a large cast but also casting in a way that showed each cast members talents. I appreciated that each of the ensemble members in the show had moments where they could shine. Some of those highlights from the ensemble included Chelsea Flynn incredible singing and serving soup at the top of "Hooverville," to Savannah Trotter's star turn as Star to Be in "NYC", to Nick Black showing annoyances for Bert Healy during "Fully Dressed and of course the girls in the orphanage singing their hearts out during "Hard Knock Life".
While the ensemble gives many memorable performances, the leads in the show give amazingly unique performances as well. One of those performances is Mary Bricker's comedic Miss Hannigan. Her performance an over the top delight that will have you smiling from her first entrance in the show to her last. One of my favorite moments of hers was the fit she though at the side of the stage when Hannigan found out Annie was going to be adopted. What was fun about her performance was how she became more over the top through the show. When she made her final entrance in here dress with a large number of blue feathers, the audience was in tears from the humor she brought out with the costume.
Dave Wagner's gives a very heartfelt performance as Daddy Warbucks. His warm and smooth singing voice pairs well with the character. When he starts singing and reminiscing about all the great things about "NYC" you are transported there as an audience member. I appreciated the choices he made as an actor showing the difference Annie was making on him from the first time they met. He does this in the way he plays the changing of words to not swear in front of Annie, to a rather comical effect, to how he lets us see he nerves at the end of Act 1 when telling Annie he wants to adopt her, to his heartbreaking when Annie turns him down so she can find her parents. You could see the thought he put into each moment that happened with his character throughout the show.
With any production of Annie, it wouldn't be complete without a child that can bring the eternal optimism that Annie brings not just to Warbucks, but everyone seeing the show as well. UCT found this optimism is Norah Southwick's performance as Annie. What I appreciated about her performance, is that she didn't go for the cute Annie that audiences are used to seeing, her Annie was more down to earth, which worked great when she was playing against Hannigan and Warbucks. While Norah does a great job singing the classic songs that everyone has fallen in love with, I enjoyed that my favorite song she does is her duet with Warbucks during "I Don't Need Anything but You."
If you aren't fully dressed with a smile going into this performance, you will be when leaving. Each piece of the show comes together to make this a memorable evening. Don't wait to get your tickets for this production. Annie runs until July 28. To buy tickets, or to find out more about Urbandale Community Theatre, visit https://urbandaletheatre.com/
DC Felton
Follow Broadwayworld for all the latest Des Moines News
Visit and like us on Twitter and Facebook @BWWDesMoines
Related Articles View More Des Moines

Stories

Shows