DC Felton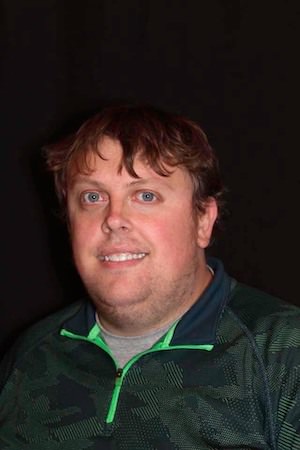 David Felton has been involved in theatre since his middle school production of The Wizard of Oz. Throughout high school he stayed onstage, and once he got to college he started exploring thebackstage world of theater. It was during college that he found his love of directing. Since graduating, he has become a board member for Carousel Theatre of Indianola, where he has servedfor nine years. During this time, he has helped to ensure that there has been at least one opportunity each year for a family-friendly show in which kids of all ages can be involved. While with Carousel, he has directed eight shows, including four musicals. He is also a judge and coach for the Iowa High School Speech Association and an adjudicator for the Iowa High School Musical Theatre Awards.
Review: COME FROM AWAY at Des Moines Performing Arts

November 24, 2022

In 2012 a little musical that could started its trek to Broadway. After a successful 2012 workshop at Sheridan College in Oakville, Ontario, this show went to La Jolla Playhouse and Seattle Repertory Theatre. Its journey continued with stops at the Ford Theatre in Washington DC and the Royal Alexandria Theatre in Toronto before arriving on Broadway in March 2017. When it opened on Broadway, it opened with a relatively unknown cast, but its story captured quickly captured the hearts of its audience. That show is 'Come From Away.' The tour is making its second stop in Des Moines from November 22-27 and is perfect for this Thanksgiving holiday.
---
Review: MISS BENNET: CHRISTMAS AT PEMBERLEY at Tallgrass Theatre Company

November 15, 2022

As the holiday season gets closer, theatres start bringing some of our favorite stories to the stage. That is no different for Tallgrass Theatre Company, which is offering a new take on a classic tale this holiday season.
---
Review: HARRIET THE SPY at Kate Goldman Children's Series at Des Moines Playhouse

November 3, 2022

Things are not always as they appear. As we grow older, we learn different ways to seek the truth. One thing we don't have to think about to worry about how they appear are shows that are part of the Kate Goldman's Children's Theatre series at Des Moines Playhouse. This last weekend they opened their Children's Theatre series with the classic 'Harriet the Spy,' which will run through November 13. However you are introduced to 'Harriet the Spy,' through the book, the movie, the streaming series, or the play, this production is one you will have to take a closer look at.
---
Review: THE CROWN LIVE! at Des Moines Performing Arts

October 28, 2022

In just a few weeks, Netflix will have people streaming the newest season of 'The Crown.' The show has always been popular, but with the recent passing of Queen Elizabeth, it has had a resurgence leading up to season 5. So it's no surprise a parody of the show has popped up, and you have the chance to see it! 'The Crown Live!' a parody by Daniel Clarkson, opened on October 25 as part of Prairie Meadows Temple Comedy Series with Des Moines Performing Arts. Whether you are a fan of the show, or this is your first time in the world of 'The Crown,' this show is a hilarious 90 minutes that you won't want to miss.
---
Review: FIDDLER ON THE ROOF at Des Moines Performing Arts

October 27, 2022

One of the things I've grown to appreciate about Des Moines Performing Arts is their willingness to bring revivals as part of the Willis Broadway Series. Their commitment to revivals has brought some of my favorite productions over the last few seasons. What is so great about revivals is many times, they take a new look at classic material. It could be focusing on an element of the show that wasn't focused on before. At other times it could be looking at the show through an understanding of current events. Tuesday night, Des Moines Performing Arts brought the national tour of 'Fiddler on the Roof,' the 2016 Tony-nominated revival to the stage, and it couldn't have arrived at a better time.
---
Review: STEEL MAGNOLIAS at Carousel Theatre Of Indianola

October 24, 2022

We all long for friendship, and they get us through some of the most challenging times in our lives. Carousel Theatre of Indianola explores the relationships we build with our friends through their revival production of Robert Harling's 'Steel Magnolias.'
---
Review: THE BOOK OF MORMON at Des Moines Performing Arts

October 8, 2022

After announcing it as part of its 2019-2020 season, Des Moines Performing Arts is finally able to bring another of its pre- covid shows to the stage. This time is the return of the raunchy but amusing 'The Book of Mormon.' In its fourth stop on its new tour, the show took to the Civic Center stage on October 7, and those in attendance were happy to welcome the tour to Des Moines.
---
Review: BORROWED BEATS at Ankeny Community Theatre: A World Premiere Takes the Stage

October 6, 2022

WEvery so often, a partnership in theatre can produce some fantastic results. One of those partnerships can be seen between Ankeny Community Theatre and playwright Tommy Lee Johnston. Last season they included two of his shows, 'Geezers' and 'Aura.' Over the season, Tommy Lee Johnston came to see both plays they produced. This led to something theatre companies and those involved dream about, the opportunity to produce a world premiere play. This last weekend Ankeny Community Theatre produced the World Premiere of Tommy Lee Johnston's new play 'Borrowed Beats.'
---
Review: GUYS AND DOLLS at Des Moines Playhouse

September 25, 2022

Everyone has a memory of the first musical they were in or saw. For me, it was either 'Rodgers and Hammerstein's Cinderella,' if i remember correctly, at a local high school. For others, their first memories with musical theatre come through local productions of 'Guys and Dolls.' Des Moines Playhouse is opening its 104th season with a bright and colorful production of 'Guys and Dolls' that brings a new take for those who already have memories of the show while introducing it to a new generation of people to the show for the first time.
---
Review: SWEAT at Iowa Stage: A Story that was going to be told in 2020, is just as timely two and a half years later.

September 23, 2022

Before the Pandemic, one of the shows I was looking forward to seeing was Iowa Stage's production of 'Sweat' by Lynn Nottage. At that time, the excitement for me was being able to see a Pulitzer Prize-winning play. I didn't realize how powerful and impactful the play would be for me. I didn't realize how I would see my family members on stage in words being said by each of the characters. While the play was delayed multiple times due to Covid, it couldn't be more timely today.
---
Review: Preview of Upcoming AMERICAN APOLLO Brings Des Moines Metro Opera Season to a Fine End

August 17, 2022

Des Moines Metro Opera recently brought its 50th Anniversary season to a close, and they saved a special treat for their audiences. For the 2024 season, they are commissioning a full-length opera of AMERICAN APOLLO. As a treat to those in attendance this season, they offered the opportunity to see the current 30-minute version of the opera AMERICAN APOLLO. This presentation was also able to be used to workshop the show and how it could be expanded.
---
Review: A THOUSAND ACRES by Kristin Kuster and Mark Campbell Makes a Stunning World Premiere at Des Moines Metro Opera

August 8, 2022

When an organization reaches a milestone like 50 years, it can be easy to look back at everything that brought you to that milestone. While Des Moines Metro Opera's productions of A MIDSUMMER NIGHT'S DREAM and PORGY AND BESS do that, they are also looking at the future with the world premiere production of A THOUSAND ACRES. If this production indicates what Des Moines Metro Opera has planned for the future, then I'm sure we will see them around for another 50 years and more.
---
Review: MY FAIR LADY at Des Moines Performing Arts

August 7, 2022

In March 2020, just a few weeks before 'My Fair Lady' was supposed to play at Des Moines Performing Arts, the Covid 19 pandemic hit Iowa, causing the Des Moines leg of the tour to be postponed. After an almost two-and-a-half-year delay, the show has finally made its way to the Civic Center Stage. After attending opening night on August 2, I can only say this 'loverly' production has been well worth the wait.
---
Review: A MIDSUMMER NIGHT'S DREAM at Des Moines Metro Opera

July 13, 2022

Starting a theatre company is no easy feat, but for a theatre to be around for 50 years is something worth celebrating. You can celebrate 50 years with Des Moines Metro Opera this summer, which just opened up its 50th season with two spectacular productions. The season opened up a sold-out run of The Gershwin's 'Porgy and Bess' with Simon Estes in his farewell performance. I've heard excellent things about the production. The opera continued its opening weekend with 'The Voice' finalist John Holiday in Benjamin Britten's 'A Midsummer Night's Dream,' based on the Shakespeare play by the same name.
---
BWW Review: CALENDAR GIRLS at Des Moines Playhouse

June 8, 2022

What did our critic think of Calendar Girls at Des Monies Playhouse? The people in our lives have a significant impact on us, and sometimes we don't know their impact on us until they are gone. How we reflect on them can sometimes lead us to do extraordinary things. "Calendar Girls," which opened on June 3 at Des Moines Playhouse, asks us to reflect on how we remember the people in our lives and what we do to commemorate their memory.
---
BWW Review: CRY IT OUT at Ankeny Community Theatre

June 7, 2022

What did our critic think of Cry it Out at Ankeny Community Theatre? Over the last few years of doing reviews, I've had the pleasure of seeing some true gems in our theatre community that are just outside of Des Moines. While these theatres may not have the budget of some of the Des Moines theatres, the heart and creativity they bring is just as strong. One example of this is Ankeny Community Theatre's production of 'Cry it Out' by Molly Smith Metzler, which opened on June 3. Thanks to some of the creative choices they've made with this show, it has stuck with me since seeing it. As I think more about the show, I've found myself appreciating the creativity even more.
---
BWW Review: HAMILTON at Des Moines Performing Arts

May 22, 2022

One of the great things about theatre is the stories it allows us to tell. It doesn't seem like it would work when you first hear the story 'Hamilton' and how it is being told. The show has proved that wrong since 2015 since it took New York and then the country by storm. When it first came to Des Moines in 2018, it sold out within just a few hours. 'Hamilton' made its triumphant return to Des Moines on May 17 for another limited run through June 5. While tickets are still available, the nightly audiences have been packed.
---
BWW Review: TINY BEAUTIFUL THINGS at Tallgrass Theatre Company

May 10, 2022

Some of the best moments are when a small decision significantly impacts our lives. One of the great parts of being in theatre is how it can tap into those small decisions and deliver a show that can touch on the impact of those decisions. Tallgrass Theatre Company's production of 'Tiny Beautiful Things' touches on how what seems like a small or insignificant moment can make a lasting impact on the people around us and ourselves. This production is based on the book by Chery Strayed and adapted for the stage by Nia Vardalos. The original production at the famous Public Theatre in New York was co-conceived by Marshall Heyman, Thomas Kail, and Nia Vardalos.
---
BWW Review: GIRL'S WEEKEND 2: THE BACHELORETTE PARTY at Iowa Stage

May 8, 2022

With theatre coming back, one of the most exciting parts is seeing new shows hit the stage that were developed entirely or in part during the pandemic. Seeing a new play even more exciting is when a local playwright writes it. So when Iowa Stage announced they would be doing the world premiere of 'Girls Weekend 2: The Bachelorette Party' by Iowa playwright Karen Scheffer, I knew Des Moines audiences would be in for something special. I didn't realize that this show would provide the laughter audiences have been needing.
---
BWW Review: PIPPI LONGSTOCKING at Kate Goldman Children's Theatre

April 30, 2022

Growing up, one of my favorite movies to rent from our local library was about a strong girl named Pippi Longstocking, which was short for Pippilotta Delicatessa Windowshade Mackrelmint Efraim's Daughter Longstocking. So when Des Moines Playhouse announced it would be part of their 2021-2022 season, I was excited to see how they would bring this production to the stage. Their production had surprises sprinkled throughout that will spark the imagination of everyone in the audience.
---