BWW Review: 13 THE MUSICAL at Des Moines Young Artist Theatre: There is Nothing Awkward Abut This Amazing Production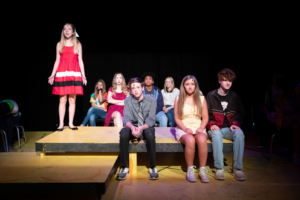 Becoming a teenager is a moment kids look up to. Growing up, we see teenagers as grown-up and cool, but we find out when we turn 13, that is all wrong. Des Moines Young Artist Theatre production of "13," with a book by Dan Elish and Robert Horn, with music and lyrics by Jason Robert Brown, examines the up and down a group of students goes through as they turn 13. While this can be one of the most awkward times in a person's life, there is nothing awkward about this amazing production!
What is a musical about 13-year-olds about? "13" centers around a boy named Evan Goldman who has just turned 13 and is getting ready to have his Bar Mitzvah. Seems like things are going great until you find out his parents have divorced, and his mother is moving them from New York with all his friends to a small town in Indiana, where he knows no one. So he finds himself needing to make new friends that he can invite to his Bar Mitzvah. While he initially makes friends with the outcast of his new school, he quickly pushes them aside when he finds out the majority of his school won't come if they are there. At the end, when everything falls apart, who is going to be there to help pick up the pieces? You're going to have to go to the show to find out.
One of my favorite technical elements of 13 is it's set design by Rachel Trimble. I found her approach to the set to be imaginative for a small stage and found it to work extremely well. When you come into the theatre you see two platforms, which doesn't seem like much. As the show goes on, the cast brings different pieces on and off that takes the audience to each place in the show. By having just a few pieces that came on and off, it allowed for quick scene changes, as well as a few surprises that I wasn't expecting through the show.
Des Moines Young Artist Theatre (DMYAT) has put together a strong ensemble. From the opening number of the show, you get to hear how powerful the sound being produced by the students in this production. They come into each scene full of energy and attack the choreography they have. By the encore of the show as they sing "Brand New You," you want to join in and celebrate the production with them. Besides a strong ensemble, there are 14 named characters listed in the show. And each of them does an amazing job. While I would love to talk about what each student brings to this production, I'm going to focus on a few whose roles stood out to me.
Leading the cast is Charlie Bishop in the role of Evan Goldman. Being the lead in a show can be hard for adults, let alone a student, and Charlie does an amazing job of bringing Evan to life. From the very beginning we are introduced to him and his powerful voice during the song "13." I found the way he brought the character to life was very relatable as his character struggled with being accepted for the person he is or the person people want him to be. One of my favorite moments that showed how much he could bring to the character came towards the end of the show when he finally stands up for his friends. He brought a conviction to the character that is a lesson for everyone in attendance during the show.
Another of the performances that stood out to me was Carl Tubbs, who is making his DMYAT debut, in the role of Archie. His character is disabled and has to use crutches for the full show. Carl does a phenomenal job of showing the disability his character has. Using crutches is not easy, and to do it as effortlessly as he did was amazing. It wasn't until the cast came out for the bows at the end of the show that I realized he didn't need to use crutches. What also impressed me was the awkwardness he brought to the character. It made the character work so well. Especially as the show went on. There were times I wanted to reach out and tell him not to do some of the things his character does because I didn't want to see the character go through the pains that teenagers go through.
Addison Tullis returns to the DMYAT stage after playing Linus in this winter's production of "You're a Good Man, Charlie Brown!" in the role of Patrice. Patrice is an outcast we meet at the beginning of the show who quickly becomes friends with Evan till he shuns her for the popular people. Addison's voice was a perfect fit for Patrice. She has a soft singing voice that was a great fit with the character. The softness of her voice made Patrice a character everyone could easily relate to during the show, and feel the pain she goes through.
From the cast, to the sets, as well as the other aspects of the show, DMYAT production of "13: The Musical," is a production is a fun that will have you singing about "A Brand New You" for days after the show. To find out more about Des Moines Young Artist Theatre, or their production of "13: The Musical," visit https://www.dmyat.org/13
Review written by DC Felton
Follow Broadwayworld for all the latest Des Moines News
Visit and like us on Twitter and Facebook @BWWDesMoines