Vintage Theatre Presents An Epic American Tale THE KENTUCKY CYCLE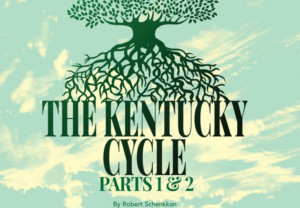 Vintage Theatre presents "The Kentucky Cycle" September 8* through October 21 at Vintage Theatre, 1468 Dayton St., Aurora 80010. Performances for Part 1 are Saturdays and Sundays at 2 p.m. and Monday, Oct. 1 at 6:30 p.m. Performances for Part 2 are Saturdays and Sundays and Tuesday Oct. 2 at 6:30 p.m. Tickets are $16 - $32 and available online at www.vintagetheatre.org or by calling 303-856-7830. Vintage will be serving dinner during intermission for "The Kentucky Cycle" for $15 per person. To make dinner reservations please call the box office at 303-856-7830.
In "The Kentucky Cycle," a series of nine short plays, Robert Schenkkan has created a mesmerizing epic of the Cumberland Plateau and an unblinking look at the truth behind our American mythology. Spanning two centuries, from 1775 to 1975, this is the story of three families - Black, White, and Native American - whose lives are irrevocably intertwined. Fast-paced and finely drawn, Schenkkan's stunning, two-part play examines an American past which have created, for better or worse, the country we are today.
Masters of the Trade (1775)
Michael Rowen deceives the Native Americans, gaining land and causing the tribe's death.
Courtship of Morning Star (1776)
Michael Rowen kidnaps and rapes Morning Star, producing a son, Patrick.
The Homecoming (1792)
Patrick Rowen kills both Michael Rowen and Joe Talbert and claims Rebecca Talbert as his wife, starting a cycle of revenge between the two families.
Ties That Bind (1819)
Patrick Rowen, deeply in debt, loses all he owns to the Talberts and becomes a sharecropper on his own land.
God's Great Supper (1861)
Jed Rowen recounts his haunting experiences in the Civil War, including his family's successful revenge against the Talberts as well as his encounters with William Clarke Quantrill.
Tall Tales (1890)
Working for the coal companies, a smooth-talking man named J.T. Wells swindles the Rowens out of their land.
Fire in the Hole (1920)
A union organizer attempts to rally Mary Anne Rowen's family and fellow miners into striking against the Blue Star Mining Company.
Which Side Are You On? (1954)
An underhanded deal between the union and the Blue Star Mining Company pits Joshua Rowen, James Talbert Winston, and Franklin Biggs against each other.
The War On Poverty (1975)
Three descendants of the Rowen, Talbert, and Biggs lines find something unexpected buried on the original Rowen homestead, shortly before they are to sell the land forever.
The cast includes Sam Gilstrap, David Harms, Darcy Kennedy, Perry Lewis, Joe Mack, Christin Mason, Patrick Ring and Cameron Varner along with Bradley Abeyta, Princeton Bolton, Cris Davenport, OD Duhu, Mariel Goffredi, Sean Guderian, Michael Gurshtein, Jerin Hiatt, Joi Hiatt, Jeff Jesmer, Kayla Mally, Christian Munck, Danielle Rankin, Tristin Regin, Linda Suttle and Joe Wilson.
Robert Schenkkan is a Pulitzer-prize winning, Tony@ Award winning, Writer's Guild Award winning, three-time Emmy nominated writer of Stage, Television, and Film. His 2014 play All The Way swept the awards season and was adapted as a movie for HBO and Co-Executive Produced with Steven Spielberg and Bryan Cranston, and it was nominated for eight Emmy Awards, including Best Drama. That same year Robert's rock musical, The Twelve, (book/lyrics; music and lyrics by Neil Berg) had its world premiere at the Denver Theater Center winning a Henry Award for Best New Play/Musical. In 2016, during one of the most dispiriting Presidential campaigns in recent memory, Robert wrote Building the Wall in what he described as "a white hot fury" in the space of one week.
Schenkkan has become one of Hollywood's most in-demand writers. He co-authored the films, Hacksaw Ridge (6 Academy Award Nominations) and The Quiet American. For television he wrote the movie, Crazy Horse, and the mini-series, Spartacus, and The Andromeda Strain (six Emmy Nominations). In 2010 he wrote four episodes of the acclaimed HBO miniseries, The Pacific, and received two Emmy nominations and a Writers Guild Award for his work.