Photos: Vintage Theatre Presents the Regional Premiere of THE BRIDGES OF MADISON COUNTY
Vintage Theatre presents the Regional Premiere of "The Bridges of Madison County" June 22 through August 5 at Vintage Theatre, 1468 Dayton St., Aurora 80010. Performances are Fridays and Saturdays at 7:30 p.m. and Sundays at 2:30 p.m. with additional performances on Monday, July 9 and Thursdays, August 2 at 7:30 p.m. and Saturday, August 4 at 2:30 p.m. Tickets are $19 - $38 and available online at www.vintagetheatre.org or by calling 303-856-7830.
Francesca is a dedicated, Iowan housewife, living a simple, yet dispassionate, life. Everything changes when her family goes on a trip to the State Fair, leaving Francesca behind. Francesca is taken aback by a handsome National Geographic photographer named Robert, who asks for directions to the covered bridges of Madison County. The two connect; starting an emotional four-day love affair that has repercussions long after it's over.
Based on the best-selling novel by Robert James Waller, and developed by the Pulitzer and Tony Award-winning creative team of Jason Robert Brown and Marsha Norman, "The Bridges of Madison County" captures the lyrical expanse of America's heartland along with the yearning entangled in the eternal question" "What if...?"

The cast includes Megan Van de Hey* as Francesca, Andy Sievers as Robert and Payton Goodwin as Carolyn.
After graduating from the University of Northern Colorado with a BA in Music Theatre, Megan Van de Hey began her professional career in Chicago, Illinois having the opportunity to work with such artists like James Lapine, Michael John LaChiusa, and William Finn. The move and the work paid off with nominations for the prestigious Jeff award for her work in A New Brain, The Mystery of Edwin Drood and Spitfire Grill.

Megan came here to Denver twelve years ago and has been a member of the actors Equity union for 6 years serving on the Equity Liaison Committee.
Megan is a four time Denver Henry award winner for her work in Company, Grey Gardens, Ragtime and Toxic Avenger; she is a three time Denver Post Ovation award winner for her work in Nine and Next to Normal, and Best Season by An Actress. She has also received True West Awards, Marlowe Awards, and was voted Best Actor by the Greeley Tribune for her work in Next To Normal and August Osage County, and awarded Best Actress by Bill Wheeler for her work in Always Patsy Cline.

Andy Sievers has been a mechanical engineer at Ball Aerospace in Broomfield since 2001, where he does less dramatic and emotional things than this on most days. He was last seen at the Vintage in Curtains (Lt. Cioffi). Other Colorado credits include Company (David) and Catch Me If You Can (Frank Senior) at the Aurora Fox and Hello, Dolly! (Cornelius), 42nd Street (Billy Lawlor), Once Upon a Mattress (Sir Harry), How to Succeed...(Bud Frump), and Chicago (Amos) with Performance Now Theatre Company.
Photo Credit; RDG Photography

Megan Vandehey and Dandy Sievers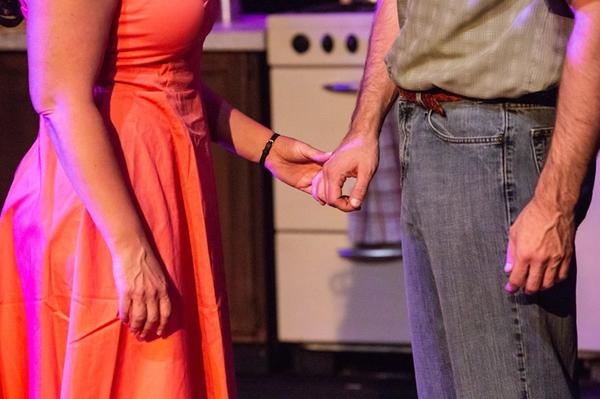 Megan Vandehey and Dandy Sievers