Nightlife Photographer Shadows Gather Announces Exhibition at Dateline Contemporary Art Gallery
The exhibition will run February 5th-March 13th, 2021.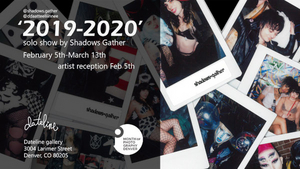 The photographer known for her compelling portraits of Denver's counterculture, Shadows Gather, is showcasing her work in a gallery setting for the first time in her solo exhibition entitled 2019-2020, on display February 5th - March 13th at Dateline Contemporary Art Gallery with a special artist reception February 5th. Her original Fuji Instax photos will be on display along with a collection of her most iconic photos blown up and enlarged in a way that captures the details. From the scratches, lipstick smudges, and dirt from the alley, these photos capture a historic moment in time. Her solo show will become part of Denver's greater Month of Photography, a biennial festival happening in March of 2021 that celebrates the art of photography through public exhibitions and events across the region. Shadow was birthed from the dark glimmer of Denver's alternative scene that coalesces goth, punk, drag, and LGBTQ counterculture. While Shadow lurked in the scene for years, she finally decided to capture it on a lark with her Fuji Instax Neo Classic Mini. Shadow's secret: "I'm on a quest to find the most interesting, beautiful, colorful people possible. If I find them, I'll never be bored or boring." "Shadow shows us the wonders of the dark side," reads a recent feature in New Skin Magazine. Replete with outlandish attire, fascinating fashions, and authentic emotion, her subjects showcase the beautiful and phantasmagorical spectrum of humanity. Some are simply vignettes of people with whom Shadow shared a drink or a special moment. "It's not just about the photos," says Shadow. "it's about the interaction, the party, the doorman, band, performer.... It's a memory worth saving." Shadow uses lighting from an iPhone flashlight-a technique that is controversial to some photographers

-which

gives her photos a characteristic gleam. She's often trailed by her own photographer, creating a meta experience for Shadow fans. She always takes two instant photos: one for herself, and one to give to her subject to commemorate the experience. No doubt countless Shadow fans have their portraits mounted on their walls, a physical memento of the night they shared.
While Shadow's techniques are unconventional, her solo exhibition promises to elevate her edgy portraits to fine art. It was important to her that her subjects were honored and the moment's true element captured, going so far as to keep lipstick stains and other imperfections on the blown-up originals. It's this authenticity that has led to Shadow meeting club-goers from all over the country who idolize her to the point of tears. She's available immediately for interviews. For more info, visit shadowsgather.com.
ABOUT THE ARTIST Often compared to Nan Goldin and Andy Warhol, Shadows Gather is a photography project that documents the alternative nightlife scene and the colorful individuals that thrive in it. Based out of Denver, Colorado, Shadow uses non-conventional techniques, such as pairing a Fuji Instax Neo Classic Mini with lighting from an iPhone flashlight, to create striking instant photographs that preserve and celebrate underground culture. In her photos, you'll find energetic portraits from a mixture of scenes, gutter punks, drag artists, and creatures of the night. Shadow has directly experienced the growth and cultural changes that have occurred in Denver and has focused her work on ensuring that the visual narrative of her subjects remains as the city continues to evolve. She celebrates the beauty of those on the cultural fringes and provides a sense of community and a safe haven to folks that have been deemed misfits by mainstream culture. Following the project launch in March of 2019, Shadow has since become a staple in music venues, nightclubs, and bars across Denver, as well as traveling to locales like Austin, Texas, and Los Angeles to further her work. All art for the exhibition is scanned from its original Fuji Instax film format at the highest dpi and printed on archival paper at 30x40in and 20x30in sizes. Learn more at ShadowsGather.com.
ABOUT DATELINE FINE ART GALLERY DATELINE is, at its heart, a project space for artists featuring exhibitions from national and International Artists alongside a rotating roster of guest curators. Dateline provides an alternative exhibition space for emerging artists who exercise experimental or marginal approaches to their art-making practices. Learn more at ddaatteelliinnee.com/about.html or Instagram.com/@ddaatteelliinnee.
More Hot Stories For You