BWW Review: RING OF FIRE at Vintage Theatre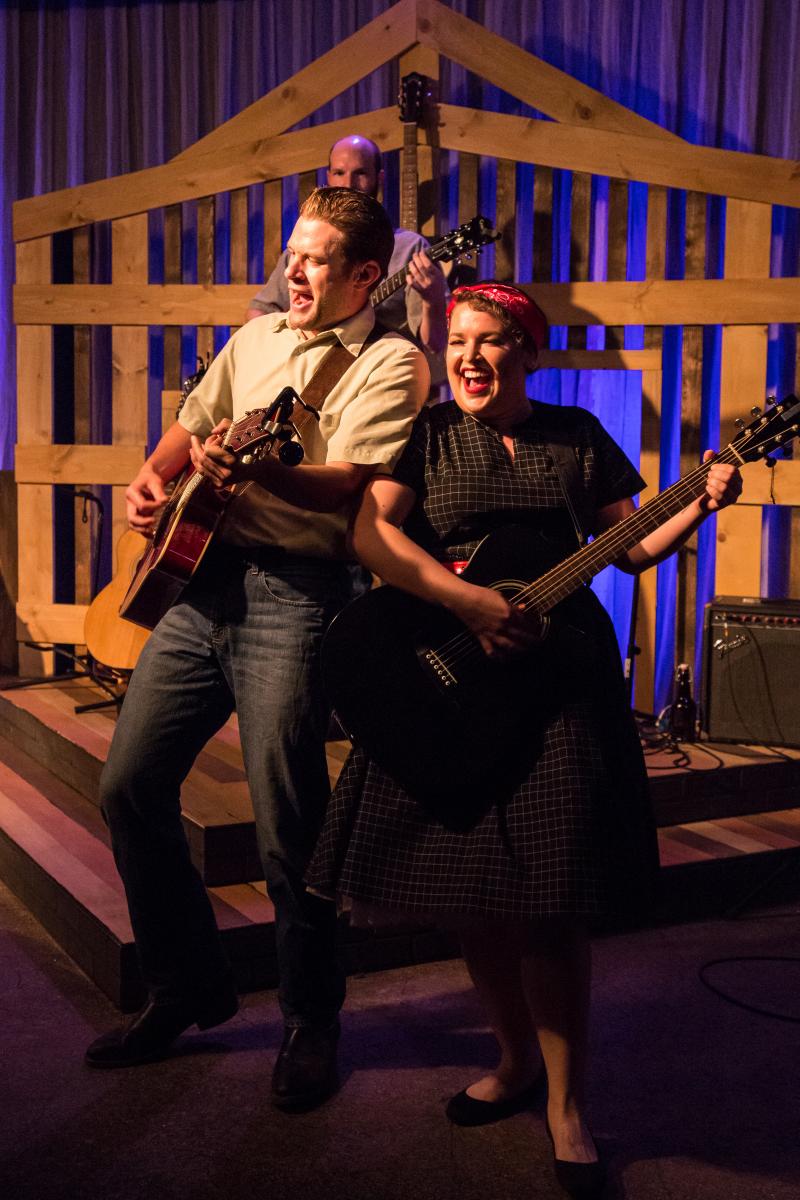 Ring of Fire is a jukebox musical featuring the music of Johnny Cash, but it's not necessarily biographical.
Conceived by William Meade and created and directed by Richard Maltby, Jr., Ring of Fire was short-lived on Broadway in 2006 but has found regional success. Directed by Kelly Van Oosbree, a lively cast includes Ray Anderson (bass, piano, vocals), Benjamin Cowhick (guitars, banjo, vocals), Isabella Duran (mandolin, guitars, fiddle, piano, vocals), S. Parker Goubert (Guitars, Vocals), Kurt Oschner (drums) and Music Director Eric Weinstein (banjo, guitars, piano, harmonica, vocals).
Don't come in looking a plot, but don't worry about it either. This one plays comfortably like a bunch of friends making music on a patio. You can tell it follows pieces of Cash's life, like his first time at the Grand Ole Opry and meeting his wife, June. There's plenty of recognizable songs like "A Boy Named Sue," "Folsom Prison Blues" and Cash's cover of the Nine Inch Nails song "Hurt," but most felt fresh to my ears. Of course, I'm not a huge Cash follower, but this production made me wanna add him to some playlists...and maybe pick up a banjo.
Although some stories told throughout are a bit somber, the overall mood is kept upbeat and hopeful, with toe-tappers abound. If you need to sing along, it seemed encouraged, but mainly the audience just enjoyed clapping on the wrong beats. There's only a few rows in this venue, so it's pretty intimate.
While no one really plays a character, the cast seems to represent an array of folks. If you close your eyes, you'd swear Cowhick is actually Cash...but don't do that, you'll miss his charisma. Duran is both sincere and feisty, making you feel her ballads, but she doesn't miss a beat while almost effortlessly listing the locations in "I've Been Everywhere." Anderson seemed to represent an older Cash, strong and simple. The rest of the actor/musicians are superb and bring a really genuine vibe to the show and its music. The tunes are great, but the atmosphere they create makes this one special.
Ring of Fire: The Music of Johnny Cash was recently extended to play Vintage Theatre through Aug. 13. Shows are Fridays and Saturdays at 7:30 p.m., Sundays at 2:30 p.m. Tickets are $28 - $34 and available online at www.vintagetheatre.com or by calling 303-856-7830. Vintage Theatre is located at 1468 Dayton St. in Aurora.