BWW Review: NUNSENSE at Candlelight Dinner Playhouse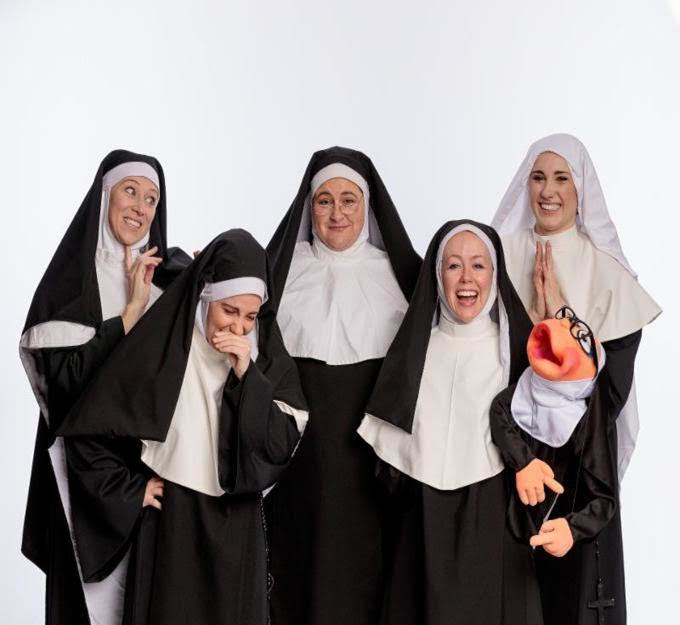 In Candlelight Dinner Playhouse's current production of Nunsense, things go awry after one of the Little Sisters of Hoboken accidentally poisons more than half of the nuns. In an effort to raise funds and reman stable, those that are left decide to put on a variety show for the community where things don't go exactly as planned.

Under the direction of Pat Payne, this production staff has produced some great work. Scenic elements by Casey Kearns and Joel Adam Chavez is a classic, detailed design with so many subtleties that elevate the whole. It truly took me back to my own middle school gymatorium. Choreography by Stephen Bertles is simple and clean, executed nicely by the cast of five.
The five actors worked well with each other and each gave unique character elements to the roles they portrayed. As Mother Superior, Samantha Jo Staggs portrays a strong, Irish-Catholic nun that is complemented nicely by her natural comedic timing. Heather McClain as Sister Hubert is strong and steady in her role and plays a great second in common to Mother Superior. As Sister Robert Anne, Sarah Grover gives another strong performance as a staple of CDP productions, like many of her cast mates. Grover is hilarious in her portrayal of the "Nun from the Bronx." Abigail Hanawalt as Sister Mary Leo is rather soft in her performance, but does mange to stand her ground in a room full of big personalities. As Sister Amnesia, Lisa Kay Carter gets the comedy gold, not to mention an incredible voice. Carter does a great job of portraying an absent-minded nun who has lost her memory while also being incredibly lovable and endearing.
Overall, the production is light-hearted and fun for the whole family. You won't want to miss this cast of crazy characters! Nunsense plays at Candlelight Dinner Playhouse through March 3, 2019. For tickets, visit http://www.coloradocandlelight.com/shows/nunsense/.