BWW Review: More than neon lights shine at DCPA's XANADU
Most musical theatre fans would probably agree the movie-musical Xanadu isn't the finest.
You've got Olivia Newton-John in as a Greek muse in legwarmers and roller skates, on Earth to help a struggling artist build a roller disco. It's campy at best with some standout songs, visually fun but a reasonable flop.
But somehow that premise works magic on stage. Of course, the stage musical version of Xanadu is a bit more self-aware. It's 1980, and muse Clio (Lauren Shealy) comes to Venice Beach as Kira, a blond with delectably feathered hair and an Australian accent, because Sonny (Marco Robinson) is about to kill himself. He wants to create a space for artists that's also kind of athletic-and a roller disco is the clear answer.
Clio's been to Earth before, as Kitty, to inspire then-clarinetist, now real-estate mogul Danny (Aaron Vega) to build a theatre, a dream which he's let go. Fatefully enough, Sonny wants to use Danny's space for his roller disco.
There are also a few other muses acting as a chorus (Sheryl McCallum and Sarah Rex along with Vega), including Clio's evil sisters who plot to make her fall in love with Sonny, thus breaking one of Zeus's rules, leading to her banishment.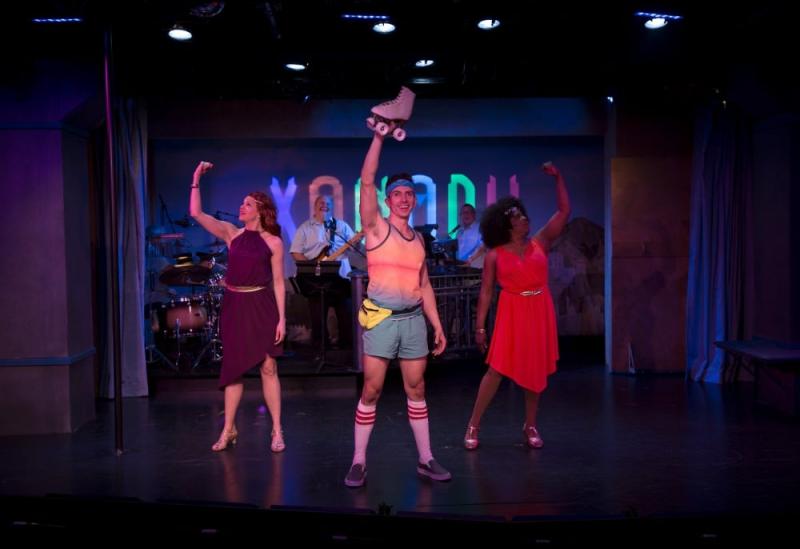 It's a pretty loose plot, but it's packaged hilariously into 90 minutes of uninterrupted joyful theatre while actors skate through the audience, even enlisting a few theatregoers as cast members.
Directed by Joel Ferrell, the Denver Center's production is built to fit the Garner's Galleria's cabaret space. The cast is only five, which could easily be doubled in a standard version of the show. In Ferrell's Xanadu, the comedy is multiplied by the actors' ability to triple their workload.
Shealy's performance as Clio is spectacular. Not only does she have the vocals for it, her comedic chops land comfortably in the show's vibe. Same goes for Robinson's Sonny, who spends the show in tiny shorts and a tank top, making no mystery of his muscles.
McCallum and Rex and a remarkable duo on their own, stealing scenes and belting their hearts out. If the script isn't brilliant enough on its own, the pair does a great job of bringing their own brands to it. And then there's Vega's smooth voice, paired with an impressive set of dancing feet, showcasing just a bit of fun choreography from Piper Lindsay Arpan.
As the show says of itself, it's "children's theatre for 40-year-old gay people"...and that might just be my new favorite genre.
Xanadu plays the Garner Galleria at the Denver Center for the Performing Arts through April 28, 2019. Tickets at DenverCenter.org
Photos by Emily Lozow