Review: BUS STOP at Arvada Center
There's something noteworthy about a show that brings to life an eclectic collection of characters from decades ago with a relatable vigor. That's what the company Arvada Center's current production of William Inge's Bus Stop delivers.
Directed by Allison Watrous, the play is exclusively set in Grace's diner, located in a small Kansas town in 1955. On a wintry March night, Grace (Kate Gleason) and her teenage waitress, Elma (Jenna Moll Reyes), along with town sheriff, Will (Geoffrey Kent), are the diner's only occupants when an epic blizzard halts road travel.
A bus of passengers are stranded overnight, including a couple of cowboys, Bo (Sean Scrutchins) and Virgil (Michael Morgan), traveling with aspiring nightclub singer, Cherie (Emily Van Fleet); Dr. Gerald Lyman (Sam Gregory), a college professor; and the bus driver, Carl (Josh Robinson).
We soon learn that Cherie's not exactly choosing to go along for the ride, Bo's got a temper, Dr. Lyman is an alcoholic with an affinity for underage girls. Carl's also getting intimate with Grace when he passes through.
While these themes were edgy in the 1950s, they're just as relevant today, making this show feel timeless. It's a story I might've heard before, but it's not exactly the most predictable plot, weaving several storylines within each other, making for stimulating watch.
But what makes Bus Stop captivating is its character work, brought to an enthralling level with top-notch performances by the Arvada Center's Black Box Repertory Company. Van Fleet's Cherie is performed magnetically, balancing an endearing disposition with a confused heart. She's a little trashy, but she means well. Bo is played by Scrutchins with a similar approach. As a male, I feel like I naturally brush aside his anger issues when he shows his heart...but if I were female, I think I'd hate him no matter what. Morgan's Virgil is grounded and gentle, keeping Bo at bay.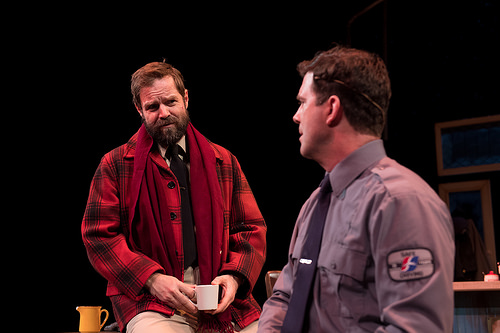 Meanwhile, Dr. Lyman attempts to seduce the young waitress after drinking too much, given the kind of acuity I always expect and admire from Gregory. Reyes bring Elma a crucial innocence, which feels like a core of the show for me. Elma's purity and enthusiasm helps focus on the good in each character she interacts with, which feels important to the story.
Gleason's Grace is strong, with the kind of personality you'd expect from a lady who runs her own diner. Sheriff Will keeps order with a level-head, accentuated with a charming performance by Kent.
There's an ever-present snowfall outside the diner, giving the design of this show that extra realism. With scenic design by Brian Mallgrave, the diner is expertly adorned with vintage memorabilia, thrust into a three-sided audience. While you might miss a little action outside the diner with a side view, it's an overall comfortable view. Costumes by Clare Henkel bring the time period to life.
I didn't expect to look so deeply at the characters, but this well-performed production forced me to examine their flaws and find the heart in their actions. It's no wonder this show has been playing effectively since its debut more than 60 years ago.
Bus Stop plays the Arvada Center's Black Box Theatre through April 15. Tickets are available at ArvadaCenter.org.