Review: Arvada's SUNDAY IN THE PARK Connects All The Dots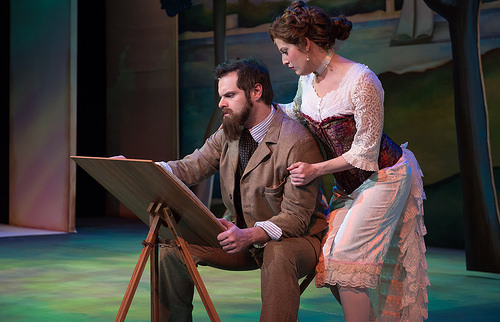 Art isn't easy, but the Arvada Center has the kind of finesse to make it look that way.
Take their current production of Sunday in the Park with George, one of Stephen Sondheim's more complex works, which earned a Pulitzer Prize along with several other theatre awards, salvaging Sondheim's acclaim on the heels of then-failure Merrily We Roll Along. Sunday... was Sondheim's first collaboration with James Lapine, whom he later worked with on Into The Woods.
The musical is inspired by French artist Georges Seurat's painting, A Sunday Afternoon on the Island of La Grande Jatte. The 7x10-foot pointillist oil on canvas is one of the most iconic paintings of the 19th Century-a commendation Seurat never lived to see.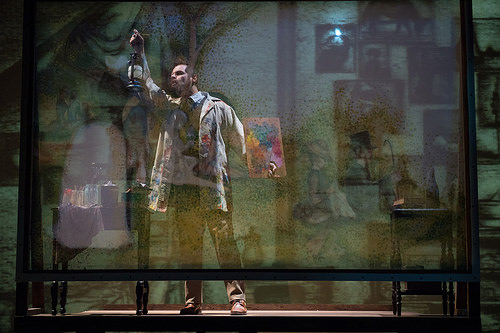 Sunday... follows a fictionalized version of Seurat--George--an artist so obsessed with his creation that it becomes his whole life. He spends every Sunday in the park sketching its inhabitants, capturing various social classes cohabiting on the greenery near the shore. He brings along his mistress, Dot, to paint, as he promises this work will include her.
His work, however, is complex. His calculating mind has concocted a new painting method using tiny dots to form variations on color and light. Few take his work seriously, yet he continues, even after Dot leaves him for a baker named Louis. George dies just a few years after he completes his masterpiece.
The second half of the show is set in 1984, where George's great-grandson of the same name is a modern artist himself, a creator of Chromolumes, which infuse technology into art using color, light and music. Much like his great-grandfather, George's work is questioned by the community, leaving him to question his direction.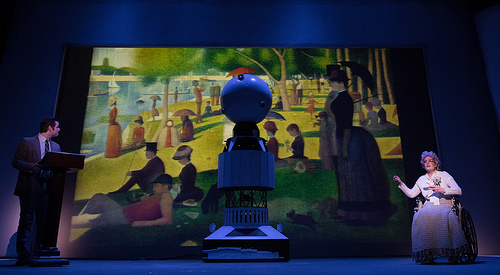 To produce a solid production of Sunday in the Park with George, it takes a theatre company that can successfully create the ambiance of Seurat's work using suitable tech. Few have the opulence of the Arvada Center, which may explain why this show is done less frequently. Directed by Rod. A. Lansberry, the production plays with an unpretentious sophistication, focusing on the characters but not overlooking the art of it all. Not only is the scenic design (by Brian Mallgrave) meticulously crafted, costumes by Clare Henkel emulate Seurat's work exquisitely, along with a delectable touch of mid-'80s fashion.
Cole Burden plays George with an understated appeal. Like you'd imagine an artist who paints in parks, his George is withdrawn yet focused. He loves his work, but he struggles with what he should be loving. Burden's vocals are evocative of the richness of the show's original star, Mandy Patinkin. His portrayal of a modern George has a more visible soul, giving the role a worthwhile journey.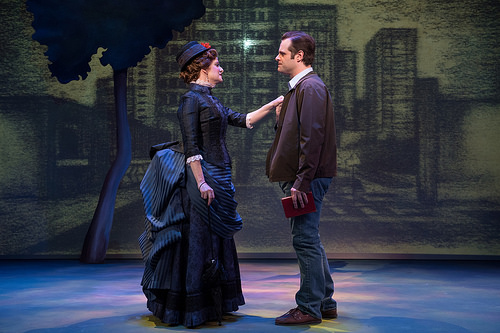 Emily Van Fleet plays Dot with just the right layers of humor and dissatisfaction. She smartly navigates the show with touches of quirkiness all while maintaining poise. Her depiction of George's elderly daughter Marie in the second act brings out a warm charm, and her voice settles into the articulate lyricism with ease.
Features from the entire ensemble, much like Seurat's pointillism, come together to give the show its appropriate blend of color and light. A cacophony of characters that combine to create a harmonious assortment of local talent I was stoked to see on Arvada's mainstage.
The art of making art, as Sondheim penned, is putting it together. And Arvada Center's Sunday in the Park with George simply connects all the dots.
Sunday in the Park with George plays Arvada Center's Main Stage through May 6. Tickets are available at ArvadaCenter.org.
Photos by Matt Gale