Review: A LITTLE NIGHT MUSIC at Cherry Creek Theatre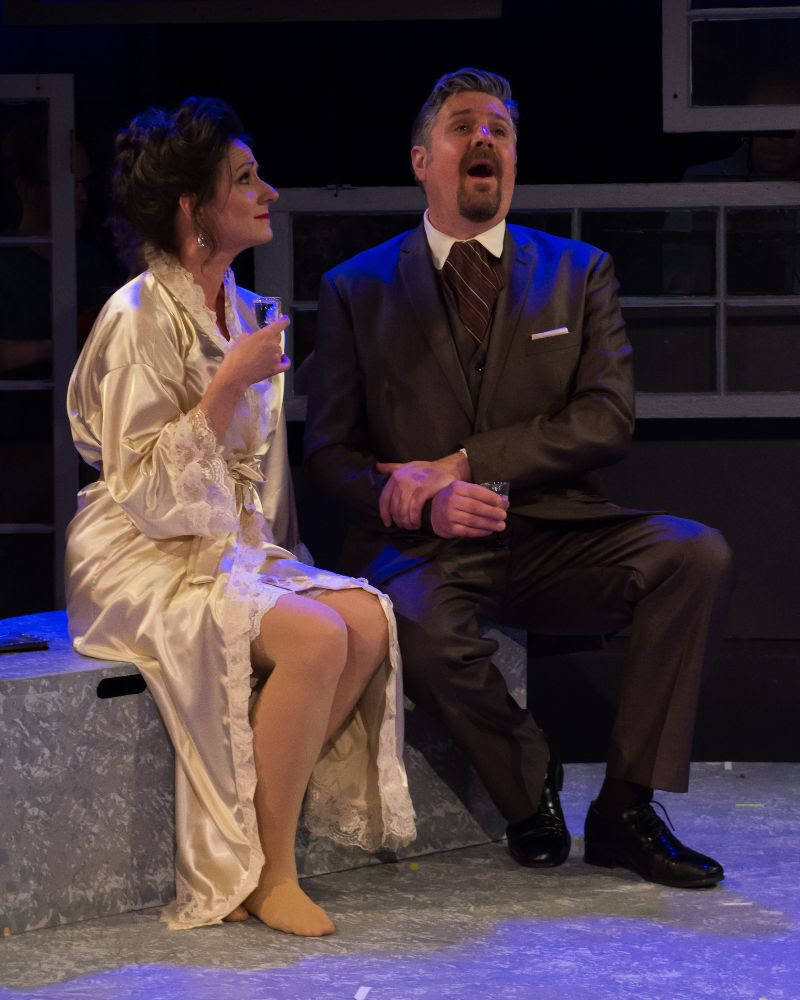 In Cherry Creek Theatre's current production of A Little Night Music, the talented storm the stage to produce a cohesive and clean production.
Under the direction of Kelly Van Oosbree, this ensemble has brought to life a clever vision with solid execution. Oosbree's staging of the piece does will in the intimate space. Scenic design by Tina Anderson is simple, yet clean. The manual turntable was a nice element that got good use out of it, but I did feel there could have been more stationary elements to really set the scene(s) aside from just the window panes. Lighting by Karalyn Star Pytel is a nice complement to Anderson's work. Costume designer Kelly Gregson has done some really nice work. I can almost see the artist renderings come to life in my head. A true page to stage experience.
The cast of ten could not have been stronger. As a general note, each cast member brought something original and unique to their portrayals and each did it with a sense of sincerity and conviction. Ryan Belinak as Frid is quite present in his role with a strong bari-tenor voice. Although the role doesn't have many lines, he was consistent in being "in" the scene, as opposed to an observer. As Fredrika, Sophia Dotson is a budding young actress with a natural talent for the stage. I look forward to seeing her in future productions. As Petra, Lindsay Falduto draws your eye in every scene. She is consistent in her character portrayal and very dynamic in her signing. It was nice to get both a classical tone while also getting a hint at a more contemporary sound towards the end of the show. Barrett Harper as Henrik offers a strong tenor sound while staying true to a more timid and shy character. As Madame Armfeldt, Susan Long is perfect in her role. A true veteran of the stage, Long has a true sense of scene work and character development. At times, I caught myself thinking about what other roles I would love to see her play. Rachel Turner as Anne is the love-child of Amy Adams and Anna Kendrick. Although a softer tone, what she lacked in volume she made up for in strong acting choices, perfect for the intimate setting. Megan Van DeHey as Countess Charlotte was perhaps my favorite performer of the evening. Her vocal-prowess left little to be desired, equally matched by her acting chops. As Fredrik, Brian Merz-Hutchinson is quite endearing in his role. The role itself errs on the side of misogyny, but Merz-Hutchinson does a nice job of presenting a softer version. It gives Fredrik a greater sense of authenticity. As Count Malcolm, Jeremy Rill is a comedic natural with an incredible tenor voice. I appreciate his commitment to the audacity and austerity of the role. As our leading lady, Susie Roelofsz as Desiree Armfeldt is truly in her element; at home in the role of a traveling performer. With her operatic soprano tone, she makes the iconic, "Send in the Clowns" all her own.
The production, overall, is delightful and oozing talent from the stage. It's always a nice experience leaving the theater a little happier; a little more satisfied; a little more fulfilled than when you entered.