Photo Flash: James Hipp, Alex Echevarria and More in OF MICE AND MEN at Sherman Playhouse
The Sherman Playhouse just opened
John Steinbeck
's classic, award-winning piece OF MICE AND MEN. Check out the latest production photos below!
This outstanding drama was first produced in 1937 and captures the mood of the country in Depression era. George (James Hipp, New Milford) and Lennie (Alex Echevarria, New Milford) are drifters looking for work as farmhands. They dream of one day having enough "jack" to "Have a little house, a couple of acres and live off the fat of the land." George protects Lennie, a gentle giant who does not know his own strength. Lennie's strength gets him into situations that keep them moving from town to town, one step ahead of the law. Finally, George must make a moral decision to protect Lennie one last time. The climax is as startling as it is unforgettable.
"The play explores themes that are as much a part of human experience today as when Steinbeck first penned the play 75 years ago," said director and set designer Laura Gilbert of New Milford. "The American Dream, friendship, duty, obligation, and loss are all among them. And the show's characters come to life in a raw, earthy way that speaks to each viewer on a very personal level. This tale of hope and hopelessness will resonate with audiences just as loudly today as it did during the Great Depression."
"OF MICE AND MEN is timeless in that it still continues to captivate new generations of viewers," said producer Katherine Almquist of Sharon. "It's pretty well known that Steinbeck achieved great critical and popular acclaim for much of his work, but arguably none is as well known, familiar, and beloved as this one. It's perhaps his most popular and accessible piece, and as such, audiences, whether they're familiar with the story or not, will love this production."
Besides Gilbert and Almquist, the production crew consists of sound designer David White, lighting designer Peter Petrino, costumer Terry Hawley, assistant to the director Sara Panaccio, and stage managet Jacky Saulnier.
Rounding out the cast are actors from all over the Northeast: Charles Roth (Waterbury), Alex Vournazos (Danbury), Jeff Rossman (New Fairfield), Julian Thomas (New York, NY), Paul Prelovsky (Nazareth, PA), Derek O'Brien, Ali Bernhardt, and Jeff Solomon (all New Milford).
OF MICE AND MEN, based on Steinbeck's own award-winning novel, had its Broadway premiere at The Music Box Theater in New York City on November 23, 1937. It went on to win the New York Drama Critics' Circle Award for Best Play and ran for 207 performances.
OF MICE AND MEN runs now through October 6. Curtain time is 8:00 p.m. Fridays & Saturdays, with a 2:00 p.m. Sunday matinee on September 23. Tickets for all shows are $20 for general seating. For tickets and more information, visit www.shermanplayers.org.
Photo Credit:
Josh Siegel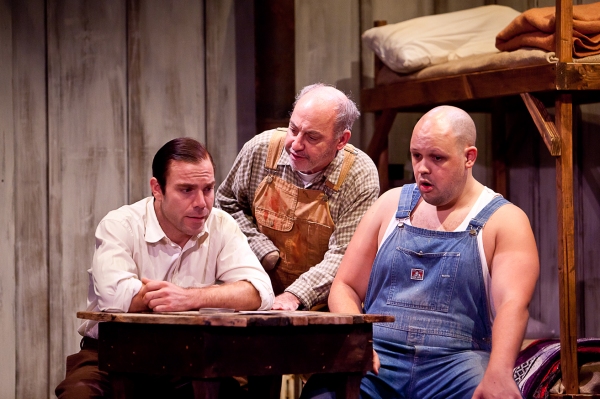 James Hipp as George, Jeff Rossman as Candy, and Alex Echevarria as Lennie

Jeff Rossman and Alex Echevarria

Ali Bernhardt as Curley's Wife and James Hipp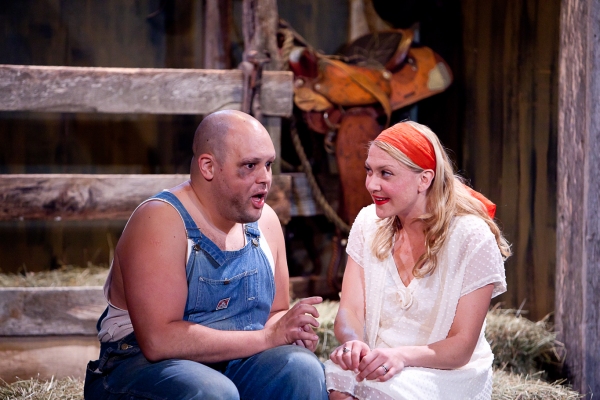 Alex Echevarria and Ali Bernhardt

Jeff Rossman, Julian Thomas as Crooks, and Alex Echevarria