Photo Flash: First Look at Jamie LaVerdiere and More in Terrence Mann-Helmed 1776 at CT Repertory Theatre
Connecticut Repertory Theatre (CRT) presents the Tony Award-winning musical "1776," from the book by Peter Stone, with music and lyrics by Sherman Edwards. Directed by Artistic Director and three-time Tony Award nominee Terrence Mann, "1776" is the first show of the 2017 Nutmeg Summer Series and stars Broadway's verterans Jamie LaVerdiere and Gaelen Gilliland as John and AbiGail Adams, Richard Henry as Benjamin Franklin and Adam Harrington as John Dickinson. BroadwayWorld has a first look at the cast in action below!
"1776" dramatizes John Adams efforts to convince his colleagues in the continental Congress to vote to declare America's independence from the Britain. "1776" brings a human element to the founding fathers through an incredible score and award-winning script. As poignant today as it was almost 50 years ago, the storytelling keeps you on the edge of your seat. "1776" wraps you in a world of politics and humor while delivering a stunning message of hope and freedom!
The cast stars Broadway veteran Jamie LaVerdiere as John Adams. LaVerdiere's Broadway credits include "Motown the Musical," "The Pirate Queen" and "The Producers." LaVerdiere recently played John Adams at the John W. Engeman Theatre to rave reviews.
Gaelan Gilliland stars as AbiGail Adams. Gilliland joins CRT from Broadway after her work in "Kinky Boots," "9 to 5," "The Addams Family," "Legally Blonde" and "Wicked." Her regional credits include "The Fully Monty," "Spongebob the Musical," "Finding Neverland" and "Honeymoon in Vegas."
Richard Henry returns to CRT after his recent nomination in 2016 for a Joseph Jefferson Equity Award for Actor in a Supporting Role for his performance in "Man of La Mancha." He will star as Benjamin Franklin in "1776." Henry's other recent appearances at CRT include "Twelfth Night", "The Sunshine Boys" and alongside Mann in "Man of La Mancha". Henry also directed the politically charged drama "Nuevo California" during CRT's past season.
Adam Harrington will play John Dickinson. Harrington has co-starred on TV's "Billions", "It's Always Sunny in Philadelphia" and "Parenthood". His stage resume includes work at many regional theatres including Wellfleet Harbor Actors Theatre, New Georges, and ColtCoeur Theatre/HERE Arts Center.
The cast also includes Will Bryant as Thomas Jefferson, Paige Smith as Martha Jefferson, Charlie Patterson as John Hancock, Cullen Reis as Dr. Josiah Bartlett, Frank Mack as Stephen Hopkins, Alessandro Viviano as Roger Sherman, Derek Holmes as Lewis Morris, Kent Coleman as Robert Livingston, Jayke Workman as Rev. Jonathan Witherspoon, Darren Brown as James Wilson, Dale AJ Rose as Caesar Rodney, James Colburn as Col. Thomas McKean, Tom Sweeney as George Read, Max Helfand as Samuel Chase, Simon Longnight as Richard Henry Lee, Matt Kemp as Joseph Hewes, Noah Kiserman as Edward Rutledge, Nate Healy as Dr. Lyman Hall/A Painter, Elliot Styles as Charles Thomson, DhaRon Jones as A Leather Apron and JamAl Fields-Green as A Courier.
The production team includes Terrence Mann (Director), Christopher d'Amboise (Choreographer), Tim Brown (Scenic Design), Fan Zheng (Costume Design), Michael Chybowski (Lighting Design), Michael Vincent Skinner (Sound Design), John Parmalee (Technical Director) and Thomas Kosis (Production Stage Manager).
Subscriptions and single tickets are on sale now at crt.uconn.edu or 860-486-2113

The company of 1776 at CT Repertory Theatre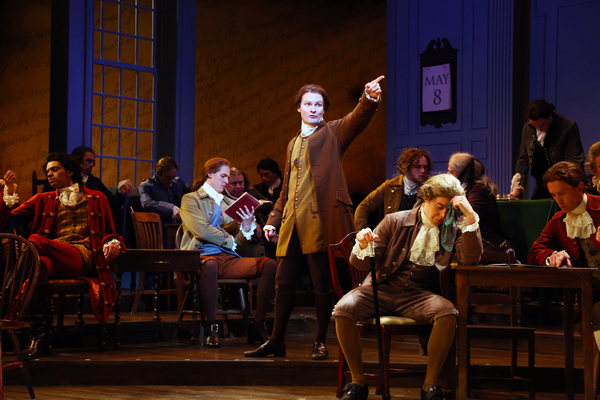 John Adams
(
Jamie LaVerdiere
) leads the Continental Congress's struggle for independence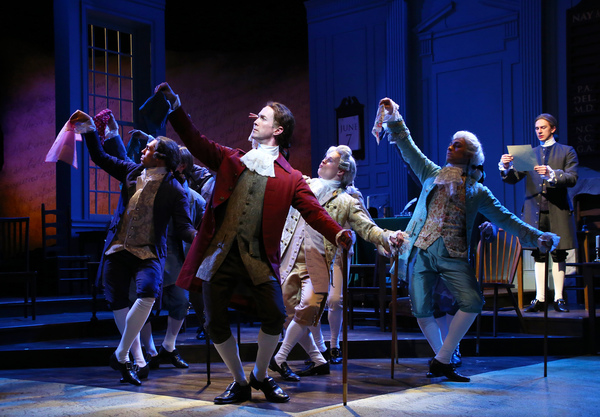 John Dickinson (
Adam Harrington
) leads a group of 'Cool, Conservative Men'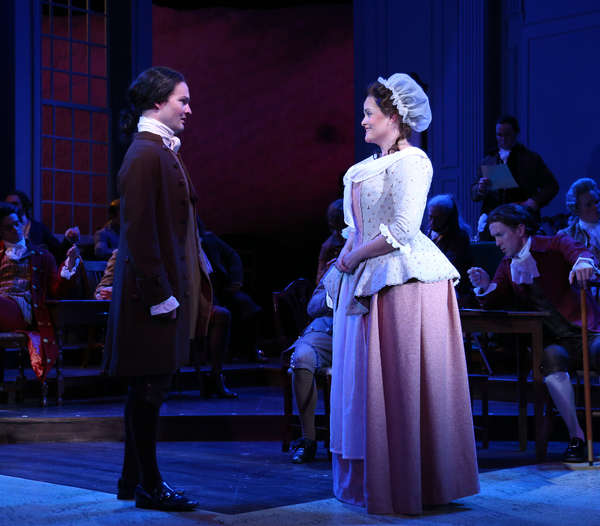 John Adams
(
Jamie LaVerdiere
) and Abi
Gail Adams
(
Gaelen Gilliland
)