Photos: Broadway Method Academy's EVITA Opens at Westport Country Playhouse
Broadway Method Academy's (BMA) production of the Tony winning Andrew Lloyd Webber and Tim Rice musical Evita, opened last night at the famed Westport Country Playhouse.
The Tony, Grammy, and Oscar-winning musical rocked Westport Country Playhouse last night in an entrancing newly imagined production. Featuring some of the best-loved songs in musical theater (including "Don't Cry for me Argentina" and "Buenos Aires"), Broadway stars, and over forty talented local students, this remarkable musical tells the iconic story of Eva Peron's meteoric rise to fame as Argentina's first lady.
The cast is led by Samantha Pauly as Eva Peron, Kyle Barisich (The Phantom of the Opera) as Juan Peron, Yurel Echezarreta (Aladdin, Matilda) as Che, and Julian Alvarez (West Side Story) as Magaldi, with dancers Ryan Cyr (international tour of West Side Story), Adam Mandala, Jared Smith and Jordan Eagle.
Directed by Connor Deane with choreography by Eric Santagata and music direction by J. Scott Handley, performances will continue through February 10.
The creative team also features production stage manager Rebecca McBee, lighting designer Weston G. Wetzel, set designer Ryan Howell, sound designer Josh Allamon, costume designer Heidi Hanson, wig/make-up design by Kelly Yurko, and projection designer Bryce Cutler. BMA Artistic Director, Julie Kavanagh serves as Associate Director/Choreographer. Evita is produced by Broadway Method Academy.
The ensemble includes Broadway Method Academy students Madison Lemone, Lizzie Richards, Claire Borgatti, Meaghan Cassidy, Julia Levine, Cory McCullough, Emerson Raymond, Ella Miller, Logan Lumley, Natalie Biebel, Annika Del Rosario, Colleen McCurley, Austin James Cleri, Kaitlyn Richards, Kevin Keating, Ethan Horbury, Julia Vitale, Lucas Smith, Caitlin May, Ryanne Forrest, Jayden Hudson, Charles Rusciano, Kevin Geraghty, Annika Jonker, Jesse Plumitallo, Nathan Ayotte, Serena Remmes, Brenna Connolly, Emily Seanor, Genevieve Seanor, Griffin Delmhorst, Gillian Delmhorst, Skylar Giblin, Maura Marchetti, Lucas Richerson, Angelina McKenna, and Owen Bernheim.
Tickets are $45 each and available from the Westport Country Playhouse box office at (203) 227-4177 or westportplayhouse.org. Performances are 2/8 at 7:30pm, 2/9 at 8:00pm, 2/10 at 2:00pm, and 2/10 at 7:30pm.
About Broadway Method Academy
Broadway Method Academy offers comprehensive training in acting, singing and dancing. A variety of classes, private coaching sessions, and performance opportunities are offered, bringing in some of Broadway's top talents to work with students. The mission of Broadway Method Academy to provide the essential tools for young artists to integrate acting, singing and dancing. BMA helps to build audiences for tomorrow, to educate audiences of today, to enrich the community, and to enrich the lives of children. BMA proudly serves as the resident conservatory of Westport Country Playhouse.
About Westport Country Playhouse
The mission of Westport Country Playhouse is to enrich, enlighten, and engage the community through the power of professionally produced theater worth talking about and the welcoming experience of the Playhouse campus. The Playhouse provides this experience in multiple ways by offering: Live theater experiences of the highest quality, under the artistic direction of Mark Lamos; educational and community engagement events to further explore the work on stage; programs for students and teachers with extensive curriculum support material; Script in Hand play readings to deepen relationships with audiences and artists; the renowned Woodward Internship Program during the summer months for aspiring theater professionals; Family Festivities presentations to delight young and old alike and to promote reading through live theater; youth performance training and performance opportunities through Broadway Method Academy, WCP's resident conservatory; and the beautiful and historic Playhouse campus open for enjoyment and community events year-round.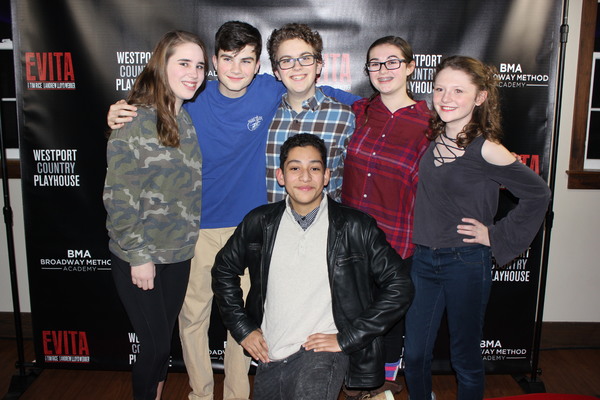 The Cast of EVITA

Julian Alavarez

Kyle Barisch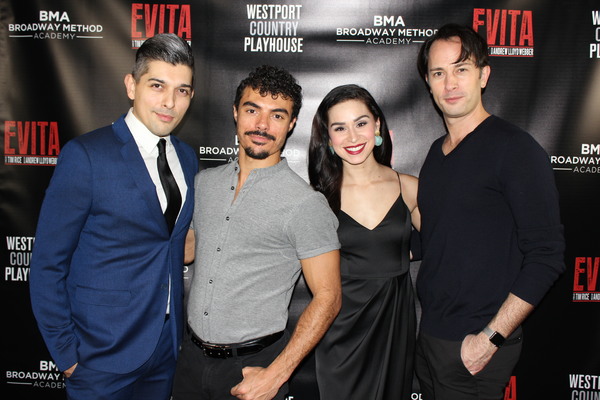 Samantha Pauly & Yurel

Yurel

The Company with Eric Santagata

The Cast of EVITA