CT Free Shakespeare Presents THE COMPLETE WORKS OF WILLIAM SHAKESPEARE (REVISED)[UPDATED]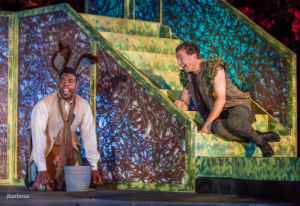 CT Free Shakespeare (CFS) presents The Complete Works of William Shakespeare (Abridged) by Adam Long, Daniel Singer and Jess Winfield. The production also known as The Complete Works of William Shakespeare (Abridged) [Revised] will mark CFS's twentieth year. It will take place on Thursday, August 1 through Sunday, August 4 at 7 pm at The University of Bridgeport's Arnold Bernhart Center for the Arts & Humanities, 84 Iranistan Avenue, Bridgeport, CT on the patio across the street from Seaside Park.
Artistic Director Ellen Lieberman describes the play as "wacky and wonderful. It has a high energy, full of fun pace she says, "and although it is fully scripted much of the fun is improvised and involves the audience." It parodies the plays of William Shakespeare with all of them being performed in comically shortened or merged form by only three actors. First performed at the Edinburgh Festival Fringe in 1987 it has become one of the world's most popular shows, playing frequently in a variety of languages. It is notable for holding the world record for the shortest-ever performance of Hamlet, clocking in at 43 seconds, as well as the fastest performance of Hamlet backwards, at 42 seconds. CFS all-stars, Uma Incrocci of Los Angeles, Ian Eaton of Harlem and Eric Nyquist of Trumbull play out all the Shakespearean roles.
Free Admission. Free Parking. Seating opens at 6:30. Space is limited. The patio is concrete. Two hundred chairs will be available for early arrivers. To be safe brings chairs. The venue is handicapped accessible. Performances will be cancelled if weather is severe. There will be limited seating in the event of light rain.
CFS would like to thank its sponsors who made its 20th year possible. Thanks to Actors' Equity Association, the Manger Foundation, Norma Terris Albert Firestone Foundation, Avram and Rhoda Freedberg Family Foundation, RBC Foundation, the Jana Foundation and The University of Bridgeport.
Dandelion Productions, Inc. is a not for profit theater company whose mission is to employ the power of the dramatic arts to educate its audiences about the issues and values that shed light on the human condition. With a commitment to accessibility and inclusivity, Dandelion's programs have centered on creating point-of-entry theatrical experiences and social justice educational programs that have a powerful impact on the lives of Connecticut residents, particularly in underserved communities.
For more information, visit our website at www.ctfreeshakespeare.org or facebook.com/ctfreeshakespeare.