Click Here for More Articles on National Theater Institute
BWW Exclusive: A Theatrical Village - Nine Cottages Named for Major Figures in O'Neill Center History
On Friday, the Eugene O'Neill Theater Center welcomed hundreds of artists, donors, patrons, and public figures to celebrate the official ribbon cutting of its expanded campus. Designed by Centerbrook Architects and with lead support from the State of Connecticut and private donors, the O'Neill campus now boasts eight new cottages and a new rehearsal hall with composition and dance studios, creating living, rehearsal, and production space for an additional 65 artists on the O'Neill's historic seaside campus in Waterford, CT. Scroll down for photos and video!
The expansion provides space for a major new program---the National Music Theater Institute Semester, a division of the celebrated undergraduate training program the National Theater Institute---and as an artistic retreat for playwrights, composers, and puppeteers year round.
Executive Director Preston Whiteway, Architect Chad Floyd, Senator Richard Blumenthal, Senator Chris Murphy, NTI Artistic Director Rachel Jett, and O'Neill Chairman Tom Viertel are among those who spoke at the event. Murphy highlighted the necessity and educational power of theater, illustrating his remarks by sharing "it's not textbooks that inspire my 6-year-old. It's the performances he sees."
Speaking in the O'Neill's Edith Oliver Theater, with National Theater Institute and National Music Theater Institute students in attendance, and over the calls of seagulls NTI Artistic Director Rachel Jett explained, "this expansion ensures that there will be more students who know how to work relentlessly, and who are engaged in conversations with our culture. And what this does is ensure the currentness and craft of the American theater for a long time to come." Rachel Jett went on to say "these new buildings mean that there will be many mentors who resonate with a diverse group of students. That they will learn many ways of making theater. [...The cottages] are the assurance that there will be new plays, new musicals, and that there will be people who can bring them to life."
Watch Rachel Jett's full remarks below!
The new housing and rehearsal buildings are named for many well-known artists central to the O'Neill Center mission of discovering, nurturing, and developing new artists and new work for the American Theater: Jim & Jane Henson Rehearsal Hall; August Wilson Cottage; Michael Douglas Cottage; Wendy Wasserstein Cottage; and the Ted Hartley & Dina Merrill Cottage.
Others bear names of importance, including Walnut Grove Cottage, original name of the O'Neill Center's historic property; and Carlotta Cottage, a nod to Eugene O'Neill's wife Carlotta Monterey O'Neill, who granted founder George C. White permission to name the theater after her late husband. A copy of her 1964 letter granting the request hangs in the cottage, and her closing line of "May you have even greater success than you expect" has never felt more realized.
"With this expansion, the O'Neill cements its place as the launchpad of the American theater," says Executive Director Preston Whiteway. "The O'Neill's mission to discover, develop and nurture new work and new artists for the stage boldly leaps forward now, as we launch new programs and initiatives to support the next 50 years of American theater and the artists who will create it. The first results are our new undergraduate musical theater semester, the National Music Theater Institute, and the Doris Duke Charitable Foundation supported National Directors Fellowship, with more programs to come. I thank our generous donors, the State of Connecticut, and especially the staff and trustees of the O'Neill, who worked very hard to realize this new campus. Friday's ribbon cutting is cause for celebration not only for the O'Neill, but for artists everywhere."
Photo Credit: Derek Hayn/Centerbrook


Eugene O'Neill Center artist, student, and faculty cottages

Eugene O'Neill Theater Center Executive Director Preston Whiteway cuts the ribbon on the expanded campus at Jim & Jane Henson Hall.

Jim & Jane Henson Hall at the Eugene O'Neill Theater Center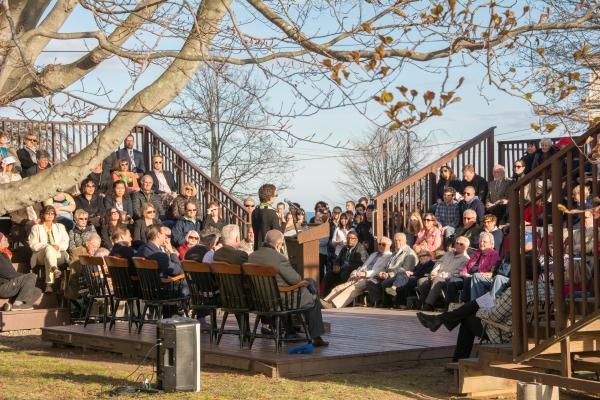 NTI Artistic Director Rachel Jetts speaks at the O'Neill ribbon cutting.

The dance studio of the Jim & Jane Henson Rehearsal Hall at the Eugene O'Neill Theater Center
Related Articles
With a singular schedule and an unmatched breadth of training, the National Theater Institute's six semester-long programs offer students a springboard to the professional world (read more...)