Ken Ludwig's TREASURE ISLAND Sails Into Cincinnati Playhouse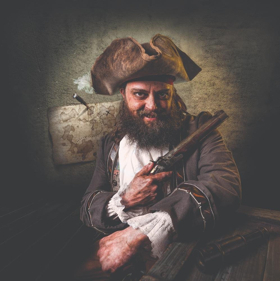 Audiences will set sail on the journey of a lifetime, complete with cutthroat pirates, a treasure map and a courageous boy entangled in a dangerous swashbuckling expedition, when Ken Ludwig's TREASURE ISLAND arrives at Cincinnati Playhouse in the Park April 21. This epic theatrical adaptation runs through May 19 (Opening Night is April 26).
"
Ken Ludwig
's adaptation of the
Robert Louis
Stevenson novel will sweep the audience up into the adventure of a lifetime," says
Blake Robison
, artistic director and director of the Playhouse production. "His story is a faithful, straightforward adaptation exploring the father/son dynamic between boy and pirate, peppered with funny dialogue and awesome sword fights." TREASURE ISLAND features all of the memorable elements of Stevenson's tale, considered one of literature's best adventure novels. The beloved adventure in exotic lands with mysterious treasure is also a brilliant coming-of-age story with a hero, Jim Hawkins, and has an entertaining cast of memorable pirates and villains, including Long John Silver. Robison directed TREASURE ISLAND about ten years ago as artistic director of Round House Theatre. Now he's returning to it to share with Cincinnati families the story that appeals to the kid in all of us. "It's been a priority for me that the Playhouse offers some multigenerational fare every season, in addition to A Christmas Carol," Robison explains. "Bringing these stories to life on stage allows families to enjoy the theatrical experience together. When a kid is 8, 9 or 10 years old and able to sit through a full-length play, we want to provide that opportunity. And it's a story of a young boy growing up and finding his moral beacon. These are things we want for all of our children. Jim does them under extraordinary circumstances!" The extravagant production will include period costumes from 1774 and a set that rotates, shifts and transforms into a pirate ship, English tavern and island jungle, bringing the story to life. Ludwig told Samuel French of his play, "What could be better? We love pirates! They're fun. They're crazy. They're the first antiheroes, aren't they? They're bloodthirsty. They kill people. They do terrible things. They steal things. But we're rooting for them. We're in love with them. And Long John Silver is a great example of that." The Playhouse also produced
Ken Ludwig
's Baskerville during its 2016-2017 season. The comedic adaptation of Sir
Arthur Conan Doyle
's Sherlock Holmes series proved to be a hit with Cincinnati audiences, including families. CAST: Em S. Grosland (Jim Hawkins);
Jeffrey M. Bender
(Long John Silver/Jim's Father);
Austin Reed Alleman
(George Merry/Bailiff's Son/Bristol Sailor);
Rin Allen
(Anne Bonny/Jim's Mother/Assistant Fight Choreographer);
Thomas Brazzle
(Black Dog/Josiah Bland);
Michael Broadhurst
(Blind Pew/Job O'Brien);
Grant Goodman
(Billy Bones/Captain Smollett); Max Monnig (Israel Hands/Reverend Mainwaring/Calico Jack);
Barry Mulholland
(Dr. Livesey); Marco Adriel Muñoz (Justice Death/Cut Purse/Inn Guest);
Andy Paterson
(Squire Trelawney/The Bailiff); JT Stocks/Taha Mandviwala (
Tom Morgan
/Ezekiel Hazard/Boy with Barrow/Inn Guest);
Michael
Anthony Williams
(Ben Gunn/Inn Guest/Bristol Sailor) PRODUCTION:
Blake Robison
(Director); Jeffrey Modereger (Set Designer); Mathew J. LeFebvre (Costume Designer); Jaymi
Lee Smith
(Lighting Designer); Matthew M. Nielson (Sound Designer/Additional Music);
Drew Fracher
(Fight Choreographer);
Stephanie Klapper
(Casting Director); Andrea L. Shell (Stage Manager); Jenifer Morrow (
Second Stage
Manager)
Special Events:
Page-to-Stage Book Club
April 23 and May 14, at 7 p.m. at Joseph-Beth Booksellers, Norwood
This season, the Playhouse continues its partnership with Joseph-Beth Booksellers with a book club for audience members interested in better understanding the process of adapting a book from the page to the stage. For our last show of the season in the Marx Theatre, we'll take a deep dive into TREASURE ISLAND by Robert Louis Stevenson.
Participants are invited to attend two special discussion events. At the first discussion on April 23, we'll talk about the book itself: the plot and characters, the overarching themes, how you might imagine it translates to a theatrical setting and even the challenges you see in adapting the story. Our second discussion will take place on May 14, after you've seen the play, to discuss what excited and surprised you, and to learn from a member of the production team how they approached the show. Each event is free and open to the public; however, registration is required by calling the Box Office. Pirate Training Workshop
Saturdays from 2 p.m. to 3 p.m. prior to 4 p.m. matinee performances
Ahoy, mateys! Before you set sail with the Playhouse's production of TREASURE ISLAND, get your sea legs and learn the finer points of swashbuckling. In this one-hour, multi-generational workshop, kids and parents alike will learn how to walk, talk and fight like a pirate by using a combination of stage combat and acting techniques. Cost is $25 per participant and does not include a ticket to the show. A parent or guardian may join their child for the workshop, but an adult is not necessary for kids to participate. Space is limited, so reserve now or WALK THE PLANK! Beer Tasting Series
Wednesdays from 6 to 7:15 p.m., prior to the 7:30 p.m. evening performances Join us before Wednesday evening performances of TREASURE ISLAND for beer tastings and a three-course dinner! Catered by Vonderhaar's and featuring a four-sample flight of Rhinegeist beer, dinner will begin promptly at 6 p.m. and end at 7:15 p.m. Cost is $35 per person and does not include a ticket to the show. Reservations are required by the Wednesday before the tasting. Prices for TREASURE ISLAND start at $35 depending on seat selection and performance day. Tickets for children and teens are $30 or $45, depending on seat location. Prices subject to change. Student tickets are just $15 on the day of the show. Plus, Sunday is College Night, with tickets to all 7 p.m. performances just $10. In addition to calling the Box Office, tickets can also be purchased by visiting the Playhouse website at
www.cincyplay.com
. The Playhouse is fully accessible. Large print programs and hearing enhancement receivers are available upon request. Call
513-421-3888
or
800-582-3208
toll-free in Ohio, Kentucky and Indiana; or
513-345-2248
- TDD access (Telecommunications Device for the Deaf).