Tickets On Sale Tomorrow For CRUEL INTENTIONS: THE '90s MUSICAL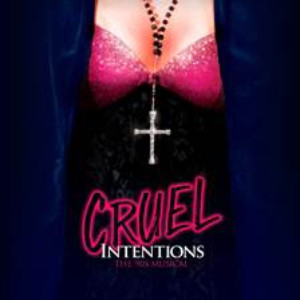 Broadway In Chicago has announced tickets for CRUEL INTENTIONS: THE '90s MUSICAL will go on sale on Wednesday, January 30. The show will play Broadway In Chicago's Broadway Playhouse at Water Tower Place (175 E. Chestnut St) for a limited two week engagement April 2 14, 2019.
Based on the French novel, Les Liasions Dangereuses, and the classic cult film starring Reese Witherspoon, Ryan Phillipe and Sarah Michelle Geller, CRUEL INTENTIONS: THE '90S MUSICAL pulls you into the manipulative world of Manhattan's most dangerous liaisons: Sebastian Valmont and Kathryn Merteuil. Seduced by revenge and fueled by passion, the two diabolically charming step-siblings place a bet on whether or not Sebastian can deflower their incoming headmaster's daughter, Annette Hargrove. As the two set out to destroy the innocent girl and anyone who gets in their way they find themselves entangled in a web of secrets, temptation, and the cruelest game of all: love. Featuring your favorite throwback hits by artists like Boyz II Men, Christina Aguilera, REM, *NSYNC, and, of course, Britney Spears, this intoxicating new musical is the ultimate night out (Entertainment Weekly).
Everybody loves me and 20 years later I intend to keep it that way, with the support of the exquisite Cruel Intentions Musical and soundtrack. Not that I need support. I don't, because I'm fabulous, says Sarah Michelle Gellar.
ABKCO Records will release CRUEL INTENTIONS: THE '90s MUSICAL Original Cast Album on CD and digital platforms on March 8. Coinciding almost perfectly with the 20th anniversary of the Roger Kumble film from which it is based, the new Off-Broadway musical uses hit songs from the 1990s as its central motif. Cast members pay tribute to the decade with stellar performances of The Verve's Bittersweet Symphony, Christina Aguilera's Genie In a Bottle, the Cardigans' Lovefool and the lead single Breakfast at Tiffany's originally by Deep Blue Something now available streaming services and as an Instant Grat with pre-order now. http://www.smarturl.it/cruelmusical
Created by Jordan Ross, Lindsey Rosin and Roger Kumble, CRUEL INTENTIONS: THE '90s MUSICAL (and its cinematic predecessor) is an adaption from the classic 1792 French novel Les Liaisons Dangereuses by Pierre Choderlos de Laclos. The musical debuted in Los Angeles in 2015, where it immediately became a sensation with sold out performances, mandating a move to a bigger venue. In 2017, the production was recreated off-Broadway at (le) Poisson Rouge in Manhattan, where it was met with critical acclaim. Vanity Fair described it as perfect nostalgia sweet, silly, sincere . . . and genuinely joyous. Following a sold-out engagement in the winter of 2017, CRUEL INTENTIONS: THE '90s MUSICAL returned for a six-month, thrice-extended run. In 2019, the production will hit the road for the first time, traveling up and down the East Coast, Midwest and South.
Roger Kumble, who wrote the screenplay and directed the 1999 film, commented, Never in my darkest fantasies would I believe, 20 years later, my movie about a pair of hedonistic Manhattan step-siblings would turn into a musical an amazing musical that even people who hate musicals would love, complete with a soundtrack loaded with the greatest '90s guilty pleasure songs.
Individual tickets will go on-sale to the public on Wednesday, January 30, 2019 and range in price from $35-$72 with a select number of premium tickets available. Tickets are available now for groups of 10 or more by calling Broadway In Chicago Group Sales at (312) 977-1710 or emailing GroupSales@BroadwayInChicago.com. For more information, visit www.BroadwayInChicago.com.
Broadway In Chicago was created in July 2000 and over the past 19 years has grown to be one of the largest commercial touring homes in the country. A Nederlander Presentation, Broadway In Chicago lights up the Chicago Theater District entertaining more than 1.7 million people annually in five theatres. Broadway In Chicago presents a full range of entertainment, including musicals and plays, on the stages of five of the finest theatres in Chicago's Loop including the Cadillac Palace Theatre, CIBC Theatre, James M. Nederlander Theatre, and just off the Magnificent Mile, the Broadway Playhouse at Water Tower Place and presenting Broadway shows at The Auditorium Theatre. For more information, visit www.BroadwayInChicago.com.