Red Clay Announces Choreographers For LA FEMME FESTIVAL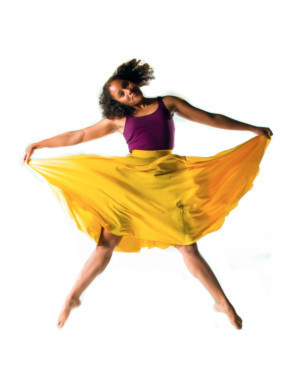 Red Clay Dance Company (RCDC), which creates and performs a diverse repertoire of Afro-contemporary dance, announces the third edition of La Femme Dance Festival, celebrating choreographic work by women of Black/African Diaspora/African descent. Performances are March 15 and 16 at the new Green Line Performing Arts Center, 329 E. Garfield Blvd. in Chicago's Washington Park neighborhood.

Open to women artists from around the world, La Femme is curated by RCDC (Chicago) Founder and Artistic Director Vershawn Sanders-Ward, Flyground (Philadelphia) Founder and Director Lela Aisha Jones and Catalyst Movmnt (Chicago) Founder and Curator Aaliyah Christina. The curators have selected five choreographers, whose work will be performed in this year's festival, and each will receive an artist fee, publicity, technical support and documentation (video and photos).
Participating choreographers are:
Lindsay Renea Benton is a dancer, choreographer and educator from Youngstown, Ohio. She earned her BFA in dance at Howard University and upon graduating performed as a principal dancer with Garth Fagan Dance Company. Benton has dedicated much of her career to giving back to her hometown through the Lindsay Renea Dance Theatre. She earned her M.F.A. in choreography at Jacksonville University and is an Assistant Professor of Dance at Alabama State University.
L. Graciella Maiolatesi is a dance M.F.A. student at Temple University. She received her B.A. in dance and black studies from Denison University. Much of her work uses movement and narrative to create dialogue on issues of race, gender and sexuality. Maiolatesi believes that dance has the power to promote change as long as we are brave enough to tell our stories.
Marceia L. Scruggs is a mover and creator highly driven by her research in women's/gender studies. As an artist and movement researcher, she values writing, performance and storytelling from her Black Womxn's lens. She is a company member of Red Clay Dance Company and Ground Rhythm Dance Project. Her mentors include, but are not limited to, dance makers such as Kevin Iega Jeff, Gary Abbott, Darrell Jones and Jawole Willa Jo Zollar.
Jasmin Williams is a multilingual native Chicagoan who has trained, worked and lived in Chicago, New York, Los Angeles and throughout Western Europe. She has attended Dance Theater of Harlem and Dance Italia and performed Memoria with the renowned Alvin Ailey Company. Williams is a dancer for Winifred Haun and Dancers and rehearsal director/dance collaborator for Motion Pictures Dance Project. She is presenting her first evening-length work as a part of Links Halls' 40th season. All of her work aims to encourage true vulnerability and interdependence, which promote unity within diversity and respect in all communities.
Brittany Chanel Winters is a Chicago-based dance artist. Her hopes are to always be in spaces that foster and value growth, authenticity, cultural exploration, compassion and journeying. And when she can't find those spaces, she wishes to create and share them. Festival activities include evening performances Friday and Saturday, March 15 and 16. There is a post-show discussion on Friday and a pre-show talk and a post-show reception on Saturday. A free community dance class led by one of the festival choreographers takes place Thursday, March 14, followed by a learning circle session in partnership with High Concept Labs.

10th anniversary season RCDC's season continues with the world premiere of Sanders-Ward's Art of Resilience 2.0, a co-presentation with the DuSable Museum of African American History, May 16-18, 2019 at the DuSable Museum of African American History's Roundhouse, 740 E. 56th Place. RCDC's Paint the Town Red, a post-show fundraiser, takes place May 18 on the Roundhouse's outdoor patio. Concluding the season is RCDC's "Dance4Peace Youth Concert & Community Hug Awards" June 1 at 5 p.m. at Benito Juarez Community Academy, 1450 W. Cermak Rd.
La Femme Dance Festival performances take place Friday and Saturday, March 15 and 16 at 7 p.m. at the Green Line Performing Arts Center, 329 E. Garfield Blvd., Chicago.
Admission is a suggested donation of $10, available beginning February 1 at redclaydance.com. A free master class and learning circle take place Thursday, March 14 at 6 p.m. at High Concept Labs, 2233 S. Throop St., Chicago. Registration opens February 1 at redclaydance.com.
For more information about RCDC and the 10th anniversary season, visit redclaydance.com.