Cast announced for HELLO AGAIN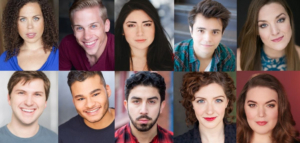 Cast and crew for Michael John LaChiusa's HELLO AGAIN, the first show of Theo Ubique's second season on Howard Street in Evanston, have been announced by the show's multi-Jeff award-winning director-choreographer Brenda Didier. The musical, which premiered at New York's Lincoln Center in 1993, is suggested by the 1897 play LA RONDE by Arthur Schnitzler. Like Schnitzler's play, the musical details a daisy chain of sexual encounters and love affairs among ten characters in ten scenes, but LaChiusa departs from LA RONDE by setting each scene of the musical in a different decade of the 20th century and in a non-chronological order. Time marches on, but the characters don't age. LaChiusa's ingenious and sung-through score is composed in a variety of musical styles ranging from opera to 1970s disco while simultaneously introducing musical and lyrical echoes throughout to tie all the characters and their experiences together. HELLO AGAIN will play September 13 - November 3, 2019, with press opening performances scheduled for Sunday September 22 and Monday September 23. All performances will be in the Howard Street Theatre, 721 Howard St., Evanston.
Didier's cast will include Megan Elk (the Beggar Woman in Theo's SWEENEY TODD) as The Whore, Christopher Ratliff (Jeff Award nominee for BoHo's 110 IN THE SHADE) as The Soldier,
Nora Navarro
(of Theo's TIME AFTER TIME) as The Nurse, Nik Kmiecik (of Paramount's ONCE) as The College Boy,
Molly LeCaptain
(Jeff Award nominated for Pride Films and Plays' YANK! and also seen in Theo's THE FULL MONTY and THE BRIDGES OF MADISON COUNTY) as The Young Wife,
Royen Kent
(of Pride Films and Plays' THE NANCE) as The Husband,
Marco Tzunux
(of Theo's ALTAR BOYZ) as The Young Thing, Max J. Cervantes (of Firebrand's QUEEN OF THE MIST) as The Writer,
Neala Barron
(Jeff Award nominee for BoHo's 110 IN THE SHADE) as The Actress, and
Courtney Jones
(Jeff nominated for Theo's THE MOST HAPPY FELLA) as The Senator.
Theo Ubique Resident Music Director (and multi Jeff award winner) Jeremy Ramey will be Music Director. The design team will include Nicholas Schwartz (Scenic Designer, Technical Director), Rachel Boylan (Costume Designer), James Kolditz (Lighting Designer), Robert Hornbostel (Sound Designer), Keith Ryan (Wig Designer), Matthew Zalinski (Properties Designer), Jaq Seifert (Intimacy Choreographer), Giselle Castro (Sound Engineer), and Taylor Fitzjarrald (Sub Sound Engineer). The production team also includes Adrian Azevedo (Assistant Director), Daryl A. Ritchie (Production Manager) and Shannon Rourke (Stage Manager).
Separately, the company revealed the title of its previously "to-be-announced" fourth show of the 2019-20 season. The summer production will be
Stephen Schwartz
's GODSPELL, running from June 5 - July 26, 2020. Cast and creative team will be announced later. Season packages for all four shows of the 2019-20 season are currently on sale at
www.theo-u.com
. Packages are priced at $99 for previews, $129 for regular run Thursdays and Sundays, and $149 for regular run Fridays and Saturdays. Optional three course prix fixe dinners, served by cast members before the performances, are available for an additional $100.00 per subscription; or for $29.00 on a per-show basis. Single tickets for HELLO AGAIN will be on sale soon at
www.theo-u.com
.