Flat Rock Playhouse Presents 70'S SUMMER NIGHTS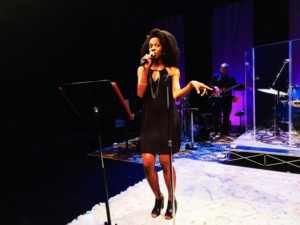 Flat Rock Playhouse continues the 2018 season Music on the Rock Concert Series with 70's Summer Nights. Audiences can expect an upbeat evening of dance, drama, and delight at this Music on the Rock Concert. With no need to Take a Chance on this show, the Band of Gold will have everyone out of their seats ready to Boogie Oogie Oogie the night away. These songs of one of the most defining musical decades of the century are sure to spark the Night Fever. Running August 2nd - 12th at the Playhouse Downtown on Main Street in Hendersonville, NC, Music on the Rock: 70's Summer Nights promises an infectious evening of energy, music, and entertainment.
70's Summer Nights will feature such hits as Stayin' Alive, Papa Was A Rolling Stone, Do That To Me One More Time, How Deep is Your Love, My Sharona, Killing Me Softly With His Song and more!
70's Summer Nights will star Dustin Brayley (Vocals), Jason Wooten (Vocals), and Ebony Blake (Vocals) with Will Moss (Music Director, Keys, Vocals), Sarah Fowler (Keys II), Tucker Warwick (Bass), Casey Cramer (Guitar), and Phillip Bronson (Drums). Flat Rock favorite, Dustin Brayley was most recently seen at the Flat Rock Playhouse in Motown Summer Nights, Smokey Joe's Cafe, and The Music of the Beatles. Jason Wooten appeared most recently in Music of the Night: The Songs of Andrew Lloyd Webber and Bubblegum Pop. Ebony Blake debuted at the Flat Rock Playhouse in 2017 with The Music of Lionel Richie & Diana Ross. Will Moss, long time Music on the Rock performer, serves as Music Director with a band of local and regular Music on the Rock musicians.
70's Summer Nights is made possible by Downtown Series Sponsor Rug and Home.
TICKETS AND SCHEDULE
70's Summer Nights will run Thursday through Sunday from August 2nd to August 12th at the Playhouse Downtown in Hendersonville. Performances on Thursday at 7:30 PM, Friday at 8:00 PM, Saturday at 2:00 PM and 8:00 PM, and Sunday at 2:00 PM. Tickets are $35 and can be purchased by calling the Playhouse Box Office at 828-693-0731, toll-free at 866-732-8008 or online at www.flatrockplayhouse.org.
The Flat Rock Playhouse Downtown is located in Hendersonville at 125 S. Main Street, Hendersonville, NC 28792.
In 1937, a group of struggling performers, led by Robroy Farquhar, organized themselves as the Vagabond Players. The Vagabonds worked in a variety of places over the course of three years, and in 1940 found themselves in the Blue Ridge region of Western North Carolina. The local and tourist community welcomed them with open arms when they presented their first summer season of plays in a 150-year-old grist mill they converted into The Old Mill Playhouse at Highland Lake. So successful was that summer, they returned in 1941. After WWII, the Vagabond Players reorganized, came back to the region and opened a playhouse in nearby Lake Summit. The Lake Summit Playhouse thrived during the post war years and soon the Vagabond Players were looking for a larger and permanent home. In 1952, the troupe of performers, and a newly formed board of directors, made an offer to buy an 8-acre lot in the Village of Flat Rock. This new home made the Vagabonds "locals" and a rented big top gave birth to Flat Rock Playhouse. As the beautiful Western Carolina region continued to grow, so did the Playhouse and in 1961, by Act of the North Carolina General Assembly, Flat Rock Playhouse was officially designated The State Theatre of North Carolina. What began as a few weeks of summer performances in 1940 is now a nine-month season of plays including Broadway musicals, comedy, drama, and theatre for young audiences. The Playhouse's dual mission of producing the performing arts and providing education in the performing arts includes a professional series; a summer and fall college apprentice and intern program; and Studio 52, year-round classes and workshops in theatre and film for students from kindergarten through adults. Flat Rock Playhouse now hosts over 105,000 patrons annually and is a significant contributor to the local economy and the Arts in North Carolina.
Related Articles View More Charlotte

Stories

Shows
More Hot Stories For You