Feature: Piggy's Tale: How a Three-Legged Dog is Changing the World in NYC and Beyond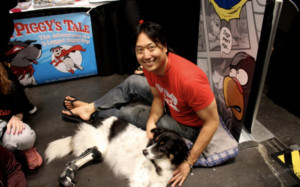 The phrase "not all heroes wear capes" gets thrown around quite a bit in modern society, but for a three-legged dog from the Dominican Republic, and his owner, Tod Emko, the sentiment is especially true. New York City native, Tod Emko found the three-legged Border Collie after he was run over by a bus in the Dominican Republic, almost resulting in Piggy's death.
When Emko rescued Piggy (aptly named for his scraggly, fur-less appearance,) he noticed that there weren't any vet clinics in the area because most developing countries don't have the funds to allocate on animals when there are so many people suffering. With Piggy's help, Emko ventured out to found a much-needed organization to help countries like the Dominican Republic care for domesticated pets. In addition to providing veterinary care, Darwin Animal Doctors offers a humane education curriculum in local schools to teach children the importance of caring for animals and the organization partakes in conservation efforts for wildlife as a nod to Emko's conservationist efforts when he first visited the Dominican Republic.
Piggy is more than just a mascot and an inspiration for Darwin Animal Doctors. When he's not lying down waiting for pets, he goes to hospitals and uses his calm, empathetic presence to help amputee children. Piggy's real-life superpower is being able to detect nearby distress suffering which helps children deal with traumatic experiences.
Piggy's uncanny ability to help children inspired Emko to create a comic that features Piggy and his feline sidekick, Simon, who was Darwin Animal Doctors' first patient and later adopted by Emko. Piggy finally got his cape in "A Piggy's Tale The Adventures of a 3-Legged Pup." Of course, Piggy can fly in the comic but his main superpower is his empathy. Sound familiar?
The comic was co-written by Tod Emko and Ethan Young, renowned Dark Horse illustrator who put all of his projects on hold to tell Piggy's tale. Young refused to be compensated for his work and insisted that every cent of his proceeds should go toward Darwin Animal Doctors. The comic has been a massive fundraiser for the organization as well as being an inspiration for children whose animals are going through amputation as well as children themselves. The comic and other Piggy-related merchandise can be found here and all proceeds go toward Darwin Animal Doctors' mission.
Whether you live in New York City or not, keep an eye out on the events page of the Piggy's Tale website as he often makes convention appearances where Piggy happily accepts tummy rubs from con-goers who can meet the phenomenal team behind the comic and Darwin Animal Doctors. There, you can make a donation, purchase a signed comic, or acquire a plush Piggy and other merch. I thoroughly enjoyed meeting Piggy and his team as much as Mark Hamill at New York Comic Con last year, and that is an almost unattainable feat.
Unfortunately, Piggy was absent from New York Comic Con this year, as he was diagnosed with Lymphoma this October. But Piggy is a fighter and he just came home to be with his partner in crime, Simon and his family - hopefully, he's getting a whole lot of pets! If you're as touched by his story as I continue to be, consider following his journey, raising awareness about his cause, or donating to the mission that's helped so many. How can anyone say no to that face?