Phoenicia Playhouse to Open Sexy and Provocative NINE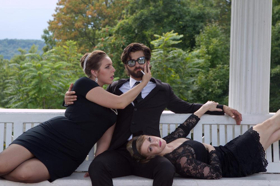 One man, many women. It's perhaps the ultimate fantasy of many, to be lavished with affection and sex by several women, and it is also the lifestyle held by Guido, the main character of Nine, the 4-Tony winning musical (including Best Musical, Best Direction of a Musical, and Best Original Score). The sexy and thought provoking show is based on 8 1/2, Federico Fellini's semi-autobiographical masterwork about a charismatic, yet needy film-maker in mid-life crisis, surrounded by the many women in his life: his wife, his mistress, his muse, his mother, plus many more.
But the show is not just about his problems with juggling these women and his sex life, it explores deep psychosexual issues about interpersonal relationships and the relationship one has with oneself. Thought provoking questions about love, dreams, passion, ideals, aging, sex, inspiration, and infidelity are raised. You may not leave with the answers, but the themes will surely resonate and absorb, along with the beautiful score, and imaginative staging and choreography.
The show, with music and lyrics by Maury Yeston and a libretto by Arthur Kopit, originally premiered on Broadway in 1982, with Raul Julia in the lead role of Guido Contini. It was revived on Broadway in 2003, in another well-received Tony award-winning production starring Antonia Banderas as Contini. A film based on the musical was also released in 2009, starring Daniel Day-Lewis.
Matthew Santiago, seen most recently at the Playhouse in Prelude to a Kiss stars as the sexy and brilliant but tormented Contini, who is tryinghold onto his career while trying to juggle the needs of these women. Emma Morcone (The Wedding Singer) plays his resigned buT Loving wife, Victoria McCarthy (Rocky Horror) is his impatient mistress, and Elaine Young (a recent transplant from NYC and the Metropolitan Opera) plays Guido's muse, a famous Italian actress. The remaining women clamoring for Guido's attention or appearing to him in memory or dreamlike form are played by Jessica Boyer, Cyndi Denise, Clyde Fusel Forth, Rebecca Frank, Brooke Harrison, Amy Knoth, Trinity Luther, Julian Shauffler, Patricia Seholm, and Kristy Tromboli. Also co-starring are Noel Fletcher as young Guido, and Val Shauger as a film producer anxious for Guido to make a successful film.
McCarthy will also direct. Past musicals she has directed at the Playhouse ginclude The Rocky Horror Show, Little Shop of Horrors, Oklahoma, The Wedding Singer and many others.
McCarthy acknowledges that the selection of Nine is a bold one, "We're being taken on a dreamlike journey of Guido's psyche. Complicated issues are raised, many in the form of his memories and fantasies. Some are sensual, some are joyful, others are sorrowful, some even scary. I am challenging the cast to feel and show the complex relationships between Guido and the others in his life, and also to make his and their motives accessible to the audience. The show will possibly provoke and maybe even titillate at times, but my goals are for it to also entertain and touch you,"
The musical has the same semi -surreal tone of Fellini's films, both structurally and visually. Given the daunting task of recreating Fellini's filming styling to the stage is local artist Christina Varga, former owner and curator of the Varga Art Gallery in Woodstock. The set, a versatile black and white structure with many moving pieces and cubes for actors as their "home base" has been a "pure joy and well as a challenging artistic project " to work on according to Varga. Notable New Paltz-based musician Jeremiah Mahoney is Musical Director, Amber McCarthy and Victoria McCarthy are Choreographers.
General admission tickets for Nine are priced at $20, and $18 for students, seniors and members. Subscription plans are also available for the entire four-show season, (Nine, WWII Radio Christmas, Moon Over Buffalo and Guys and Dolls) For more information is available at phoeniciaplayhouse.com.
Advance reservations are strongly encouraged. Tickets may be purchased on line at phoeniciaplayhouse.com, or you can call the theater's box office and make a reservation without leaving credit card information at (845) 688-2279. The Playhouse is located at 10 Church Street in Phoenicia.
The recently renamed Phoenicia Playhouse (formerly STS Playhouse) reflects the community we proudly represent and embraces the heart of community theater. Originally launched as the Shandaken Theatrical Society in 1976, we are staffed by dedicated volunteers who produced a diverse array of programming. We've launched a major capitol improvement plan to set the stage for a year-round schedule of entertainment, workshops, and family events. For more information about contributing, volunteering, or to learn more about other upcoming events, please go to phoeniciaplayhouse.com.
Photo: Emma Morcone, Matthew Santiago and Victoria McCarthy star in the Phoenicia Playhouse production of NINE. Photo courtesy of C-Star Photography by Eaglepix
Related Articles View More Central New York

Stories

Shows
More Hot Stories For You