BWW Review: A GENTLEMAN's GUIDE TO LOVE & MURDER is Hilariously Entertaining at The Oncenter Crouse Hinds Theater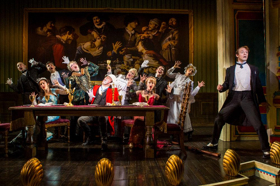 Broadway in Syracuse opens its new season with the hilariously entertaining A Gentleman's Guide to Love & Murder. The musical comedy, based on the 1907 novel Israel Rank: The Autobiography of a Criminal by Roy Horniman, features a clever book and lyrics by Robert L. Freedman and music and lyrics by Steven Lutvak. The touring production of the four-time Tony Award-winning musical, including the 2014 Tony for Best Musical, offers pure entertainment with its over the top characters, memorable tunes, and engaging plot.
The plot focuses on Englishman Monty Navarro (Blake Price). He just found out from Miss Shingle (Kristen Kane) that he is line to be heir to the D'Ysquith family fortune. Unfortunately, there are eight other D'Ysquiths that stand in his way to gain the title and inheritance. Monty figures out that the only way to jump ahead of the line is to eliminate (i.e. murder) the family members that stand in his way. He will need to do this while not getting caught. On top of all the drama, Monty is dealing with love issues. Navarro is balancing a vain mistress, Sibella Hallward (Colleen McLaughlin). Sibella is now married because she believes in marrying for wealth and status rather than love. Monty Navarro also becomes engaged to his cousin Phoebe D'Ysquith (Erin McIntyre).
The touring set by Alexander Dodge consists of a large Victorian theatre stage that is placed on the actual stage. It's the perfect setting to tell the tales of Monty's climb to become the heir of the D'Ysquith family. The clever set design and the effective lighting by Philip S. Rosenberg match the over-the-top nature of the musical. Likewise, Aaron Rhyne's projections enhance the dramatic ends of the various D'Ysquith family members; they are impressive and ridiculous, which makes perfect comedy onstage.
The live orchestra under the musical direction of Josh Cullen plays the operatic musical numbers with intoxicating energy. You can't help but to be swept up in not only the dramatic deaths, scandals, lust, love, and witty comedy, but also the memorable music.
The wonderful thing about this musical is that the acting, singing, and comedy take center stage. The touring production showcases some very talented actors putting on this side-splitting musical.
First, there is James Taylor Odom who portrays all of the D'Ysquiths standing in the way of Monty Navarro's access to the fortune. His portray all of the D'Ysquith family members in a wholly believable way, all while ice skating, dancing, skipping, and so much more. His comedic timing is perfection, his accents are spot on, and he captures each person - whether Asquith D'Ysquith Jr., Lord Adalbert D'Ysquith, Reverend Lord Ezekial D'Ysquith, Lord Asquith D'Ysquith Sr., Henry D'Ysquith, Lady Hyacinth D'Ysquith, Major Lord Bartholomew D'Ysquith, Lady Salomé D'Ysquith Pumphrey, or Chauncey - with ease. The costumes by Linda Cho, along with the hair and wigs by Charles G. LaPointe, assist Odom in quickly transforming into the various characters. The actor also proves his musical prowess. On the night I attended, Odom brought the house down with his zany facial expressions and stellar character vocals in many of his musical numbers. Some standout musical moments include "I Don't Understand the Poor," "Better With a Man," "Lady Hyacinth Abroad," and "Looking Down the Barrel of a Gun."
Blake Price shines in the role of Monty Navarro as he quickly comes up with a devious plan to kill the next D'Ysquith all while remaining extremely likeable. His portrayal of Monty is clever, cunning, and comedic. Price's interactions with his onstage love interests - especially the hilarious Colleen McLaughlin as Sibella - are superb. His various standout musical moments include "Foolish to Think," "Poison in My Pocket," and "Sibella." Even though he portrays a murderer, he gives a light-hearted and likable performance that is a pleasure to see.
Colleen McLaughlin plays Monty's conceited mistress Sibella magnificently. She has the voice, looks, and comedic timing to pull it off. Her expressive vocals and character acting skills shine in numbers such as "I Don't Know What I'd Do" and "Poor Monty." Likewise, Erin McIntyre is a breathtaking as Phoebe D'Ysquith. McIntyre is vibrant, entertaining, and comedic. Her trained lyric colatura soprano voice soars in all of her musical numbers. McLaughlin and McIntyre's duets are highlights, especially the uproarious number "I've Decided to Marry You" thanks to McIntyre's wide-eyed innocent excitement and McLaughlin envious pouting with Price caught in the middle.
Other standout performances include Kristen Krane as Miss Shingle. She entertainingly reveals to Monty that "You're a D'Ysquith" all while singing in a believable English accent. Briana Ganstweg is memorable as Miss Barley as she frolics on 'ice skates' with Asquith D'Ysquith Jr. Colleen Gallagher also delivers a standout performance as Lady Eugenia - playing perfectly off of James Taylor Odom, not to be overshadowed.
The touring production of A Gentlemen's Guide to Love & Murder is a definite must see if you are lucky enough to have it come to a city near you. The cast is phenomenal - it shows off pure comedic acting at its finest. A show like this hasn't been around in awhile. The acting and comedy take center stage rather than the spectacle that most are accustomed to in shows nowadays. The comedy, music, and acting are purely hilarious.
Running Time: Approximately two and half hours with one twenty-minute intermission.
A Gentlemen's Guide to Love & Murder runs through October 12, 2017 at The Oncenter Crouse Hinds Theater. For tickets and information on the touring production, click here. For tickets and information on Broadway in Syracuse's season click here.

Related Articles View More Central New York

Stories

Shows
Natasha Ashley is a reviewer for productions throughout Central New York. She was born and raised in the suburbs of Syracuse, New York. Natasha has (read more...)