BWW Review: Stage West Swings the Vote with THE OUTSIDER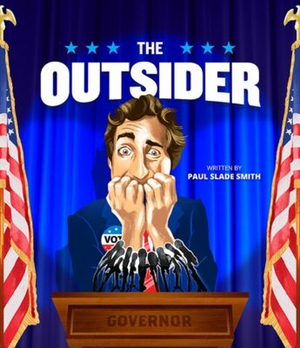 When it comes to political theatre, one's mind does not immediately turn to Stage West Theatre Restaurant. But if there's one thing Calgarians have come to learn, it's that Stage West loves to bring all kinds of comedy to the stage to entertain their audiences. Their current production of The Outsider is one such comedy that had me in stitches but left me wanting.
Written by Paul Slade Smith, The Outsider (not to be confused by the novel by S.E. Hinton: "The Outsiders") follows the story of a qualified but uncharismatic leader who battles with what the public wants and what the public needs. After a scandal forced the Governor and his entire staff to resign, his Lieutenant, Ned Newley, is put in charge. The trouble is, Ned has a terrible fear of public speaking. But others in politics (notably the pollster Paige Caldwell and political consultant Arthur Vance) believe that's exactly what America needs: a man of the people; just a regular guy. Though his Chief of Staff knows Ned is incredibly adept at his job, they set out to give the public the idiotic everyman they want. During an interview with Rachel Parsons and her cameraman A.C. Peterson, a new candidate for "so dumb they could run the state" emerges, the astoundingly emptyheaded temp, Louise Peakes. After some painfully stunning verbal sparring and a few speeches about the importance of government, we're left with a reminder that the ownness of the government is on the people - a lesson I didn't expect to learn at a dinner theatre, and one that was told in half measures.
This show had everything: physical comedy, verbal sparring, political intrigue, and just a hint of romance. The trouble is, there were so many elements that no one thing got the attention it deserved. The physical elements were established in early scenes and then never really returned. There were some wonderful back-and-forth scenes (especially during the interviews) but that style wasn't continued through the rest of the storytelling - and if one of the actors lost their rhythm, it was painfully clear. There was plenty of political drama and talk, but it turned into noise about the importance of government. The genuine conversations about opinions and the role of the people were amazing but few and far between. And the romance was a glimpse and not at all earned through their brief interactions.
One glimmer of hope was seeing so much local talent on the often broadly-Canadian stage. Among them were Kathryn Kerbes as Paige Caldwell, Robert Klein as A.C. Petersen, David LeReaney as Arthur Vance, Camille Pavlenko as Rachel Parsons, as well as Mark Crawford as Dave Riley, Adrienne Merrell as Louise Peakes, and Mark Weatherley as Ned Newley rounding out the talented cast.
For everything that frustrated me, I loved a lot of the elements. When I break this show into pieces, I had a wonderful time. I laughed out loud, I held my face in disbelief, I couldn't turn away from the perfectly assembled train wreck before me. But then the lights came up and I had no idea what I'd just seen. For all the laughter, there was also boredom, anticipation that never came through, and confusion about the intentions behind some of the moments.
One of my biggest sources of confusion was Mark Weatherley's portrayal of Ned Newley under the direction of J. Sean Elliot. Weatherley's physical ticks appeared forced. Ned is described as shy and mumbling but his anxiety was strained and inconsistent. When Ned was calm and collected, I was captivated by his genuine conversations and earnestness for the work he did. But the comedic moments seemed staged.
Ned's competition and energetic counterpart was the temp, Louise Peakes. She was almost insufferably dumb which lent itself to a comedic political candidate. Adrienne Merrell was consistent and chipper throughout, which is exactly what she needed to be. What made her difficult to watch was that her energy was so much higher than anything the other actors were asked to give. Louise Peakes was off in her own universe and it became surreal. I wish that some of that chaotic energy had been shared with others.
I love what The Outsider said about the way we (especially Americans) can view politics as a race between charming people who might not know what they're doing, and the importance of the government serving the people while the people put their trust in the government. But that message was clouded by moments that were played for laughs.
I liked a lot of the actors and the characters they brought to life in this semi-realistic world. But it was inconsistent for me. The Outsider was neither bad nor good. It simply was.
Stage West Theatre hosts this candidate until April 19 2020 and more information can be found at stagewestcalgary.com/outsider.
Related Articles View More Calgary

Stories

Shows