BWW Review: HAMLET: A GHOST STORY Delivers Chills and Thrills at Vertigo Theatre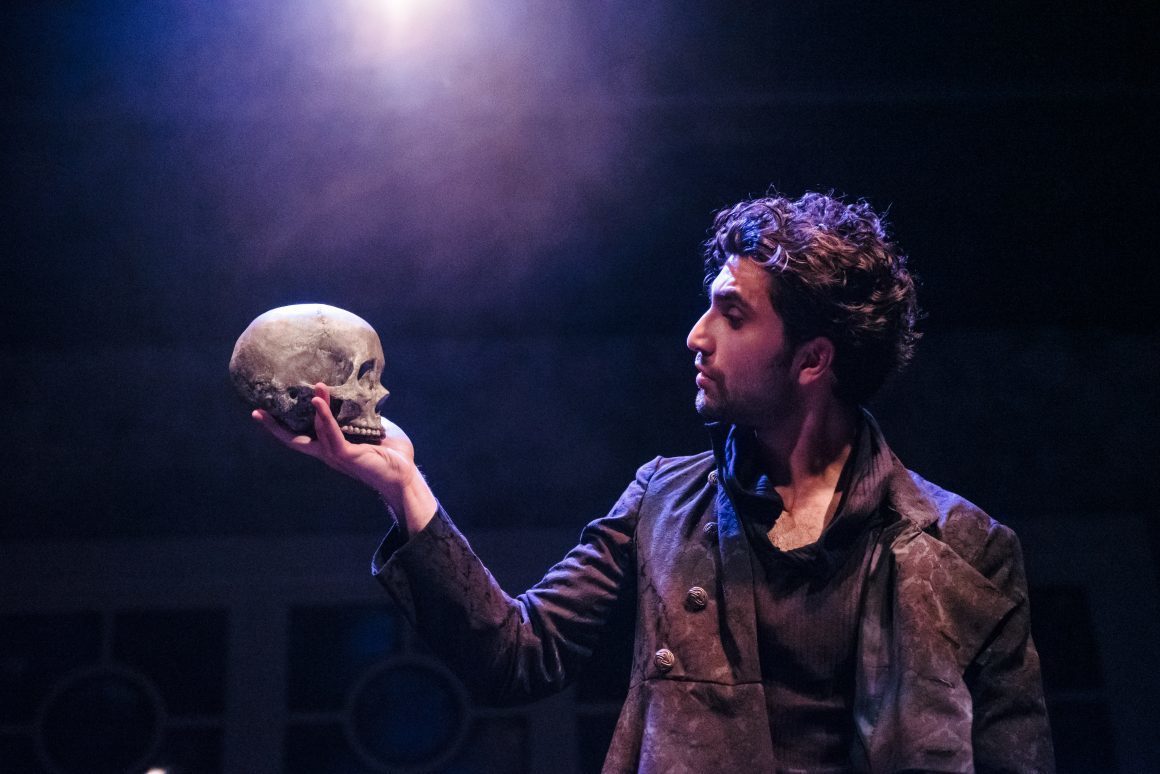 For plays that have such a long, traditional history, stories that are so well known, there is a need for newness in the production. An audience wants to know why they should see your version of this classic over another. In a marriage that seems too perfect, The Shakespeare Company with Hit&Myth Productions proved why their version of Hamlet is one worth seeing.
Adapted by Anna Cummer and directed by Craig Hall, Hamlet: A Ghost Story brings to life The Shakespeare Company's ability to uniquely interpret Shakespearean stories for a modern audience. This co-production with Hit&Myth, presented at Vertigo Theatre, promises to deliver murder, ghosts, and dramatic twists in a unique and consumable manner. Originally a four-hour production, whittling this show down to two and a half hours required some editing, but it allowed for a more focused storytelling and a clear theme to take shape. This is a ghost story - a murder mystery - through and through.
On a dark and stormy night, two watchmen witness a ghostly apparition (played by Joel Cochrane) and bring it to the attention of Horatio (now Horatia) who tells the Prince Hamlet of his father's return. Learning of the murder of his father at the hands of his uncle, the now-King Claudius, Hamlet makes a plot for revenge that drives him to madness. Polonius (now Polonia), is shot for her part in Claudius' scheme to kill Hamlet once he learns the truth, driving both her children to madness: Ophelia for her love of Hamlet and Polonia, and Laertes to avenge his mother's death. In the end, no Fortinbras arrives, but the audiences is told the tragic tale of Mad Prince Hamlet from a mournful Horatio as a prayer to the heavens. In this production, I found a clear focus of intent and precision of storytelling that I really appreciated.
Something I enjoyed seeing was the shift that came from making Horatio and Polonius into female roles. The pompous Polonius now became the conniving mother Polonia who would do anything for her children and paid the price for her scheming. And to see Horatia as a level-headed contrast to the scattered psyche of the protagonist created a very grounded character for the audience to latch on to. And to see all that stripped away at the end was that much more powerful.
I also applaud the use of music and madness that is so apparent throughout the text. There is more singing in this production that I traditionally see - beyond Ophelia's haunting descent into insanity. It added a very tangible and haunting way of telling the audience were the madness has spread.
A simple way of distinguishing Shakespearean text, in my mind, is to take it out of it's intended setting and placing it in another time. In this case, we travel to 1900s Denmark where a few tables and chairs in a ballroom tell this ghost story. I will admit, it took me some time to warm up to the changes used to differentiate the time period (the use of a gun in place of a sword in certain scenes) because it didn't feel consistent. Some characters are shot but there is still an incredibly choreographed rapier duel (thanks to Fight Director Karl Sine). I also didn't understand some of the costuming choices made by designer Hanne Loosen. I wasn't entirely clear on the colour scheme for some of the characters - for example: King Claudius' formal coat - and some of the costumes didn't read as turn-of-the-century European in a way that made the altered time period clear to me.
I did, however, really enjoy Loosen's set design. The use of trick mirrors, sheer curtains, a beautiful chandelier, and simple but effective props, made for quick transitions, established place settings, and the ability to move between dark and light moods with ease. The combination of lighting design by David Fraser and sound design by Peter Moller did wonders for turning The Studio Theatre at Vertigo into a Victorian Ghost Story. I especially loved the echoey reverb that Moller was able to employ for emphasis, and the dark underscoring during some of Hamlet's more intense soliloquys.
I was able to speak with Ahad Raza Mir about playing the titular character in one of Shakespeare's longest and most iconic plays, and he told me one of his biggest goals was to create a very human Hamlet. I think he succeeded in doing just that. You can see the difference when an actor is fully committed to their character. They don't have to believe what they're saying but their entire body is saying it. I love watching actors who fully embody their characters beyond the blocking. Mir showed an amazing understanding of the character and the text, I bought into every second of his performance. I could not take my eyes off of him.
Curt McKinstry's portrayal of Claudius was an excellent mix of boisterous with a hidden sinister element. His entire journey will watching The Mouse Trap was fun to see because he's not a character you ever root for but he's one whose perspective and motivations who have to understand in order to hate him. I will say, McKinstry seemed to be projecting for a room bigger than The Studio. His shouts were absolutely deafening, but his presence always filled the room when he entered which I appreciated.
I could watch Graham Percy all day. His characters always have this hint of mischief and whimsy about them in a way that instantly lightens the mood. I think he was very well suited to play the singing Gravedigger (as well as Barnardo and The First Player).
Especially coming off of The Shakespeare Company's co-production of Rosencrantz and Guildenstern are Dead (which premiered earlier this season with Alberta Theatre Projects), I was very curious to see how Meg Farhall and Behrad Moshtagh would take on the roles of Rosencrantz and Guildenstern (respectively). As well as playing Marcella and the Player Queen, Farhall had a clear distinction between all of her characters and every time I looked over at her, she was reacting to the scene before her and was generally very active even when she was just standing around. I didn't see that as much from Moshtagh. I felt like he was reciting lines more than feeling the text, and his Laertes didn't have the same emotional arc and conflict that I expected him to have.
The women in this show were so incredibly talented across the board. There's Karen Hines - playing the manipulative and overbearing Polonia who will do anything for her children - with slow, deliberate movement; Allison Lynch, as the loyal Horatia, who delivers the tragic closing monologue as the madness descends upon her; Natasha Strickey, playing the ever scorned Ophelia, who showed an impressive character journey from meek to cold to crazy in only a few scenes; and Daniela Vlaskalic as the vain Queen Gertrude who took some time to show her true colours but ultimately became a tragic figure who comes to her sense too late.
The Shakespeare Company and Hit&Myth Productions have created a unique production that is absolutely worth seeing. Period. They promised a suspenseful ghost story and they delivered, with a little bow on top that is the incredible group of the actors in this show. What a perfect display of Calgarian talent on all sides.
Hamlet: A Ghost Story will be playing at the Vertigo Theatre until April 13th 2019. Tickets can be purchased at https://tickets.vertigotheatre.com/

Related Articles View More Calgary

Stories

Shows