Seth Bisen-Hersh's Will Present Epic 500th Showcase All-Day Extravaganza at Don't Tell Mama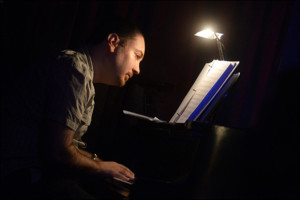 On April 28th, 2018, Seth Bisen-Hersh will present an all-day, wall-to-wall concert of his songs at the renowned cabaret club, Don't Tell Mama, to celebrate the milestone of his 500th showcase.
The four-part concert (1PM, 3:30PM, 6PM & 8:30PM) will consist of 100 of Seth Bisen-Hersh's songs, including world premieres, featuring over 80 performers and cast reunions from every musical that Seth has produced in NYC.
The full cast will be announced soon! For reservations, please visit: http://www.donttellmamanyc.com/shows . Attending one part of the concert is $14 + 2 drinks (cash only), but when you attend a second part, the cover goes down to $10. A third part is $4, and if you attend all 4 parts, the final cover is $0.
In addition to the concert, there will be an after-party and a raffle of Seth's books and CDs, including signed copies of his new book of humorous essays: Millennials are Ruining the World!
Since April 27, 2007, 11 years ago, Seth's showcases have given many New York performers their first professional credits. And he has hosted dozens of concerts of his works featuring Broadway stars such as Kate Rockwell (Mean Girls), Lena Hall (Hedwig and the Angry Inch), Allie Trimm (13), Jelani Remy (The Lion King) and Gabrielle Ruiz (Crazy Ex-Girlfriend).
Seth Bisen-Hersh is a prolific, versatile and award-winning composer/lyricist and performer. His musicals include The Diamond as Big as the Ritz (recently released Studio Cast Recording), Love Quirks (2014 run in NYC, Studio Cast Recording), Stanley's Party (Manhattan Children's Theatre, 2010, Cast Recording), More to Love (2014 Winner: Best Lyrics, West Village Musical Theatre Festival), The Spickner Spin (2004 FringeNYC Audience Favorite Award), and Meaningless Sex (2003 FringeNYC Audience Favorite Award). He produces two annual charity concerts of his work featuring Broadway performers, wrote/starred in the 5 seasons of the web series and the sitcom pilot adaptation of "Every Day a Little Seth," and has published 3 books. www.sethbh.com FB/Twitter/Instagram: @sethbhdotcom