MAC Award-Nominee JEFF MACAULEY Opens New Show--WHERE DID THE GENTLEMAN GO?--At Pangea, 9/14 at 7 pm
During the 1940s and '50s, composer and jazz pianist Bobby Troup was getting his kicks writing songs like the classic "Route 66." Over that same period, Scotty Bowers was getting his kicks as "Hollywood's Gentleman Hustler" and Los Angeles' legendary "Pimp to the Stars." Now, New York-based cabaret star JEFF MACAULEY, who for three consecutive years (2016-2018) has been nominated for the MAC Award as "Best Male Vocalist," is connecting the stories of these two men and performing the best of the Bobby Troup Songbook in his new show: WHERE DID THE GENTLEMAN GO? THE SONGS OF BOBBY TROUP & THE LIFE OF SCOTTY BOWERS.
Opening at PANGEA, Downtown's Alternative Supper-Club (178 Second Avenue, between 11th & 12th Streets) on Friday, September 14 at 7 pm, Macauley will also present WHERE DID THE GENTLEMAN GO? (with Music Director Tex Arnold) on Wednesday, October 3rd, Tuesday, November 13th, and Friday, December 7th. all at 7:00 pm. The cover charge is $20 online, $25 at the door, and there is a $25 food/drink minimum. For opening night show reservations, go HERE
"Troup and Bowers were two ex-marines who made new lives for themselves in Los Angeles just after World War II," Macauley explains. "They each took divergent but intersecting paths to fulfillment after helping rid the world of fascism. One became an esteemed jazz composer, pianist, singer, and actor. The other worked in a gas station and had sex with just about every star in Hollywood-male and female. Originally from the Midwest, their paths crossed when Scotty worked as a bartender at the 881 Club on La Cienega Boulevard in LA where Bobby was playing piano for his future wife, the great jazz singer Julie London."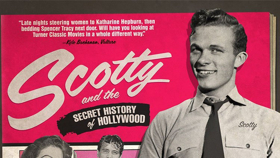 Jeff Macauley has been singing in clubs from Los Angeles to New York since 1990, but during the past six years he has been one of the most prolific performers on the New York Cabaret scene, garnering rave reviews and award nominations for shows such as: It Was Me: The Lyrics of Norman Gimbel; Mr. Lucky: The Songs of Henry Mancini; Le Grand Tour: The Music of Michel Legrand; a 2016 reprise of his 1998 Bistro Award winning MWAH! The Dinah Shore Show; and Hollywood Party: Movie Songs 1928-1936, which he recently performed at The Gardenia in West Hollywood.
"Macauley's contagious enthusiasm for musical history and his expressive delivery expands our knowledge and understanding of the songs of this period . . ." -BistroAwards.com
"Macauley has a smooth, endearing baritone and possesses a delightful knack for delivering fascinating and humorous biographical anecdotes as if he were a smooth jazz FM deejay."
-BroadwayWorld.com
"A performer with panache and savvy . . ." -New York Arts Review
For more information, go to www.jeffmacauley.com