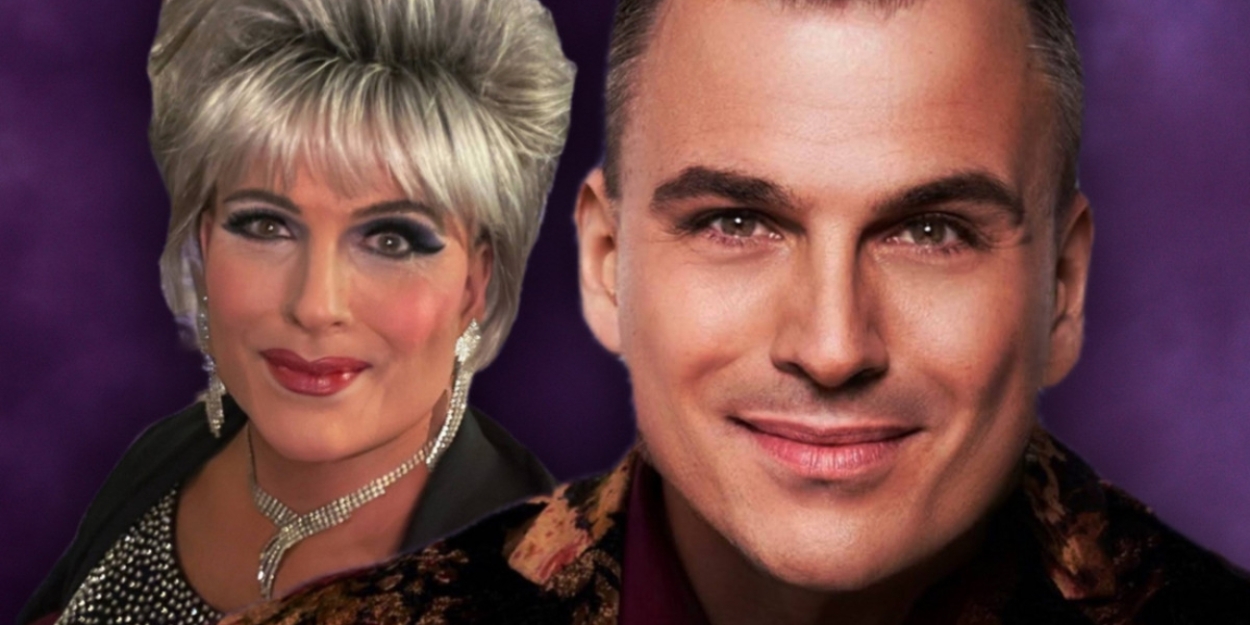 David Sabella to Kick Off International Tour with AMANDA RECKONWITH RETURNS at Pangea
Amanda Reckonwith Returns features Sabella as the hilarious presence and brilliant voice of "opera diva and Broadway legend, Amanda Reckonwith,"
David Sabella - who originaled the role of Mary Sunshine in the current Broadway revival of CHICAGO - will celebrates his return to drag, after 25 years, with his critically acclaimed one person show "Amanda Reckonwith Returns" in a special performance at Pangea on February 7, 2023, AT 7PM.
This performance, a special "for your consideration" appearance for the MAC awards (MAC members/voters receive "no cover charge" tickets for this performance only), kicks off an international tour for Sabella - a legendary artist in the worlds of Broadway, opera, and drag -- with performances as far as Mexico and the United Kingdom. The tour continues with performances of "Amanda Reckonwith Returns," "The Razzle Dazzle of CHICAGO" and "Amanda & Lee" (a special duo show with David Maiocco as Liberace), at Incanto Vallarta, (Puerto Vallarta, Mexico) Feb 14 - March 11, and "Razzle Dazzle" at The Pheasentry (London, England) on April 21-22.
Amanda Reckonwith Returns features Sabella as the hilarious presence and brilliant voice of "opera diva and Broadway legend, Amanda Reckonwith," returning to stage after a 25 year retirement/rest cure. Once a lyric soprano, Reckonwith reached international stardom on both Broadway, and Opera stages around the globe, before settling down (way down) to have children, raise them, and have them eventually leave her (they all do). Now, known to the world as her generation's leading "Spento" soprano, (otherwise known on Broadway as a belter), Amanda Reckonwith returns to stage with her unique interpretations of Broadway and Great American Songbook favorites.
Ironically, the stories she tells are true - they are taken from David Sabella's own fascinating life and career.
In The Razzle Dazzle Of CHICAGO Sabella appears as himself, singing Kander & Ebb favorites, while sharing very real stories of the creation of the mega-hit musical, his time in the show, and his very personal life-story of being one of the first gay men in America to marry and adopt children, all while starring on Broadway.
"David Sabella and Amanda Reckonwith are a couple made in Heaven. He is a consummate entertainer, and she is his adorable creation. David brings all his experience as an operatic and Broadway singer and loads of comic invention to this outrageous and loveable character"
Charles Busch, (actor, playwright, screenwriter, director, drag legend)
"So funny I did a spit-take. Musically and dramatically over the top and then so beautifully focused and poignant in the ballads. ... for the shear joy of cabaret at it's best, make a date to see Amanda Reckonwith"
Claudine Jellison, (actress/singer, Facebook)
Both Shows are conceived, written, directed, and performed by David Sabella, with Music Direction and arrangements by Mark Hartman.
is an award-winning singer and actor. As a male soprano (countertenor) in classical music/opera, Sabella was integral in the formation of the "American tradition" of countertenor voice in the mid 1990's. Along with colleagues David Daniels, Brian Asawa, and Mark Crayton, Sabella is credited as one of the originators of the "American sound," and the only one working in the popular music genres of Broadway and Great American Songbook. Sabella is best known for his years on Broadway in the musical CHICAGO, and as an internationally recognized countertenor. In 1995 Sabella made history as a winner of the Luciano Pavarotti International Voice Competition when Maestro Pavarotti, so moved by Sabella's performance, stopped him before the end of his audition and publicly declared "I don't have to hear to the end. This is excellent! Not good, excellent!"

On Broadway, Sabella originated the starring role of "Mary Sunshine" in the 1996 revival of CHICAGO with Bebe Neuwirth, Ann Reinking, and Joel Grey. He remained in that show for the better part of ten years, both on Broadway and on the national tour (Las Vegas), and performed with a host of luminaries including Chita Rivera, Hall Linden, Melanie Griffith, Patrick Swayze, Linda Carter and Marilu Henner, just to name a few.

His 4+octave range also landed him opportunities in voice-over work for both Disney ("Teacher's Pet" with Nathan Lane), and Fox Animation ("Peter Pan and the Pirates" with Tim Curry) playing the evil villainess "Frau Brumhilde Broomhandle," terrorizing Peter and the Neverland kids with arias from Die Walkure, Carmen and Aida. (YouTube Video of this cartoon here -> https://youtu.be/nIWzJD1c9so)

Returning to solo concert performance in 2016, Sabella has performed, to critical acclaim, in concert venues throughout the country including Jazz at Lincoln Center (Rose Hall), Feinstein's/54 Below, Birdland Theater, Laurie Beechman Theatre, Urban Stages, Pangea, Judy's Chelsea and Don't Tell Mama. He has also starred Off-Broadway in Jules: The Julian Eltinge Story, and The Phillie Trilogy, for which he won the Fresh Fruit Festival award for "Outstanding Lead Actor in a Play." He is also the 2022 MAC Award winner for "Major Male Artist."

Mark Hartman (Music Director) is a New York-based pianist, coach, conductor, arranger and composer working in theater, cabaret, and concerts around the world. Mark was the Associate Conductor of Sondheim On Sondheim and Avenue Q on Broadway. Off-Broadway, he was the Music Director for Pageant, Silence! The Musical, Ernest In Love, After The Ball (cast recording), Finian's Rainbow (w/ Melissa Errico, Malcolm Gets, Jonathan Freeman, also cast recording), and The Irish...and How They Got That Way (also Nat'l Tour), Avenue Q (Vineyard) and The Fantasticks (Sullivan St. and Orbach Theater productions). Also in New York, Mark was the Music Director for The Baker's Wife, Bajour, Greenwillow and NEO I (cast recording) at the York Theatre Company. In cabaret, Mark has enjoyed a long-time partnership with 11-time MAC Award winner Natalie Douglas. He is the music director for the Eugene O'Neill Theater Center's Cabaret Conference and have appeared in all the major rooms in New York. He is a MAC and Bistro Award winner for Music Direction.

PERFORMANCE DETAILS:

"AMANDA RECKONWITH RETURNS" @ PANGEA (ENCORE ENGAGEMENT!)
178 2nd Avenue (between 11th & 12th Street)
$25 Music Cover (Cash at the door) / $20 food/beverage min@person (credit cards accepted)
February @ 7pm (Dinner seating 6pm)
Reservation link: https://www.showtix4u.com/events/18134/?event=70295&date=186000
MAC Members/Voters call 212-995-0900 to reserve your NO COVER ticket.
Incanto Vallarta (Puerto Vallarta, Mexico): Feb 14 - March 11, 2023 - https://www.incantovallarta.com
The Pheasentry (London): April 21-22, 2023 - https://www.pizzaexpresslive.com/whats-on/david-sabella-the-razzle-dazzle-of-chicago-the-musical#scr-booking