Destination America's newest food competition series is three sheets to the WIN! In each episode, LAST CALL FOOD BRAWL, along with chef Adam Gertler, will visit a different American city and challenge four chefs, hailing from 24-hour diners to 4-star establishments, in a cook-off to determine who will be crowned the king of late night bites. For bar-goers getting the munchies, the food brawls attract a raucous audience hungry for something salty and sweet, like deep fried bacon chili cheeseburger rolls and peanut butter s'more french toast balls. Only one chef will win the coveted Golden Fry Basket and the title of King of Late Night!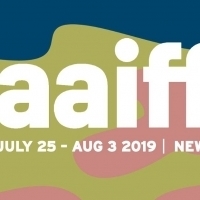 42nd Asian American International Film Festival Announces Film Lineup
by TV News Desk - June 27, 2019
Presented by Asian CineVision, the 42nd Asian American International Film Festival (AAIFF42), and taking place July 25 – August 3 in New York City, has announced its full film lineup. The first and longest running Asian interest film festival in the country, AAIFF42 will be presenting 12 narrative f... (
more...
)
Food Network Brings Tricks & Treats in October Schedule
by TV News Desk - August 28, 2014
Food Network brings the tricks and treats this October with new primetime series, premiere episodes of fan-favorite series and an all-star tournament. Host Jesse Palmer kicks off the month with new series Food Truck Face Off on Thursday, October 2nd at 8pm, as four talented teams share their culinar... (
more...
)
JAPAN CUTS New York Festival Announces 2014 Lineup
by Movies News Desk - June 06, 2014
North America's largest showcase of Japanese film and "One of the loopiest… and least predictable of New York's film festivals" (New York Magazine), JAPAN CUTS: The New York Festival of Contemporary Japanese Cinema returns for its eighth annual installment.... (
more...
)
Destination America's Latest Series LAST CALL FOOD BRAWL to Debut 6/10
by TV News Desk - May 22, 2013
It's the perfect recipe for a night cap: one part hungry bar-goers, two parts finger-lickin' food, a dash of great everyday cooks, with a Golden Fry Basket to garnish. It all adds up to a mouth-watering plateful of Destination America's newest competition series, LAST CALL FOOD BRAWL, hosted by Adam... (
more...
)