VENENO, PRIMERA CAIDA: EL RELÃMPAGO DE JACK To Open Theatrically in the U.S. April 13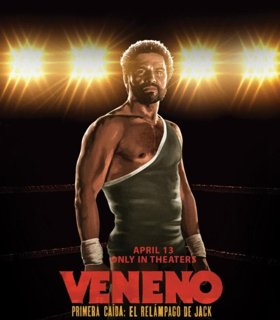 The legendary wrestler Jack Veneno is brought to life in the highly anticipated film VENENO, PRIMERA CAIDA: EL RELÃMPAGO DE JACK coming only to theatres in U.S.A on April 13, 2018.
In the lead role is Manny Perez, directed by Tabare Blanchard, produced by Riccardo Bardellino and distributed in U.S.A. by Spanglish Movies. VENENO, PRIMERA CAIDA: EL RELAMPAGO DE JACK arrives on Friday, April 13, 2018 to theaters in New York City, New Jersey, Providence (Rhode Island), Lawrence, Boston (Massachusetts), Reading, Philadelphia (Pennsylvania), ATLANTA (Georgia), Orlando, Tampa & Miami (Florida).
Frío Frío Cinematographic Production Company in association with La Visual Sonora premiere the long-awaited film production inspired by the life of Dominican wrestling legend Jack Veneno, entitled "VENENO, PRIMERA CAIDA: EL RELÃMPAGO DE JACK".
This film represents the drive and dreams of the Latino community. The "Jack Veneno"story for decades is a folklore that has remained in the minds and hearts of all who enjoyed the battles in the ring of this Dominican "super hero". Every fight he devoted to his mother Doña Tatica and to all those present who, upon seeing him arrive in the ring, shouted and chanted: "The people want a fight, fight Jack Veneno!".
"VENENO, PRIMERA CADA: EL RELÃMPAGO DE JACK" features the actor Manny Perez (Colao, Homeland, La Soga) in the lead role, whoseresemblance of the wrestler Jack Veneno is uncanny. The villain role is played by Pepe Sierra who plays Relámpago Hernández, the cast includes seasonedactress Yamile Scheker as Doña Tatica, Richard Douglas playing Vampiro Cao, Ovandy Camilo is Silvio Paulino and Jaime Pina as "El Tuerto".

" VENENO, PRIMERA CADA: El RELAMPAGO DE JACK" production was supported by Cerveceria Nacional Dominicana and its brands Presidente, Ron Barcelo and Lowenbrau, as part of its program of support and projection of Dominican cinema. Similarly, its investors Grupo Mallen, Caribbean Cinemas, Banco BHD Leon, Dr. Collado, Camilo Lab., Induveca and Total.
Related Articles View More TV

Stories