The Trevor Project And Global Queer Network, Revry, Announce #ShareTheLove Initiative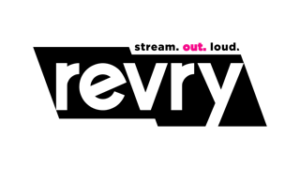 Revry, the premiere queer global digital entertainment network featuring originals, narrative and documentary films, digital series, shorts, podcasts, music and more...was thrilled to partner with The Trevor Project and broadcast last years TrevorLive 2017 honoring Tom Ford and Kristin Chenoweth. Now, Revry is doubling down on that relationship and its commitment to making a difference for queer youth through a joint "#ShareTheLove" initiative. Revry will donate half of all annual subscription fees in the months of February and March to The Trevor Project's global initiative TrevorSpace.org.
"The Trevor Project is honored to be 'Sharing The Love' with Revry these next two months," said The Trevor Project's Chief Growth Officer, Calvin Stowell. "Revry's commitment to help support TrevorSpace.org, the largest LGBTQ safe space online, will help us continue growing that platform so that every young LGBTQ person in the world has an outlet where they can safely be their true selves. It is clear Revry is an innovator in sharing queer digital media globally - and that kind of outreach with our stories helps bring not only more awareness, but further acceptance to places where our queer brethren need it the most. We are grateful to have the support of Revry's initiative to donate funds to TrevorSpace.org so that we can continue our mission to reach and save the lives of our LGBTQ family internationally."
Revry's CEO, Damian Pelliccione, wants to make sure that queer youth around the world not only see themselves represented through stories and music, but have an opportunity to receive vital support when they are at their most fragile. "TrevorSpace is one of our communities greatest global 'first responders' and nothing is more important than letting our youth know they are loved and have a safe space to be themselves no matter what culture they live in. We have to share what we have, and I hope that people of all generations will join us to 'Share The Love' these next two months with this win-win initiative - getting fabulous, international queer content while creating a safe place and resource for our younger generations."
#ShareTheLove today simply by signing up for an annual subscription to Revry HERE!
The mission of The Trevor Project is to end suicide among gay, lesbian, bisexual, transgender and questioning young people. Unlike the Trevor Lifeline, TrevorText, or TrevorChat, TrevorSpace is not a crisis INTERVENTION tool, but rather an international social media site giving LGBTQ youth from all over the world a safe place to connect with each other and find support among their peers. LGBTQ youth ages 13 through 24 and their friends and allies can create personal profiles and connect with other young people, as well as find resources within their communities. TrevorSpace is carefully monitored by administrators designated by The Trevor Project to ensure all content is age appropriate, youth-friendly and factual. This ensures the site provides the safest space possible for its young members, and that TrevorSpace remains a safe space for all LGBTQ people.
February New Releases on Revry
The Gay Husbands of San Francisco - February 14th (Original Series) The Gay Husbands of San Francisco takes a no-filter, hilarious look at the contemporary gay scene as it chronicles the lives and loves of six multi-ethnic gay men in the City by the Bay. Link: Gay Husbands of San Francisco
In the Dollhouse with Lina - February 16th (Original Series) In the Dollhouse with Lina is a Weekly Talk Show. Think pop culture, fashion and throwbacks. "Laugh-In" meets "Madame's Place" dazzled with "Bewitched" and sparkles of "I Dream of Jeannie" all inside a type of "Pee-wee's Playhouse" and a lot of New York sass with the infectious Lina, hosting within her DollHouse surrounded by her very own collection. Every week the mystery guest is revealed that day by Magical 8 Ball...so you never know who's going to pop in! Guests include Whoopi Goldberg, Carson Kressley, Candis Cayne, Sherry Vine, Lady Bunny, Justin Vivian Bond, Bevy Smith and Shequida.
Butch and the Bear (Podcast) Butch and the Bear is a new comedy podcast starring AB Cassidy and Daniel Franzese (Mean Girls) with guests including: Amy Landecker, Heather Matarazzo, Drew Droege, Jonathan Bennett, Jessica Buttafuoco, Charlie Craig, Trey Pearson. Link: Butch and the Bear
Dead for Filth (Podcast) From the ooky spooky mind of horror personality and screenwriter, Michael Varrati, comes Dead For Filth, for all things queer horror and beyond. Dead For Filth will bring you the best queer & horror icons out of the closet and into the night to talk about the genre they love. Notable guests include Jeffrey Reddick (wrote Final Destination), Darren Stein (dir. Jawbreaker), Thomas Dekker (actor, lots), Jeffrey Schwarz (Doc. Dir.), and Veronica Cartwright (Act. Alien, Body Snatchers, The Birds). Link: Dead for Filth
UnBEARable (Podcast) Big Dipper and Meatball have joined forces to bring you unBEARable! Listen every week as they talk bear culture, sex, snacks, and have IN DEPTH interviews with special guests including: Willam, Cubrina Bearly, George Unda, Rakeem Cunningham, Drew Droege, Jaymes Mansfield, Jeff Leavell, Nabor Arias, Vander Von Odd. Link: unBEARable
Kiss & Tell Radio (Podcast) Kiss & Tell Networks unites the community by tackling social topics through LGBT art, media, and events. Originally created as an LGBT dating and relationship panel in 2015, Kiss & Tell is designed to open the door and create a platform for unspoken yet necessary conversations and freely discuss topics the LGBT community experience. Many times, we see a division in our community, although we share the same acronym. From dating, character building, social and personal acceptance, to mental and physical health, Kiss & Tell encourages everyone to live in their truth with notable guests Sampson, Angelica Ross, Harris Twins. Link: Kiss & Tell Radio
Shook (Podcast) Social activist and influencer, Ashlee Marie Preston hosts Shook, a lively weekly podcast where she discusses the pressing issues of the day with weekly guests including a Safe Spaces segment where listeners can call in and ask questions they may be too embarrassed to ask in real life. Listeners also get a taste of what Ashlee is known for best in Snatched in 60 Seconds, where each episode Ashlee selects an internet troll and snatches their wig the way only Ashlee can.
30 Something, Black, & Gay (Podcast) A weekly Podcast hosted by a Barber, a Chef, and a Makeup Artist. Each week the Co-Hosts; Haji, Mikey, and Jay give their commentary on the week's hottest topics and debate culture, society, and ultimately life from the perspective of black and gay thirty something's living in LA. 30 Something, Black, & Gay is a delightful dose of insight and wit w/ a double shot of p-e-t-t-y!
About Revry
Revry is the premiere queer digital media network for the inclusive 21st century LGBTQ+ community. As the first-ever global queer streaming service, Revry offers its members a uniquely curated selection of domestic and international entertainment that includes iconic narrative and documentary films, cutting-edge series, groundbreaking podcasts, music albums and videos, and originals. Revry is available worldwide on seven OTT, mobile, and online platforms, and hosts an exclusive linear channel on Pluto TV. Headquartered in Los Angeles, Revry is led by an inclusive team of queer, multi-ethnic and allied partners who bring decades of experience in the fields of tech, digital media, and queer advocacy. Follow on Facebook, Twitter, and Instagram @REVRYTV. Go Online to: www.Revry.com.
About The Trevor Project
The Trevor Project is the leading and only accredited national organization providing crisis INTERVENTION and suicide prevention services to lesbian, gay, bisexual, transgender, queer, and questioning (LGBTQ) young people under the age of 25. The Trevor Project offers a suite of crisis INTERVENTION and suicide prevention programs, including TrevorLifeline, TrevorText, and TrevorChat as well as a peer-to-peer social network support for LGBTQ young people under the age of 25, TrevorSpace. Trevor also offers an education program with resources for youth-serving adults and organizations, a legislative advocacy department fighting for pro-LGBTQ legislation and against anti-LGBTQ rhetoric/policy positions, and conducts research to discover the most effective means to help young LGBTQ people in crisis and end suicide. If you or someone you know is feeling hopeless or suicidal, our Trevor Lifeline crisis counselors are available 24/7/365 at 866.488.7386. www.TheTrevorProject.org
Featured at the Theatre Shop
T-Shirts, Mugs, Phone Cases & More
Related Articles
View More TV

Stories
More Hot Stories For You