Sherilyn Fenn To Star As A Silent Film Legend Alla Nazimova In Rudolph Biopic SILENT LIFE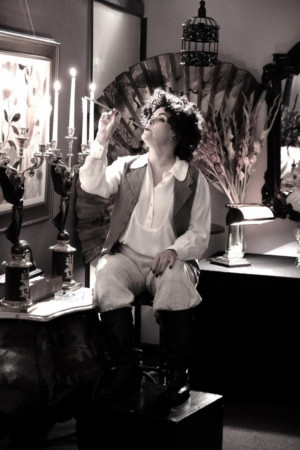 Golden Globe and Emmy nominated actress Sherilyn Fenn (Twin Peaks, Wild at Heart) will star as a silent film star and producer Alla Nazimova in director Vladislav Kozlov's Rudolph Valentino fantasy biopic Silent Life. Paul Rodriguez and Dalton Cyr join the cast as an older gigolo (Rodriguez) who teaches young Italian immigrant Rodolfo Guglielmi (Cyr) how to seduce women. Also joining the cast are Paul Louis Harrell as Norman Kerry (Valentino's real-life friend), and Ksenia Jarova, who will star as Natacha Rambova (the true love of Rudolph Valentino).
As previously announced, Silent Life also stars Isabella Rossellini as Valentino's mother, Franco Nero as Rudolph Valentino's spirit, Terry Moore as the Valentino's mysterious mourning fan "Lady in Black", and Director Vladislav Kozlov as Rudolph Valentino.
Fenn will portray silent film diva Madame Alla Nazimova, a Russian Jewish émigré from Crimea, during the years she was in Valentino's orbit, from 1919 through his death in 1926. Nazimova was an extremely popular Broadway actress thanks to her fierce feminist image in the pacifist drama War Brides, before she moved to Hollywood to explore her talents in movie productions. A silent film star for Metro Pictures (which became MGM), Nazimova produced her own movies from 1917-1926 and was the first female actor to exercise control over her own image. One of her most famous works includes the 1921 Art Deco adaptation of Alexandre Dumas' Camille opposite Rudolph Valentino, and Oscar Wilde's Salomé, her 1923 Art Nouveau masterpiece.
"The character of Nazimova is crucial in telling Valentino's life story. She played a huge part in his life, having introduced Valentino into Hollywood circles and launching the Hollywood careers of his future wife, Winifred Hudnut AKA Natacha Rambova," added Kozlov.
According to Hollywood legend, Nazimova was the inspiration for Gloria Swanson's character in the movie Sunset Boulevard.
Silent Life resumed filming in July and continues through August in such famous Hollywood locations such as Valentino's grave in the Cathedral Mausoleum at the Hollywood Forever Cemetery, Micele's Italian Restaurant on Hollywood Blvd, and the private Rudolph Valentino museum in North Hollywood owned by Tracy Terhune (private collector and author of many books about Rudolph Valentino).
"Silent Life is a love letter to Old Hollywood and classic cinema. It is a movie within a movie, told through two narratives. One half is the present day story told by Valentino's mysterious fan "Lady in Black" (Moore), who has been visiting his grave for several decades, and her point of view. The other half is the story is told by Valentino's spirit (Nero). I call this movie a fantasy biopic because there is an element of intrigue in this juxtaposition and we don't know until the very end what the truth was" said Kozlov.
The film tells the story of Rudolph Valentino, the first Hollywood superstar and male sex symbol, as he ponders the most important philosophical questions of human existence from his deathbed. In the film, Valentino sits in an imaginary empty movie theatre as he, and the audience watches his life flicker like a silent movie on the screen. After Valentino's unexpected death in 1926, a mysterious Lady in Black continued to visit his grave on the anniversary of his death with a single red rose, her identity hidden by a black veil.
In Silent Life, a group of young filmmakers encounter a mysterious elderly woman clad in all black, hiding her face and her
SECRETS
behind a veil, at Rudolph Valentino's annual memorial service. She is the legendary Lady in Black, who has been coming annually to Valentino's grave for untold decades, always bringing a single red rose. The team attempts to convince this solemn mourner to reveal her secret: was she really the last love of "The Great Lover" as the legend has it?
Silent Life is being produced by Kozlov and Natalia Dar under their Dreamer Pictures banner, with Yury Ponomarev, and was written by Kozlov, Dar, and Ksenia Jarova.
Isabella Rossellini as Valentino's mother, Marie Berthe Gabrielle Barbin.