Ruby Rose to Star in BATWOMAN for the CW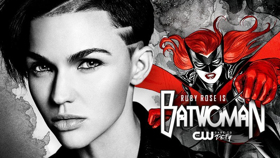 Ruby Rose is set to play Batwoman, the lesbian superhero for the CW. Rose's Batwoman will first appear in the December DC crossover event.
Armed with a passion for social justice and a flair for speaking her mind, Kate Kane soars onto the streets of Gotham as Batwoman, an out lesbian and highly trained street fighter primed to snuff out the failing city's criminal resurgence. But don't call her a hero yet. In a city desperate for a savior, Kate must overcome her own demons before embracing the call to be Gotham's symbol of hope. Based on the characters from DC.
Ruby Rose is an award-winning actress who challenges herself with each new role and continues to evolve with each project she takes on.
Rose garnered the attention of audiences for her breakout role as a series regular on Netflix's hit show Orange Is the New Black. In June 2015, the actress made her debut in the third season of the show as "Stella Carlin", an edgy inmate whose charisma catches the eye of "Piper" (Taylor Schilling). In 2016, Ruby won a Screen Actors Guild® Award for "Outstanding Performance by an Ensemble in a Comedy Series" for her role on the show.
In 2017 she was recently seen in a trio of actions films: Vin Diesel's XXX: The Return of Xander Cage, the third installment in the extreme-spy franchise; opposite Milla Jovovich and Ali Larter, in Resident Evil; Final Chapter ; and in John Wick: Chapter Two, alongside Keanu Reeves, Common and Ian McShane, directed by Chad Stahelski and written by Derek Kolstad. She was also seen in Universal's Pitch Perfect 3.
On August 10th, she can be seen in the Warner Bros. action film The Meg based on Steve Alten's 1997 novel "Meg: A Novel of Deep Terror." The Meg is centered on an international underwater observation program, led by Chinese scientists, that comes under attack by an unknown danger. With its deep-sea submersible disabled and trapped at the bottom of the Mariana Trench.

Rose's additional acting credits include the indie film Around the Block in which she starred alongside Christina Ricci, which debuted at the Toronto Film Festival in September 2013. Ruby also appears in Sheep'n'Wolves, an animated feature, which tells the story of a magical land where a flock of sheep find their carefree days interrupted by a pack of wolves who move to a nearby ravine.
Photo Credit: Brad Triffitt and the CW
Related Articles View More TV

Stories