Lady Parts Justice League Attempts To Solve The Age Old Debate About Everyone's 'Favorhate' Holiday Film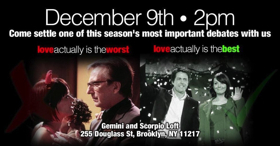 Is "Love, Actually" the BEST or the WORST holiday film of our time? On Sunday, December 9th, Lady Parts Justice League (LPJL), the comedy-driven reproductive rights organization, will host "Love, Actually is the BEST or Love, Actually is the WORST: A Drunken Screening" in an attempt to answer this most pressing question. Guests can come dressed as their favorite or most hated character to have a chance at winning the Love Actually costume contest! There will be drinks, sing-a-longs ("I Feel It In My Fingers") and ragey feminist Siskel & Ebert-esque skewering of Billy Bob Thornton and Alan Rickman. Post-screening, audience members will have a chance to step up to the mic for an airing of public grievances - giving their thoughts, pro or con, before a panel of Love, Actually lovers and haters.
The boozy matinee screening of everyone's "favorhate" holiday film also doubles as a donation drive that will benefit over 20 reproductive health clinics throughout the country. Individuals can bring one of the items listed here for the gift drive that will will help patients and reproductive healthcare providers or they can pay the suggested donation of $10 or do both!
Lady Parts Justice League (LPJL) is a 501 (c3) non-profit whose mission is to infuse humor into reproductive rights spaces while also dropping knowledge and activism into our pop culture and our social lives. Our goal is to inspire folks who have not been active in the feminist and reproductive rights movements to get up and get active. LPJL's rapid response production team is made up of comedians, writers, and activists, on call 24/7 producing media and creating national actions that respond instantly to the breaking news surrounding reproductive rights issues. Equally as important to the mission of LPJL, is to raise awareness about and support independent abortion providers who bear the brunt of anti-abortion legislation and harassment. Several times a year, the League goes on the road to perform comedy shows in a USO format bringing entertainment and love to these clinics and their communities. They also provide elbow grease at the clinics themselves, including anything from bringing lunch to building a fence to planting bushes to block protesters. Understanding that reproductive rights issues vary by race, class, and gender identity, Lady Parts Justice League is committed to diversity by creating content that fosters a multicultural, inclusive experience within the reproductive rights movement.
Related Articles View More TV

Stories
More Hot Stories For You