Jane Pauley to Anchor CBS News Primetime Special NO EXIT!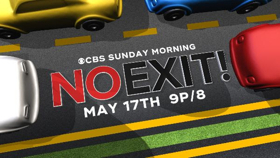 CBS News' Jane Pauley will anchor "No Exit!," a one-hour CBS News primetime special exploring America's love/hate relationship with our highways and byways, and how millions of us cope with our increasingly difficult daily commute, to be broadcast Friday, May 17(9:00 PM, ET/PT) on the CBS Television Network.
The special will feature the familiar team of
CBS
SUNDAY MORNING correspondents exploring the past, present and future of transportation. The special will highlight everything from the most scenic drives in America, to people with the craziest commutes, to the boom in scooters, the promise of flying cars, some thoughts from comedian Jim Gaffigan and much more. "No Exit!" will look at how the country's major arteries often resemble moving parking lots. The special will also reveal what countries around the world have the worst traffic jams. CBS SUNDAY MORNING has been the #1 Sunday morning news program for 15 consecutive seasons. Each broadcast features a slate of intriguing stories, thought-provoking arts and culture reports, profiles of some of the most memorable figures of our time, along with stories on science, Americana and newsmaker interviews. The broadcast launched Jan. 28, 1979 with Charles Kuralt as anchor. Correspondents include Lee Cowan, Rita Braver, Mo Rocca, Tracy Smith and Martha Teichner. Among the program's contributing correspondents are Ted Koppel, Serena Altschul, Nancy Giles, Luke Burbank, David Pogue, Conor Knighton, Faith Salie, Steve Hartman and Anthony Mason. Rand Morrison is the executive producer of "No Exit!" and
CBS
SUNDAY MORNING.